Goldwater loses 2nd game to undefeated Deer Valley
February 9, 2021 by David Payne, Arizona State University
---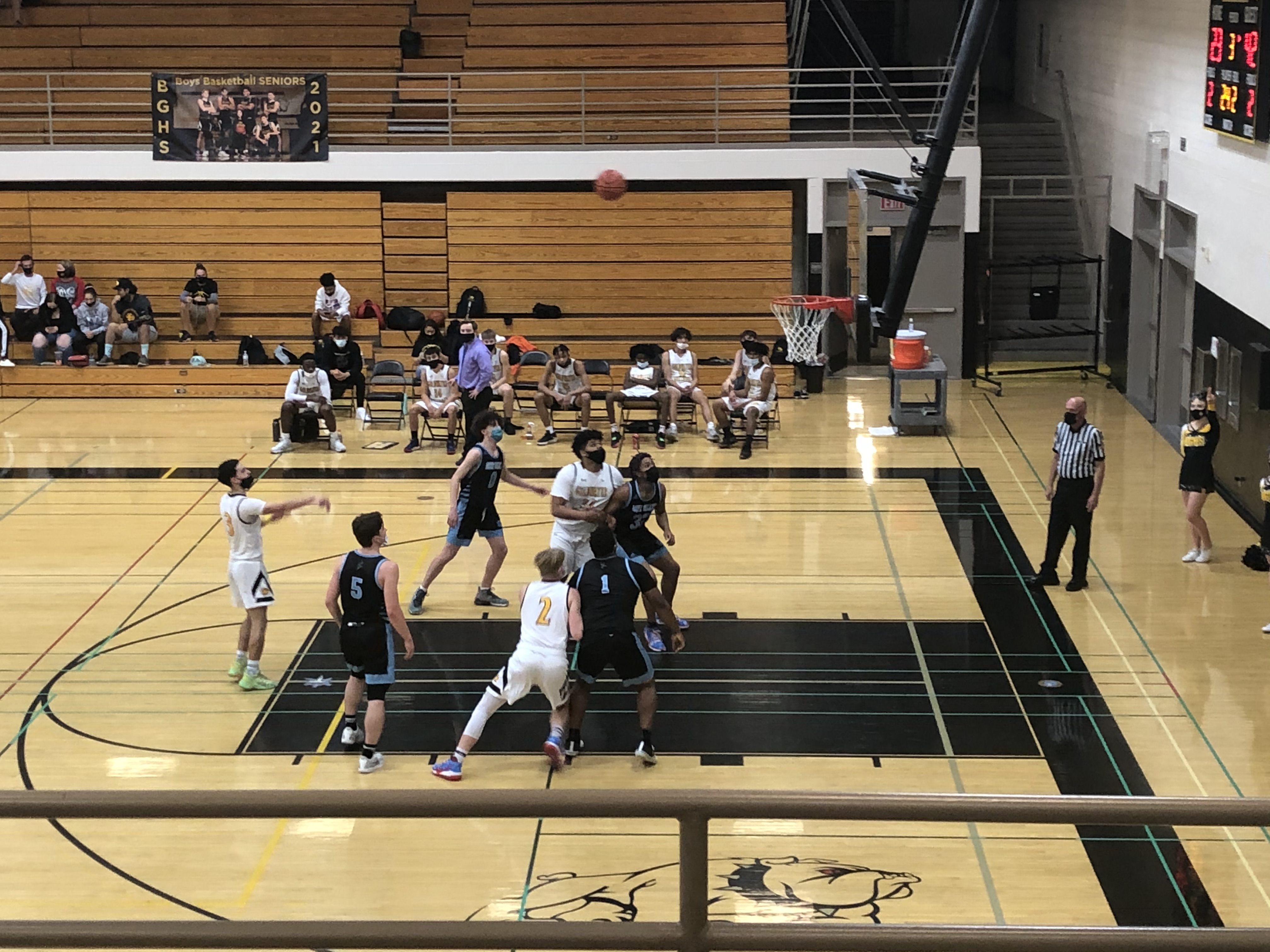 David Payne is an ASU Cronkite School of Journalism student assigned to cover Barry Goldwater High School for AZPreps365.com
Barry Goldwater High School's varsity boys basketball team fell behind 17-3 in the first period Tuesday night en route to a 64-35 loss to undefeated Deer Valley in a 4A West Valley conference matchup.
The Bulldogs struggled against Deer Valley's full-court press throughout the night. They did not score in the first four minutes as Deer Valley built a 10-0 lead.
Senior guard Brody Beckman made a three-pointer to put the Bulldogs on the board, but those were their only points in the first quarter. Beckman finished with 10 points.
The Skyhawks also used their size in the paint to outrebound the Bulldogs both on offense and defense. At one point, Bulldogs coach, Nathan Stumpf could be heard yelling in the referee's direction after what he thought was a missed over-the-back foul on a rebound.
"Their bigs are pushing our smaller guys down low! Can we do that?" Stumpf frustratingly asked and then shouted to his players to box out.
Senior point guard Yian Torres scored 11 points for Goldwater, including a quick spin move between two defenders for a layup, which brought the few, socially-distanced home team fans to their
Torres said his team needs to learn how to manage the ups and downs of the game.
"We had some good runs, but we had some terrible runs too," Torres said. "When we make a mistake, just go on to the next play and that's something we don't handle very well."
Stumpf said his team has a lot to work on and that getting all the players on the same page is key.
"It's a player-by-player thing," Stumpf said. "I have some kids who will literally buy in and do whatever it takes, but then I have the ones that are individually, offensively skilled who just show up. I don't think they're doing it maliciously though."
This was Goldwater's second loss to the Skyhawks this year. The Bulldogs played a much closer game on Jan. 22 when visiting Deer Valley posted a 59-50 victory.
Deer Valley coach Jed Dunn said the first matchup gave the Skyhawks the motivation to play better when visiting Barry Goldwater on Tuesday.
"We weren't very good at the beginning of the season," Dunn said, referencing their home game against Barry Goldwater. "These kids have been playing together for a while so their chemistry's hot. They enjoy each other, there are no superstars, and they're getting better and better."
Stumpf credited Deer Valley for their coaching and press defense in Tuesday's game.
"When we played them away it was a two-possession game, six points, with 48 seconds left and we were away. Then here, their press just killed us and Dunn is a great coach," Stumpf said. "We faced Willow (Canyon) and beat them and beat their press, but it's just a matter of one kid on the court all the time didn't do the right thing. It is what it is, but five players need to do the right thing and unfortunately, it didn't happen."
Deer Valley(8-0) will host Tempe (6-1) at 7 p.m. Friday. The Bulldogs (1-9) will host Mingus (1-5) at 5 p.m. Saturday.
---