Saguaro boys basketball marches to playoffs under first-year head coach
March 9, 2021 by Jack Loder, Arizona State University
---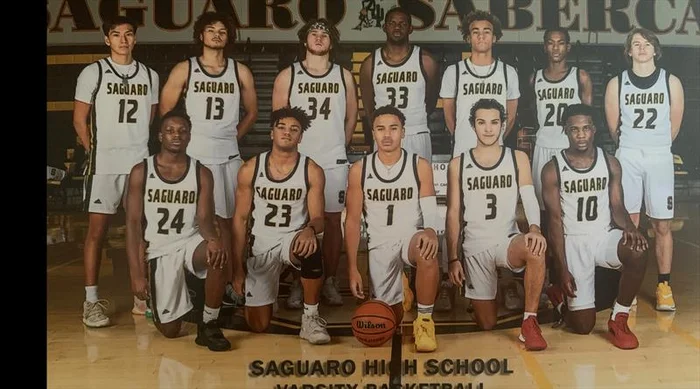 Jack Loder is an ASU Cronkite School of Journalism student assigned to cover Saguaro High School for AZPreps365.com.
Sometimes after a big win, you just feel like dancing. For head coach Lucas Ramirez and the Saguaro boys varsity basketball team, that is exactly what they did.
The 27-year-old skipper joined his team in the parking lot, where it has been deemed safe to congregate, and truly busted a move. His herky jerky performance was greeted by hoots and hollers from players and parents alike, and the party was on in Scottsdale.
The winning feeling has become familiar for the Sabercats (13-5), whose program has enjoyed a renaissance year in what had been forecasted as a potential rebuilding campaign. Much of this success can be attributed to their first-year head coach.
"When you take over a program you want to set your standards and lay that groundwork," Ramirez said. "Typically that's done right when you get the job, but we weren't able to do that in person. We had to meet everyone virtually and couldn't start workouts until the end of September. We were a little behind the curve, but so was everyone."
When Ramirez got the job in early March 2020, there was no way he could have seen what was coming in terms of preparation. Months of uncertainty in the summer and fall put high school basketball programs around the country in limbo, and for a new coach looking to create chemistry with his new guys, the situation could have spelled disaster.
But those who have come to know him best at Saguaro say his character allowed him to turn this adversity into a stepping stone.
"Without a doubt his passion and positivity have positively influenced that team this year," Saguaro athletic director Matt Harris said. "He did a tremendous job earlier this year getting his guys on Zoom calls and connecting with everyone when they couldn't meet in person."
Before taking the head job at Saguaro, Ramirez cultivated his coaching craft as an assistant at various high schools and a junior college in the Phoenix area. A native of the city, Ramirez attended Horizon High School before enrolling at Arizona State. He got a head start on his coaching career, assisting coach Mike Oguinn at North Canyon High School in addition to his normal college course load.
"Some of my finest memories come from working with him," Ramirez said. "I definitely wouldn't be where I am today without that experience. I really learned a ton about how a program should be run at that level."
His experience is not just limited to the high school level. During his senior year at ASU, Ramirez worked as an assistant at Phoenix College, where he learned from head coach Matt Gordon. Upon his graduation, he found his way back to Horizon as a teacher and coach. There, he worked under Jerry Conner.
"I don't think there's one person that could say a bad thing about him," Ramirez said. "Without those three years I wouldn't be feeling as prepared as I was to take the head coaching job here."
Ramirez's success in his first year at the helm may have come as a surprise to those who follow high school hoops in the Valley, but within the Saguaro locker room, it was clear before players were allowed in the gym that this program was in the right hands. Frequent Zoom meetings and constant engagement with coaches and parents showed his players that, if nothing else, their new coach was invested.
"I was confident in him as soon as we began talking and having meetings," senior forward Kamden Sekaquaptewa said. "It was obvious he knew his stuff when it comes to basketball, but he also took interest in our lives, and he still sends us inspirational quotes almost every day. He's a great leader."
Sekaquaptewa is just one senior on a team that features almost exclusively his classmates. Aside from junior center Tristan Monday, every other player who sees significant minutes is a member of the class of 2021. It's often challenging for a new coach to truly connect with seniors, as the first year of a new regime often brings seismic changes and a focus on the future.
For Ramirez and the Sabercats, however, the transition was seamless.
"I couldn't ask for a better first graduating class. They bring a unique combination of experience, skill and character," Ramirez said. "I think every coach remembers their first team, and these guys will forever be special to me. They may not live in the house for very long, but they will have played a huge role in building it."
For senior Donovan Thomason, the gratitude is mutual.
"When new coaches come to a new program you always hear how they plan to create a different culture," Thomason said. "He actually did that. He created a 'we' culture. As a transfer, he made me feel like I've been a part of this family for a long time."
One common theme in peer and player assessments of Ramirez is his caring and passionate approach not just to coaching, but to being a Saguaro community member. Like many great coaches in the high school and college ranks, his involvement with the school as a whole has endeared him to non-basketball students and staff.
"He does a great job connecting with all the groups on campus, it's not just basketball," Harris said. "He is involved with arts students and having them sing national anthems and band kids showing up to games like we saw on senior night."
While the outcome of what has been a magical first season remains to be seen, there's no doubt that Saguaro has the right man leading the way. The Sabercats offense is putting up 56.3 points per game while shooting 40% from the field this season, both well above the state and national average. They play sound defense, and are among the state's most elite in transition.
This production on both ends of the floor is a result of the discipline and focus Ramirez and his staff bring to practice day in and day out.
"I think the work hard and then have fun is exactly the environment we want," Ramirez said. "Fun can be described a number of ways. Fun is working your butt off to be in a position to win, and winning is fun. They know that and we know that."
Senior guard Caleb Simpson echoed this sentiment, praising the way the program is being run.
"In practice we are serious and focused, and that shows on gameday," Simpson said. "He values enjoying the game, and it's great to have that."
While his early career development was rapid, Ramirez loves the spot he is in and does not see himself making any moves in the near future.
"When I first started out I wanted to go on the fast track and see how far I could go on the coaching ladder," he said. "But it's important to be in the moment, and you make the big time where you're at. I love where I'm at. I have no aspirations right now to go to a different, bigger opportunity. I'm with the right people right now and that's what it is all about."
After a dramatic region-clinching win Friday night, Saguaro's dream season rolls on into the Arizona 4A state playoffs. The Sabercats earned the bracket's No. 14 seed, and will travel to No. 3 Paradise Honors for a first-round matchup Wednesday night.
The fact that they are even in this position is a testament to the strength and resolve of their program, and the character of the man leading it.
"He's done a great job," Simpson said. "But that doesn't make him a good dancer."
---