Snowflake leaving permanent paw print on 3A Conference championships
March 15, 2021 by George Werner, AZPreps365
---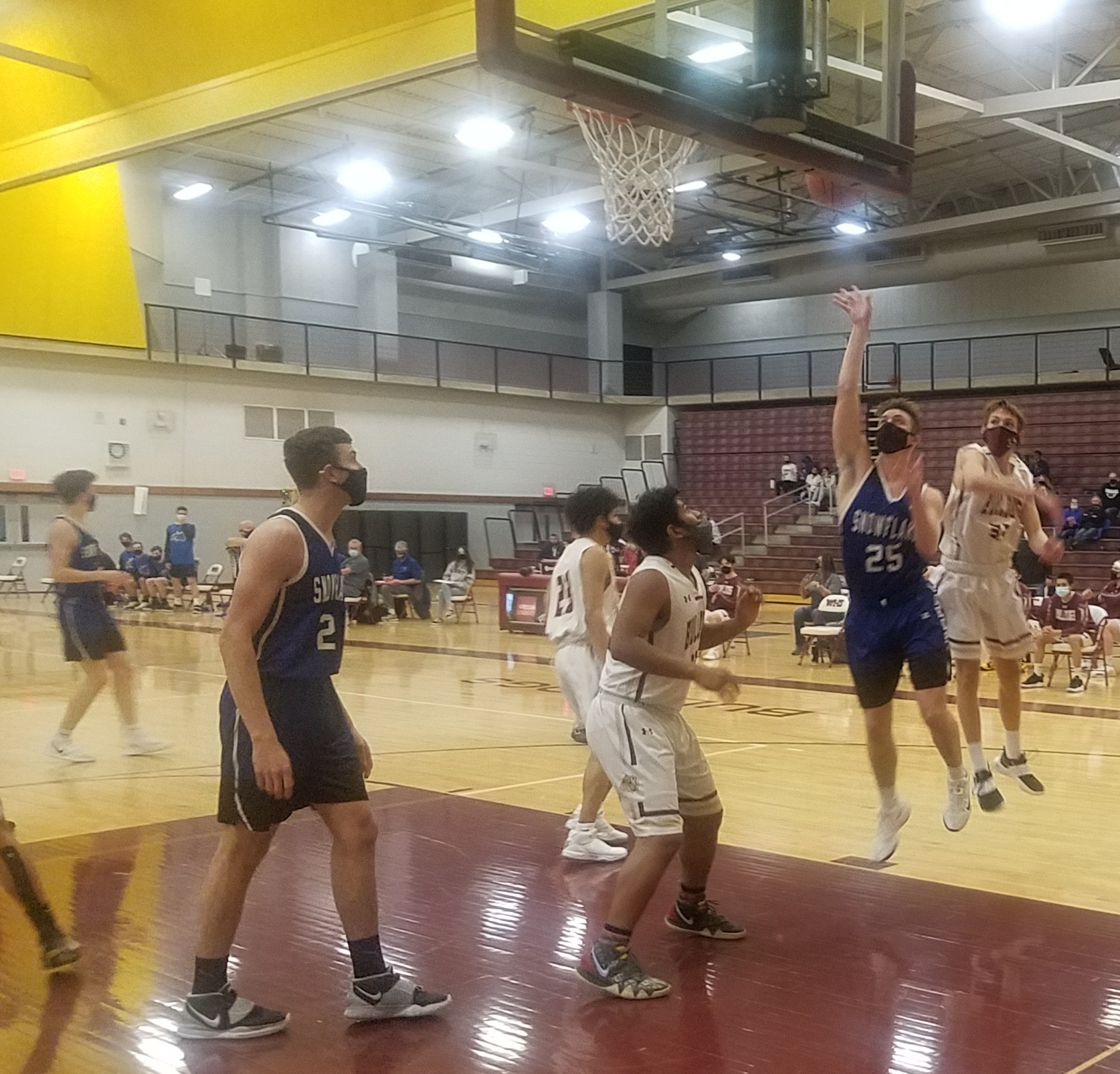 As the state's boys and girls basketball and wrestling tournaments crescendo with 3A Conference and Division III championship showdowns Saturday, March 20, they all have one challenger in common: Snowflake High School.
The Lobos' three winter sports teams stand on the brink of a feat unparalleled in the school's 133-year history.
Almost 40 years ago, Snowflake football followed up those teams' February 1982 titles with a November 1982 championship of its own. But the school has never swept the basketball and wrestling championships right after winning a football title, much less win state titles in any four sports in the same school year.
Factor in additional state semifinal appearances in boys soccer and volleyball as well as second- and third-place finishes at the respective 3A meets for boys and girls cross-country, and the Lobos have not just survived in the time of Coronavirus, they have feasted on their 3A competition.
"Success breeds success," head coach Andy Wood said Saturday, March 13, after his third-seeded Snowflake boys basketball team dispatched sixth-seeded Florence High School, 45-39, to advance to the 3A semifinals. "When you live in rural Arizona, sometimes there's nothing else to do but root for your high school teams. And our community has some great fans of the program."
Hot perimeter shooting by Wood's four guards established a 19-5 advantage for Snowflake by the end of the first quarter. Lockdown defense on Florence seniors Malik Payton and Eddie Chapple and junior Chris Farmer maintained that lead, and a 36-22 rebounding advantage kept those guards from getting second chances.
"My four guards that had to play defense on those three superstars, they did a great job," Wood said of his three senior guards--Michael Brimhall, Gannon Larson, and leading first-quarter scorer Ryson Stuart--and junior guard Kaiden Brewer, all of whom teamed up to hold Gophers senior Malik Payton far below his average of 26.5 points per game. "Defense wins championships. There's no excuse to not have defense show up this time of year."
As a reward for the victory, Lobos fans will get to see them play one more time at 7 p.m. Thursday, March 18, as they host No. 7 seed Fountain Hills for the right to advance to the state championship March 20 at Eastmark High School in Mesa.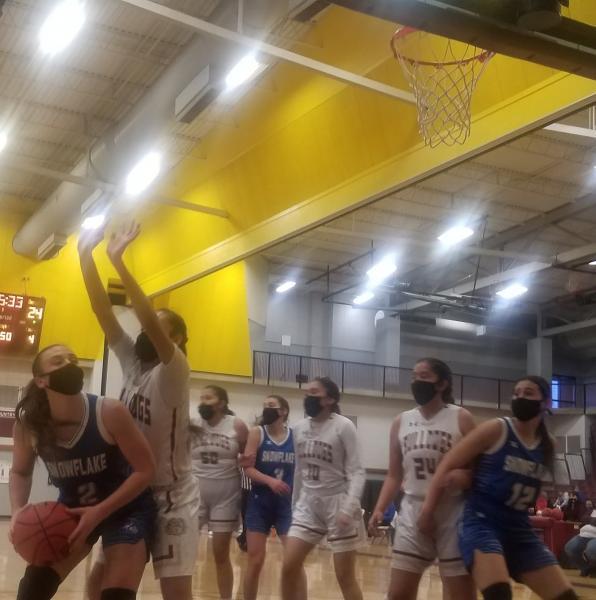 "We want to go in on a high note, and then hopefully bring home a state title," girls basketball head coach Joe Clare said after his No. 2 seed's second double-digit victory of the regular season over sixth-seeded Winslow, who will be the Lobos' semifinal opponent at home Wednesday, March 17. "When we play together, as a team, and aggressive, we're hard to beat."
Like Wood's offense, the production from the Snowflake girls sputtered a bit against Show Low High School in their Friday, March 12, home quarterfinal. But a 9-3 advantage in steals, forced by guards like senior captain Trysten Hancock, gave the Lobos the opportunities they needed to climb out of a 16-10 first-quarter deficit, outscore the Cougars by eight points in both the second and the fourth periods and ultimately beat Show Low for the rare third straight time this season.
Leading scorer Emily Davis, a junior post, above, will also need to rise to her average of 13.5 points and 8.5 rebounds per game for the Lobos to repeat that rare accomplishment against Winslow and beat the Bulldogs for the third straight time to advance to the March 20 state championship at Eastmark, tipping at 3 p.m.
By that time, Lobo wrestling fans will also know if head coach Ken Owens could duplicate his team's sectional success at rival Poston Butte High School, site of the Division III state tournament, weighing in at 9 a.m. March 18.
In winning their Section II tournament March 13 in Payson, the Lobos scored 191 total points as a team--second-most to Safford of any Division III sectional champ. Three Lobos won their weight classes and six more qualified for State. The Snowflake qualifiers, listed by finish in their weight class:
113: Garrett Flake, sophomore, runner-up
120: Troy Kinlicheenie, freshman, champion
126: Terrell Kinlicheenie, junior, champion
132: Ky Owens, junior, champion
145: Rory Owens, junior, third place
152: Brenley Wood, senior, third place
160: Bradden Lewis, sophomore, fourth place
182: Payson Cardon, senior, third place
195: Bryce White, sophomore, runner-up
---