Ft. Thomas, North Valley Christian coaches win first 1A titles
March 19, 2021 by George Werner, AZPreps365
---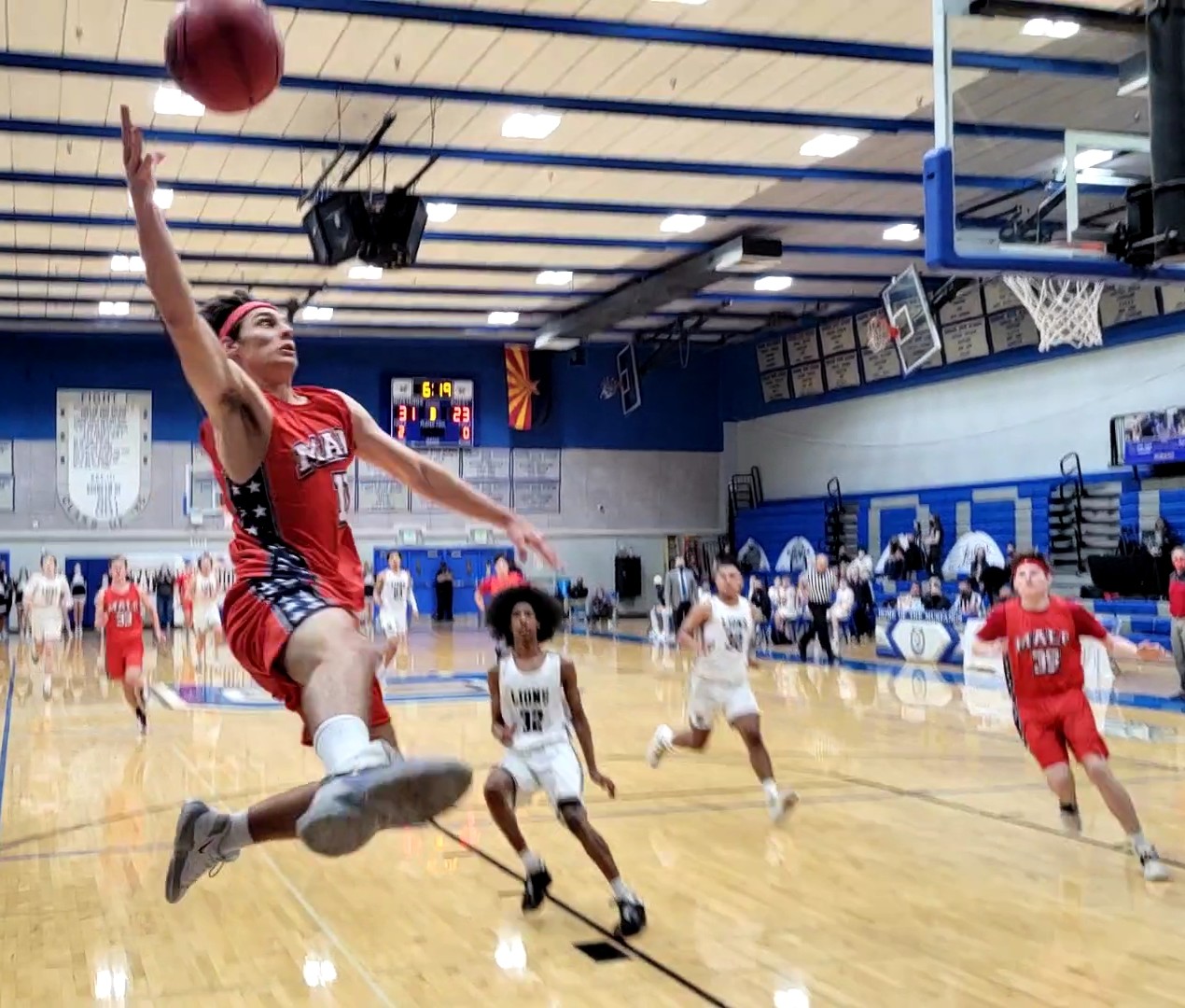 More than one statement was made at the 1A Conference state basketball championships Tuesday at Mesa Dobson High School.
The first state boys and girls basketball championships were won by North Valley Christian Academy and in the 14-year tenure of Fort Thomas head coach Lee Haws.
Their victims, however, no longer have challenging for the title as a mere goal. The Mohave Accelerated Learning Center and Mogollon High School basketball programs have set championship appearances squarely as an expectation.
"We'll be there," said Mogollon head girls basketball coach Jim Maner, whose Mustangs won their first 1A title in 2019 and were coming off an upset of top seed Leading Edge Academy of Gilbert. "Our win against Leading Edge was kind of like our state championship.
"I considered this year our rebuilding year. I really did."
So did Scott Neal, himself in his first year as head boys basketball coach at Mohave Accelerated Learning Center.
"With this season, with this young group, we never even dreamed of being here," said Neal after his rotation of eight underclassmen suffered just their second loss against the most games in the state, Neal claimed, with 24. "This is a team that we thought about maybe next year, after everyone would be back, would get this far. Runner-up's not a bad consolation."
To the victors, as ever, go the spoils, though, as detailed below:
North Valley Christian 65, Mohave Accelerated 48
Little did Neal know, at the time, that a 13-7 lead midway through the first quarter would vanish by the end of the period. Junior guard Aden Honegger's six points in transition made the early difference.
But Lions forward Josh Walker responded with six of his own off the weak side of Mohave Accelerated's defense, matching the first-quarter output of his fellow senior co-captain, guard Braeden Roberts, in an 8-2 run that tied the score at 15 by the first-quarter buzzer.
"We were really focused on trying to get out, run and get some steals," said Walker, whose 11 points, all in the first half, tied for second-most on the night with freshman sixth man Jesse Graves. "We saw that they had some potential on the back side to [score] the ball. Once we were finally able to find our rhythm, it felt good."
It was a reversal fueled by the Lions' defense, which forced a Patriots offensive foul and a turnover in the final 30 seconds to enjoy final possession and a shot at the lead heading into the second quarter.
"I will use the North Valley model as my model next year: Hard defensive play will win you championships," said Neal, whose Patriots committed 19 total turnovers on the night. "We're good defenders, but we're not as good as them. They're the gold standard."
Although Neal's son Josh, who would end up sharing the team scoring lead with Honegger's 14, hit his only three-point shot of the night to put the Patriots back up, 18-17, one minute into the second quarter, Mohave Accelerated would only score three more points the rest of the half and would never see the lead again.
"That's part of the goal of the pressure defense, is to wear people out," said Walker's father, Randy, the Lions' head coach, who won his second state championship in just the third season of existence for the North Valley Christian varsity after losing in the title game to Fort Thomas the year before. "I think that's been the core of our program, from the very beginning."
That defense would put the Lions up, 29-21, by halftime, and would allow just two Patriots field goals in a third quarter that saw the Lions stretch the lead to 13 by its conclusion. Although Neal would finish with 13 rebounds to add to his state-leading 20 double-doubles on the season, he could not bring the Patriots back by himself.
Not against the top team, especially the top defense, in the conference.
"That's what we're going to strive to be next year, as good a defending team as they are," Neal added. "I think that'll get us over the top. A whole summer of work, then next year, we'll be right there, where they are."
Graves and Roberts stepped up in the absence of Josh Walker, who was out most of the third quarter after picking up his third foul less than 1:30 in.
Roberts, especially, tied for the 1A lead in assists with over six-and-a-half per game, got himself involved against Neal's full-time man-to-man defense to put the Patriots away in the fourth quarter.
He would score 15 of his game-high 23 points in that period, including 9 of 10 free throws as Mohave Accelerated put North Valley Christian in the bonus late in the third quarter.
"His leadership, on and off the floor, is second-to-none," Randy Walker said of Roberts. "Terrific person and player."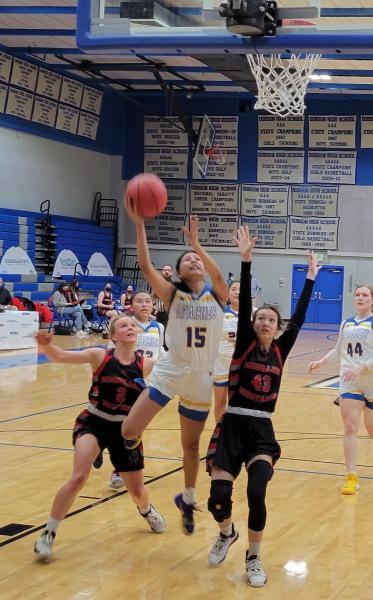 Fort Thomas 56, Mogollon 29
More than 20 months after the Fort Thomas school board unanimously voted not to renew Haws, the school's athletic director, as girls basketball coach, a freshman, Jasmine Olivar, above, would lead Haws to his first title trophy.
"I'm going to get my job back," Haws joked after Olivar led all scorers with 19 points in a game the Apaches led, buzzer-to-buzzer. "This year's been very challenging, with COVID [-19], but fun."
After being quietly reinstated later in the summer of 2019, Haws introduced a new transition offense. It would, at first, be built around junior Chasinee Stanley and Haws' daughter, Kyla, a senior forward who was limited by four fouls in her final game to seven points and seven rebounds.
Stanley, as one of five Apaches with six points, also had six assists and five steals as part of a balanced supporting cast March 15 which included two three-pointers by junior Hailey Hinton.
"She can do that," Haws said of Hinton's perimeter-shooting prowess. "She just doesn't have to. Everybody else just gets to play."
Ultimately, though, it would take a guard with the slashing ability of Olivar to elevate Fort Thomas to its first title in 15 years as she broke down Mogollon's half-court zone defense.
"When she came in, I knew she was good," Haws said. "I didn't know she was that good."
Eleven of Olivar's points led Fort Thomas to a 34-20 halftime lead that would extend, by the end of the third quarter, to a 19-point margin, then a trigger of the AIA's mercy rule and a running clock. All that was left by then was the celebration.
"I have three more to go," smiled Olivar, fifth-leading scorer in the conference and the Northeast Region Offensive Player of the Year. "We did it as a team. We got steals, rebounding, putbacks...just kept the ball away from their basket."
Not to mention shut down the region's Player of the Year, Isabella Horn. After an early three-pointer, the Mustangs' senior forward scored just eight points the rest of the night, equal to the contributions of second-leading scorer Paige Parry, a junior forward.
It was a virtual turn of the tables from the Apaches' 23-point second-round loss to Mogollon during Maner's state title run two seasons prior.
"We couldn't make a basket," Maner said. "We're not a really good shooting team. So that was kind of a killer for us."
---