Begay, Taliman propel Page to 3rd 3A girls title in last 4 years
March 21, 2021 by George Werner, AZPreps365
---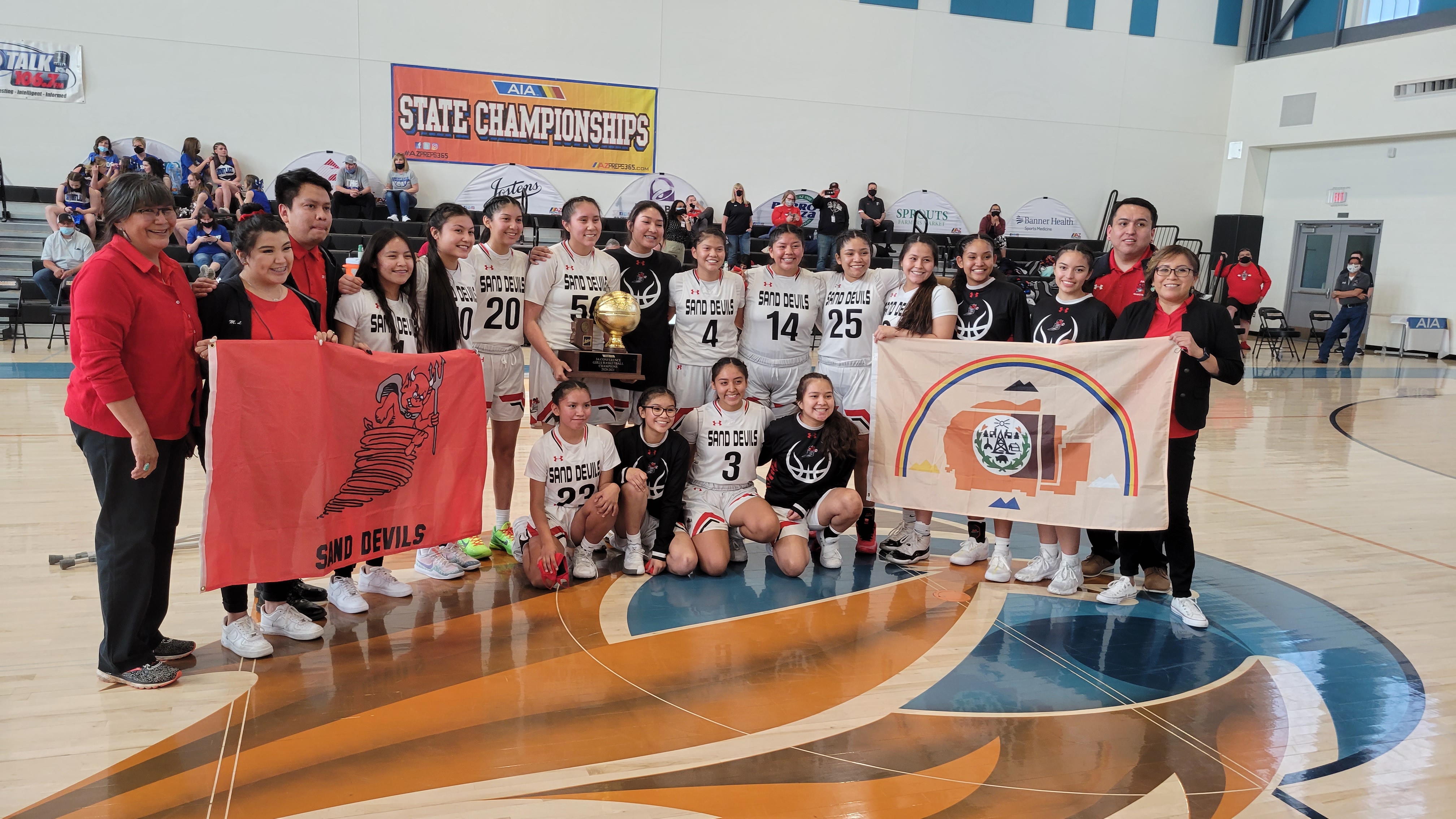 The 2021 girls basketball title game in the 3A Conference wasn't pretty, but battles to be the best often are not.
Especially when the battle is a rematch of top-ranked versus second-ranked teams, with the only difference between the two being their first game.
"We didn't expect anything less," said Ryan Whitehorse, the head coach of the top-ranked team, Page High School. "Snowflake's a great team. They deserved to play here too: Very physical, very fundamental, disciplined team."
After a full-court fight and an undefeated season that had twice been cancelled due to COVID-19 concerns, it was Whitehorse's Sand Devils emerging victorious with their third championship since 2018, 36-32 over Snowflake High School.
"A testament to the girls, as far as the amount of work they put into this game," added Whitehorse, who has coached his teams to title-game appearances every season of his five-year tenure. "We had so many ups and downs, and for this team to be able to come back and finish undefeated on top of that, it's just icing on the cake."
Junior guard Miquedah Taliman's game-high 13 points ensured the Sand Devils would hang on for their third 3A championship in the last five years despite a 9-2 run by the Lobos in the final six minutes.
"I had to be really aggressive to get my shots and work for what I had," said Taliman, recently named Player of the Year in the North Central Region. "Our team really needed to get this win. We got the job done."
Two minutes into the fourth quarter, Page senior Nadya Begay's two free throws put the Sand Devils up 11 points and appeared to put her team in control of a Snowflake adversary struggling to score or rebound.
"I think that was the biggest focus: We knew they were a good rebounding team," Whitehorse said. "We couldn't give them second opportunities. We gave up a couple in the first half but cleaned it up in the second half."
No Lobo finished with more than eight points, with star post Emily Davis failing to score at all until the fourth quarter.
Although she represented the North Central Region as Offensive Player of the Year, it was senior Torrance Begay's defense and rebounding that ensured Davis would finish with just two late buckets--nearly 10 points under her 13.5 points-per-game average.
"Torrance is a versatile player, and that works to our advantage," Whitehorse said. "She's not just a post player: She can draw her defenders out on the perimeter, she can shoot, she can attack. She's a matchup nightmare for most teams."
But Snowflake took advantage of seven missed fourth-quarter free throws by Page to steadily claw its way back, beginning with a putback by junior Kamri Ballard at the five-and-a-half minute mark.
"I wouldn't go to battle with any other team," was all Lobos head coach Joe Clare could say after his team's 18-2 finish, best-ever in his three-year tenure. "They've sure got a lot of grit."
Unfortunately for Snowflake, grit manifested itself in the scorebook in the form of fouls.
Junior guard Austin Stratton ended up fouling out just to stop the clock, which put Page in the bonus halfway through the final period. Davis and senior guard Trysten Hancock--leading scorer for the Lobos with eight points, along with junior forward Macee LeSueur--also flirted with disqualification, carrying four fouls each for much of the final period.
Ultimately, the Lobos would outscore the Sand Devils in the fourth quarter. The effort bookended a 4-0 Lobo start and a first quarter in which Hancock had as many field goals as the entire Page team.
---