Sandall's 18 in final game forges first Page boys hoops title
March 21, 2021 by George Werner, AZPreps365
---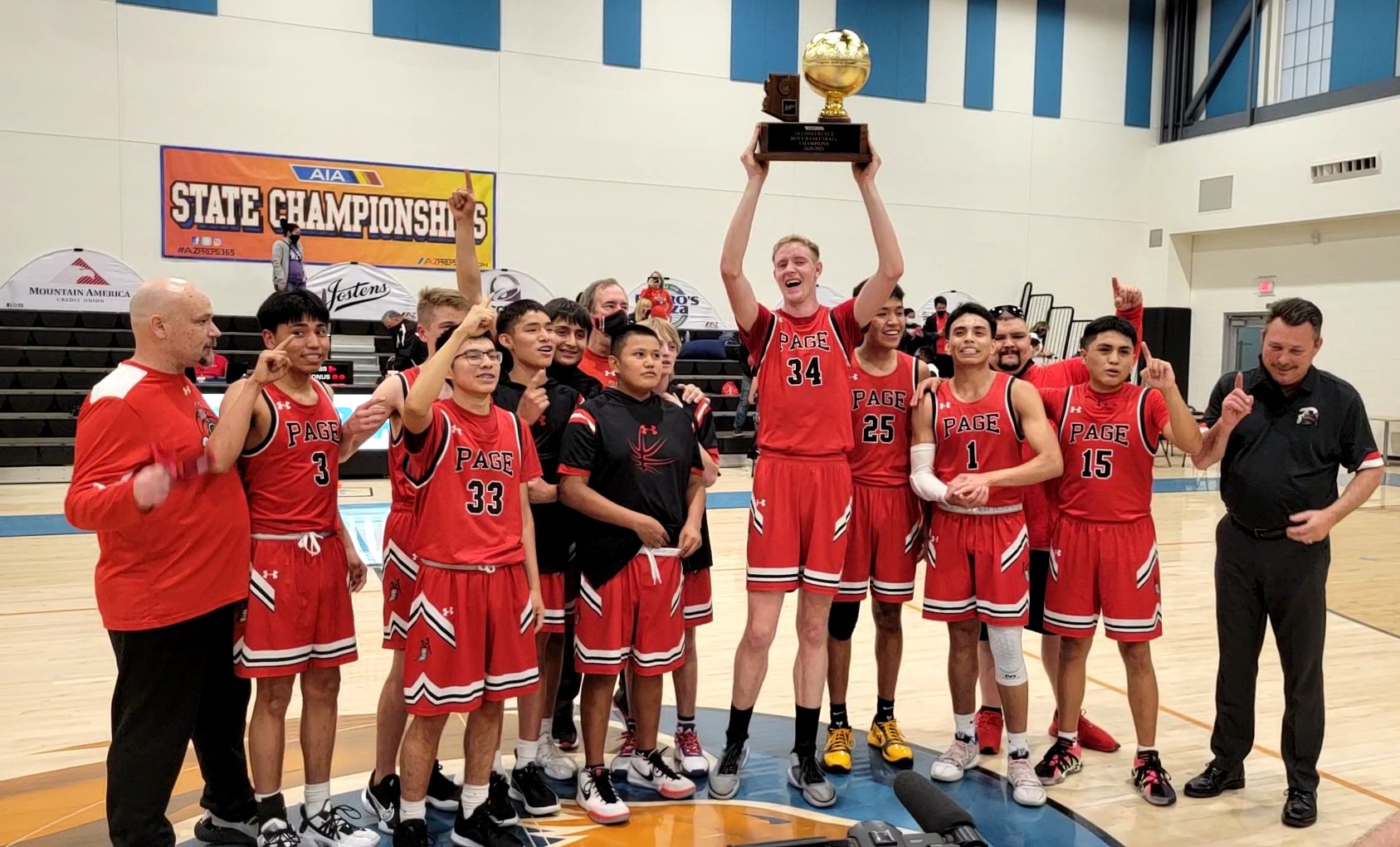 Once upon a time, there was a 6-foot, 10-inch center for Page High School who dominated his opponents. All he was missing was a state title.
Saturday, March, 20, two decades after Page native Matt Haryasz went on to all-Pacific 10 honors at Stanford University and a brief stint in the NBA, Sand Devil senior Stuart Sandall ensured the crown finally fit.
Sandall, the 6-foot, 10-inch, 205-pound Player of the Year in the North Central Region, scored 18 points, blocking and altering innumerable Snowflake High School shots along the way, to lead fifth-seeded Page to the 3A Conference title in a 64-51 win over the Lobos.
"It feels amazing," Sandall said after leading Page to its first state boys basketball title. "There's no other feeling like it.
"I gotta love the fans, love my team that got me here. It's just a wonderful experience."
Sandall led all scorers on the night and forced Snowflake to play small after landing Lobos starting post Stewart West on the bench with two fouls less than four minutes into the game.
"That guy's a great player," Sandall said. "Getting him out of the game, that helped a lot."
With 6-foot, 5-inch junior Mckay Wood injured and unable to play, Snowflake's only other option at even West's height who could match up with Sandall was senior Caleb Johnson.
It wasn't the same. Sandall's six first-quarter points of the game fired a 9-0 run that brought Page from a 7-2 deficit to a one-point lead by the end of the period--one which the Sand Devils would never relinquish.
"The kid's a stud," said Page head coach Justin Smith, region coach of the year who won two state basketball titles with the girls team prior to taking over the boys program in 2018. "Other teams have to focus on him, and it really frees him up."
This title was more personal for Smith, whose father is an assistant coach and whose son, Robert, the North Central Region's Defensive Player of the Year, added 11 points.
"I'm not going to say it's better than the other [titles]--the other ones were pretty good, too--but yeah, this one definitely feels different," Justin Smith said. "We put a lot into this for a long time."
Although Sandall actually scored two points under his season average of nearly 20 points per contest, he wasn't alone. Sophomore guard Orlandon Yazzie kicked in 16, half of those during the second quarter, the Sand Devils' most dominant, when three-point shooting by Yazzie and senior forward Jonah Holiday stretched the lead from one to 12 points.
Holiday and Smith each added 11 points for the Sand Devils, including three three-pointers at critical junctures.
The defense of all three players, and their teammates, marked the clearest difference between the 13-point win and a 76-69 home loss Feb. 13 to the Lobos, Smith said.
"That's the difference: We defended," Smith said. "We [also] did a good job of taking care of the basketball. I don't think we had a whole lot of turnovers."
Ball security proved key during a third quarter in which Snowflake actually outscored Page, and continued to serve the Sand Devils well into a fourth quarter in which Page shot 15 free throws, hitting 10 to secure the win.
Despite his foul trouble, West had six field goals during this second-half stretch to lead the team in scoring.
"We didn't have the answer for them defensively for a while either," Smith said. "I didn't like having to trade baskets. I wish we wouldn't have."
Point guard Michael Brimhall had a three and two buckets during this stretch, ending up with 11 points in his final game for the Lobos. Fellow senior Gannon Larson added 10 for Snowflake, which finished 18-2 as a No. 3 seed.
---