SCA softball thankful for no masks
March 29, 2021 by Erin Slinde, Arizona State University
---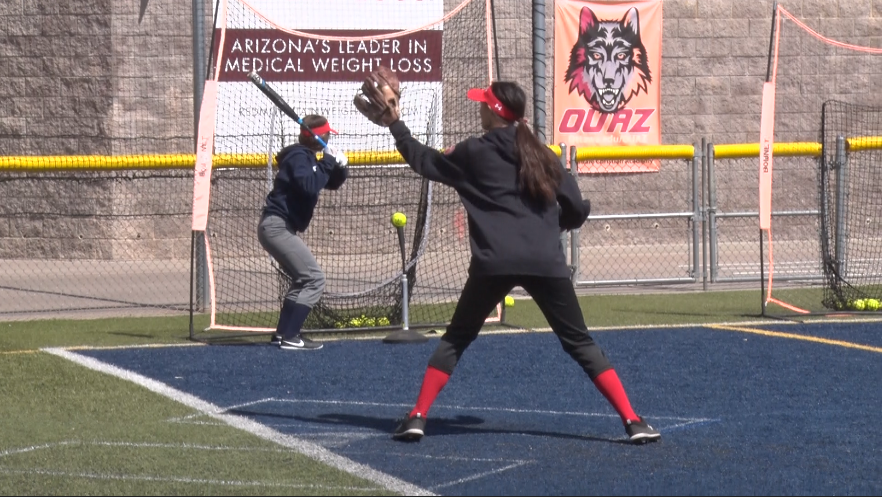 Erin Slinde is an ASU Cronkite School of Journalism student assigned to cover Scottsdale Christian Academy for AZPreps365.com
On March 2, the AIA announced that masks would not be required for spring sports. With the decreasing number of COVID-19 cases and hospitalizations, the AIA agreed that continuing spring sports with no masks was the best decision.
"It's challenging to wear the mask. It's challenging to make sure that during play the mask is pushed back up," AIA Executive Director David Hines said. "It became, with the numbers being better, more of a hassle."
Hines said that since the COVID-19 metrics were similar to how they were in the fall, the executive board decided to go back to the fall modifications that did not require masks to be worn by players competing, but players that were not participating, coaches, fans, and officials are still required to wear masks.
"The mask does hinder your communication," SCA softball coach Steve Hoffman said. "As a coach, I will have to learn to project my voice more."
The AIA also considered how warm Arizona can get during the spring months.
"We understand, especially in Arizona, our weather can get pretty hot," Hines said. "However, as we approach the spring, as the numbers continue to get better, as the number of vaccinations goes up, then we can see about some of the restrictions being pulled."
The AIA has considered lifting more restrictions if the numbers continue to decrease.
"We didn't want to start without some of these restrictions and then all of a sudden something goes south and we have to reinstate it," Hines said.
SCA softball is just happy to be playing without having to worry about wearing a mask.
"It is very difficult to breathe, especially when you're doing sports that require a lot of exertion," Hoffman said.
SCA softball senior Tatum Sucato Fuller had to wear a mask during the soccer season.
"It was hard to look down," Sucato Fuller said. "When you're fielding balls, it would be hard because your vision is already limited."
Although the SCA softball team will not have to wear masks while they play, they are still being cautious. Hoffman got each player their own light-weight mask and a small bottle of hand sanitizer. Hoffman also said he uses anti-bacterial spray on the bats before and after practices.
Another consideration the AIA made was that almost all spring sports are played outdoors. The only sport that is played indoors is boys volleyball, which only a limited number of schools participate in.
After spring sports were canceled last year, athletes are just excited to have a season this year. Sucato Fuller had to watch many of her teammates not be able to participate in their senior season.
"It being my senior year," Sucato Fuller said, "I'm really thankful to be playing."
Hines also said that his priority was making sure that spring sports happened this year.
"We lost the season last year. I felt awful for those seniors," Hines said. "We tried to protect the spring as much as we could."
Hines also said that some schools have decided to still wear masks during the spring season and some have decided to not participate at all.
"It's really difficult to satisfy everybody," Hines said. "For the most part, the kids are pretty appreciative of playing without a mask."
Hoffman reminds his team that if they want to compete this season, they have to make good choices off the field.
"Just like keeping your grades up, you also have to worry about not getting COVID and transmitting it to the team," Hoffman said. "It would be devastating because the players put in all the work and all they want to do is compete."
Although the numbers may be going down, they could still rise again. The AIA hopes that the numbers will continue to decrease, but understand that their goal is to give every player the opportunity to play in the safest and most realistic environment.
"We are still in a pandemic. We are still trying to protect everybody," Hines said. "We are trying to do our part to make sure that we're not contributing to the problem, but helping solve the problem."
The SCA softball team (0-3) will face Heritage Academy Laveen (1-1) on the road at 3 p.m. Wednesday.
---