The Howrys are relishing one final season as coach and player
March 30, 2021 by Connor Worley, Arizona State University
---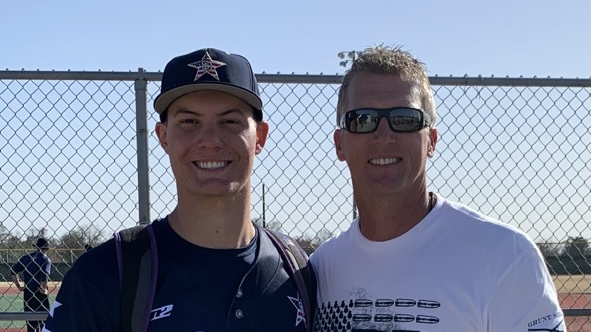 Connor Worley is an ASU Cronkite School of Journalism student assigned to cover Northwest Christian for AZPreps365.com.
Ty Howry remembers walking onto finely manicured grass at Wrigley Field.
Chicago Cubs players were littered across the place, some taking batting practice, others throwing around the ball to warm up.
The 10-year-old even managed to meet and play catch with a couple players.
Though many kids fantasize about opportunities like this, for Howry, it was just another day.
"I just walk out there like it's a normal day," Ty said. "And I didn't understand that when I was younger, but then [looking] back a little bit older, it was crazy."
Howry's father, Bob Howry, was a MLB relief pitcher from 1999-2010, playing for the Chicago White Sox, Boston Red Sox, Cleveland Indians, the Cubs, San Francisco Giants and the Arizona Diamondbacks across 13 seasons.
Now, both Howrys can be found together at Northwest Christian's baseball field where Ty is a pitcher and Bob has served as the head coach since 2017. As Ty enters his senior season, the pair are relishing one last opportunity to compete together as coach and player and father and son.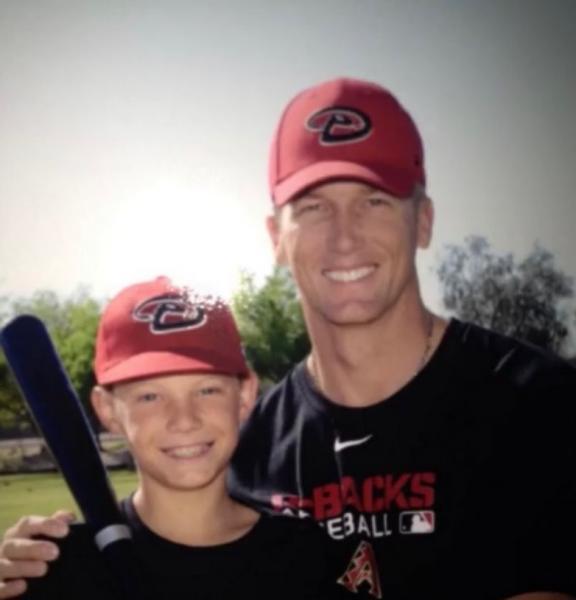 Ty and Bob Howry during Bob's stint with the Diamondbacks in 2010. (Photo provided by the Howry family)
Bob didn't foresee any scenario where he would be coaching Ty's high school team. He'd help with the tee ball and Little League teams, but as Ty headed into junior high he figured that his coaching days were behind him.
"I really didn't expect to coach him again," Bob said. "I remember telling my wife after his last game, 'This will be the last game that I coach him.'"
Eventually Crusaders Athletic Director David Inness, who coached Bob in high school football at Glendale Deer Valley back in the 1990s, approached him with the idea of coaching the junior high team.
Bob resisted the idea initially, but Inness insisted, saying that the school didn't have anyone to fill the position, so Bob reluctantly agreed.
"I think my reluctance was I didn't want to have to deal with anything besides teaching or coaching baseball." he said. "I had to be involved in doing schedules and meeting with parents and all that kind of stuff. I really didn't want it at the time."
Shortly thereafter, he moved up to coach the junior varsity team. Then in 2017, Howry accepted the job vacated by former coach JC McKee. One year later, Ty joined the varsity squad as a sophomore pitcher.
Ty grew up a multi-sport athlete. Even through high school he balanced his time across basketball, football and baseball. Ultimately, he decided to focus on baseball, dropping basketball prior to his junior season and football this past fall.
As a sophomore, Ty believed he needed to prove himself to his teammates. He didn't want others to think his place on the team came down to his dad being the varsity coach.
"There are seniors and juniors on that team that weren't playing and I'm getting playing time," Ty said. "You have to go that extra mile to kind of prove yourself. So it's not like 'oh, my dad's the coach, that's why I'm playing'. It's I'm better than you, that's why I'm playing and I work harder."
Ty's hard work his sophomore year coincided with the first time he said he wanted to listen to the advice and critiques that Bob offered. Up to that point, Ty would grow frustrated and upset with Bob's coaching.
Dena, Ty's mom and Bob's wife, remembers one incident when Ty was in eighth grade. Ty and Bob were on a car ride home from practice and she trailed them in another car. Ty became so worked up that he got out of the car at a stop sign and walked back to her car.
"He just looked at me. He's like, 'I can't do it anymore. He's wearing me out. I can't do it!'," she said.
Bob and assistant coach Frank Morgan, whose son Frankie is also a senior on the team, have talked about how the father-son situation hampers their coaching in that they coach their kids harder than other players.
"That may be more unfair to them but then it's not so much, 'Hey, you're gonna get to get away with something because you're the coach's kid,'" Bob said. "It's more like there's more expected out of you because you're the coach's kid."
"Bob and I talked about that balance of being a dad and being a coach," Morgan added. "It's like, 'Hey, someone needs to get on [my son], I want you to do it. Because I still want to have a good relationship with my son when we get home at night."
For the past six months, Bob has sent Ty to another pitching coach in order to learn different mechanics and allow them to spend time together on the baseball field as father and son, rather than coach and player.
Now that he's older and fallen more in love with the sport, Ty's appreciation for his dad's advice and coaching has grown.
"I don't know of anyone who's had an awesome time with their dad as their coach," Ty said. "But as I've kind of grown into it and enjoyed more about the sport and wanted to get better in trying to find someone to play at the next level, like, there's so much wisdom that I gained from him."
The baseball wisdom that Bob's imparted has helped Ty grow from an out-of-control thrower his sophomore season to a steady, confident pitcher this season.
"I really think it enhanced his knowledge of baseball as a whole overall, more when [Ty] saw [Bob] more than just a coach," Dena said. "Because now it was like his pitching coach, almost. [Bob] wasn't just a team coach."
Bob noted that Ty's lack of command runs in the family, but as Ty's ability grew and he started to throw more strikes as a sophomore, Bob became assured that he'd develop into a successful pitcher.
Austin Steel, a senior catcher and Ty's friend, said that Ty's growth from his freshman year to now has been huge.
"Freshman year he was all over the place," Steel said. "Now it's more consistent. He has a hard fastball and a slider that has a lot of bite."
After enduring a significant knee injury during a preseason scrimmage and undergoing six months of physical therapy, Ty is thankful to be in a position where he can continue to pitch in his final high school season.
Six games into the regular season, the Crusaders are off to a shaky 1-5 start.
Ty and Bob are focused on the remainder of the season, hoping to quickly turn around the sluggish start.
No matter how the rest of the season plays out, however, they're both appreciative and thankful of the time they've spent together at Northwest Christian, not only as player and coach, but as father and son.
"I'll be standing there on the rail and he'll come up from behind and put his arm around me or something like that," Bob said. "[He'll say] 'Hey, buddy, what are you doing? Or how's your day going?' That's going to be the biggest thing I'll miss."
"It's just really cool to have him here for all those moments," Ty said. "He watched me hit my first home run here. He watched me throw my first pitch here. When I got pulled up to varsity. He was there for all of those big moments in my high school baseball career."
---