Mingus doubles up Flagstaff to remain undefeated through first 7
April 2, 2021 by George Werner, AZPreps365
---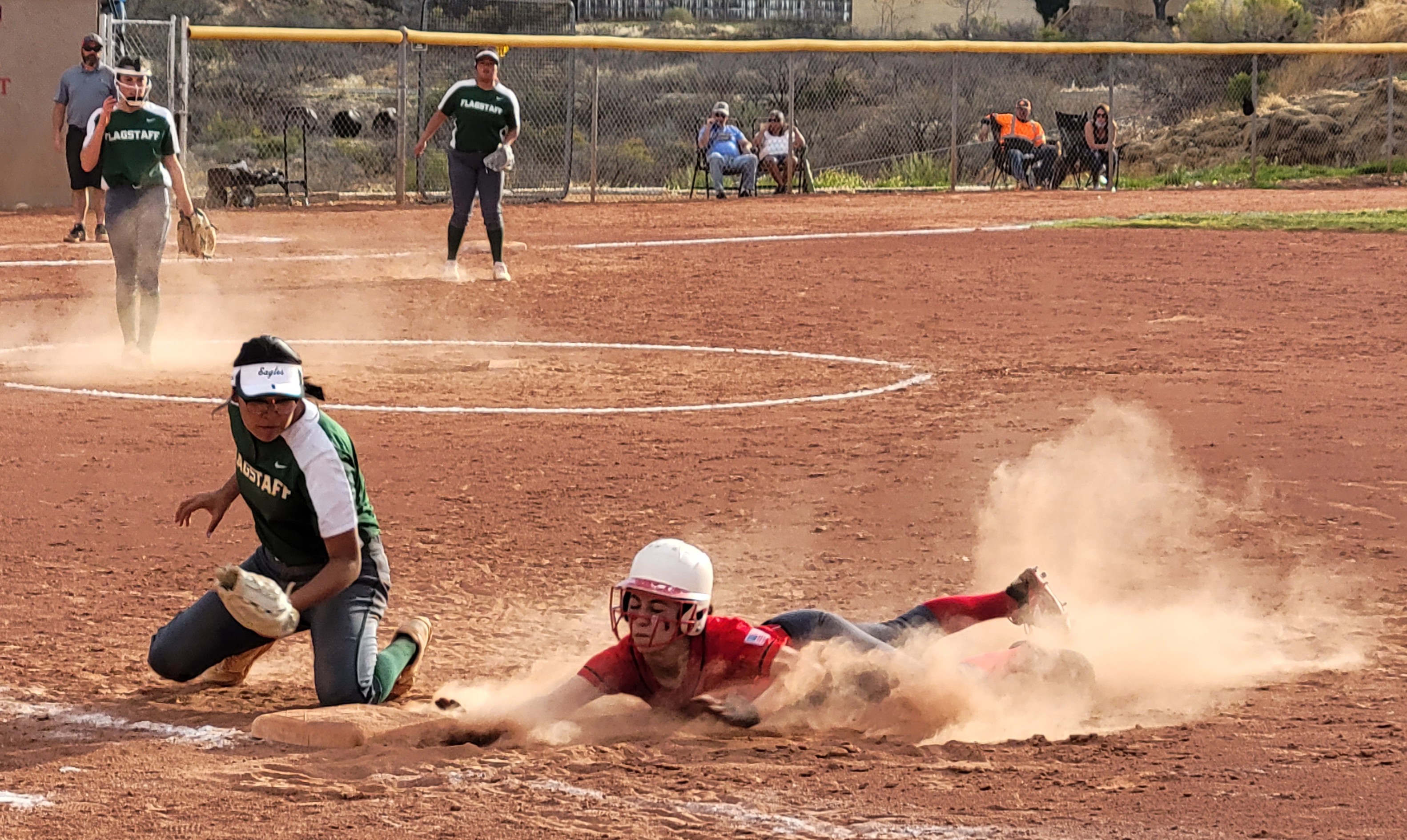 In the last three years, John Brown has coached the Mingus Union High School softball team to hot starts, including wins in the Marauders' first 10 non-tournament games in Arizona's last full high school softball season of 2019.
But although that seemingly ancient history went a long way to making him the incumbent Grand Canyon Region Coach of the Year, John Brown's body can't pitch or hit the Marauders to their elusive first state championship in his decade-long tenure.
Junior pitcher Alexis Ayersman proved she could handle both Tuesday and Thursday, March 30 and April 1, handing rival Flagstaff its first two losses to leave only undefeated Prescott as a challenger to the Marauders for the region title.
The Badgers, at 6-0, trail Mingus by a half-game in the Grand Canyon Region standings with 12 to play. The Marauders boast the second-best record in the 4A Conference to Southwest Region leader Paradise Honors High School, undefeated through its first eight games.
After the home-and-away sweep of the Marauders' former bitter rival in Flagstaff, though, no other team can come close to Mingus atop the region.
"We both get a little tight when we play each other," Brown said. "It's good tension, because we're friendly rivals this year. But [in] years past, we haven't been so friendly."
Ayersman struck out 19 batters in two complete-game victories over the Eagles, adding a double, four singles and her second home run of the season to add offensive punch for Mingus.
"I very seldom take her out of the game once she starts, because she's got a pretty good rhythm going," said Brown, who is enjoying his deepest undefeated start, as none of his previous Mingus teams have been undefeated in April. "Unless she's struggling, I'm not going to take her out."
In her 6-3 home win over Flagstaff on April Fool's afternoon, Ayersman also knocked in three of the Marauders' final four RBIs in the final two innings to help overcome two of their six fielding errors on the afternoon.
"And some infield plays they recovered and still made a good out," countered Brown. "So I kind of look the other way a little bit. They're unearned runs, so I'm not too upset about them.
"They made it up with their baserunning [and] they made it up with their bats."
It was Ayersman's closest call, however, since allowing a career-worst 10 hits in six innings of 2019's season-ending loss to regional rival Bradshaw Mountain High School in the state tournament.
Until her solo shot to right-center field tied the score, 2-2, in the bottom of the fifth inning, it was the latest in a game Ayersman had worked from behind since that 8-5 defeat, which ended a 14-5 freshman season in which she hurled 114 strikeouts on her way to second-team all-region honors.
"There's not a drastic difference between her and my other pitcher," Brown said of junior shortstop Marissa Vocca, who had a double and scored a run herself in the April 1 home win after striking out seven batters in five innings in a March 18 shutout of Lee Williams High School. "Those two, they'll probably start every other game unless it's something I think one has the advantage in both games.
"Both of these pitchers are club ball pitchers: They pitch four, five games in a weekend, so they're used to pitching multiple games in a day, let alone a week."
Flagstaff head coach Joe Snodgrass was successful in implementing some adjustments since being shut out by Ayersman at home March 30. Then, Ayersman needed just 88 pitches to take care of the Eagles, who only got five runners on base in the 3-0 defeat.
"We made big improvements since Tuesday," Snodgrass said. "We just fell short. They're a good team. This [isn't] the last time we'll be seeing them."
Although Ayersman proved to be all the Marauders would need in that shutout, she had help back home April 1. Senior Kaylee Watson was actually the go-ahead run in the bottom of the sixth inning, driven home by a double from junior outfielder Mackenzie Figy.
With just one out in the frame and Ayersman next at-bat, Brown could afford to take chances with Figy and senior Mallorie Copeland on the basepaths, and he did.
"We're very aggressive on the bases," Brown said. "Every run's important, even if you've got to give up an out to get it."
Ayersman's sharp slap back to senior shortstop Andi Elliott set up a play at the plate in which Copeland slid in just ahead of the tag of Flagstaff catcher Lily Anderson, whose solo shot deep out of center field in the fourth inning put the Eagles back in the lead, 2-1.
"She's a great hitter," Brown said of Anderson. "She got ahold of one, and there was nothing we could do about it."
As the dust settled, Ayersman aggressively charged into second base, at which Anderson attempted to throw her out. The throw was late, and by then, Brown had sent Figy home from third base to give the Marauders the three-run cushion.
"I love to make the other team throw the ball, and we just keep going," added Brown, whose aggressiveness loaded the bases against Flagstaff sophomore reliever Gracie Schmitz. "Sooner or later, they might get you, but you might score a couple of runs before."
Schmitz, who relieved freshman starter Gianna Baca after she gave up the sixth run, got out of the bases-loaded jam with a strikeout and a fielder's choice.
Ayersman would still need her seventh strikeout in the top of the seventh to finish Flagstaff, who had brought the tying run to the plate with runners in scoring position and two outs.
"She did get a lot of ground ball outs, which is just as important to me, so I'll take it," Brown said. "I'm blessed to have depth in pitching, depth in catching. We have two backup infielders and a backup outfielder.
"We have the perfect setup."
---