Mountain Pointe awarded $2,000 by Raytheon for its VEX Robotics team
April 10, 2021 by Seth Polansky, AZPreps365
---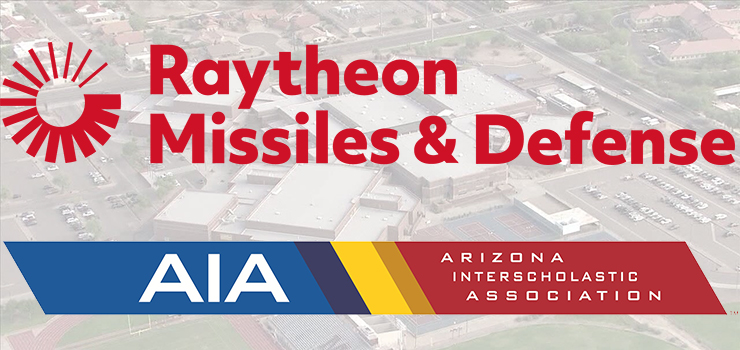 Continuing to expand opportunities for AIA member schools in the field of VEX Robotics, Raytheon Missiles & Defense, a business of Raytheon Technologies (NSYE: RTX), has awarded Mountain Pointe High School in South Phoenix $2,000 to bolster its program and get the group back in the lab for in-person builds.
The award will ensure that Mountain Pointe's team is able to acquire additional resources for 2021-22, including purchasing new VEX robotics kits. The school indicated it will also use the funds to host VEX events as well as provide demonstrations at middle school classes to encourage younger students to get involved in robotics.
"The pandemic took our team by surprise. In March of 2020, another robotics competition we competed in was canceled, so we were not able to compete in the Arizona regionals," said Ellen Liu, Mountain Pointe's VEX Robotics advisor. "Then our entire school district went virtual, so we had to transition our team to a virtual platform. We ended up finishing last school year virtually and conducted our lead selection process online.
"Since the fall of 2020, our team has been meeting weekly and we made the difficult decision to take a break from VEX robotics this year because our students were unable to meet on campus, thus limiting our ability to build any robots. Our team has struggled without access to a physical robot or tools to work with. But we managed to conduct some activities that could be done online during our offseason and keeping our community updated about our team."
This is the third year Raytheon Missiles & Defense has awarded a VEX robotics grant. Past recipients include Desert Edge High School and Amphitheater High School. The grant is part of the company's broader commitment to support science, technology, engineering and mathematics – or STEM – education in Arizona.
About Raytheon Missiles & Defense
Raytheon Missiles & Defense brings global customers the most advanced end-to-end solutions delivering the advantage of one innovative partner to detect, track, and intercept threats. With a broad portfolio of air and missile defense systems, precision weapons, radars, command and control systems and advanced defense technologies Raytheon Missiles & Defense solutions protect citizens, warfighters and infrastructure in more than fifty countries around the world.
---