Notes from the North: Two winter coaches exit, 12 Navajo teams re-enter
April 14, 2021 by George Werner, AZPreps365
---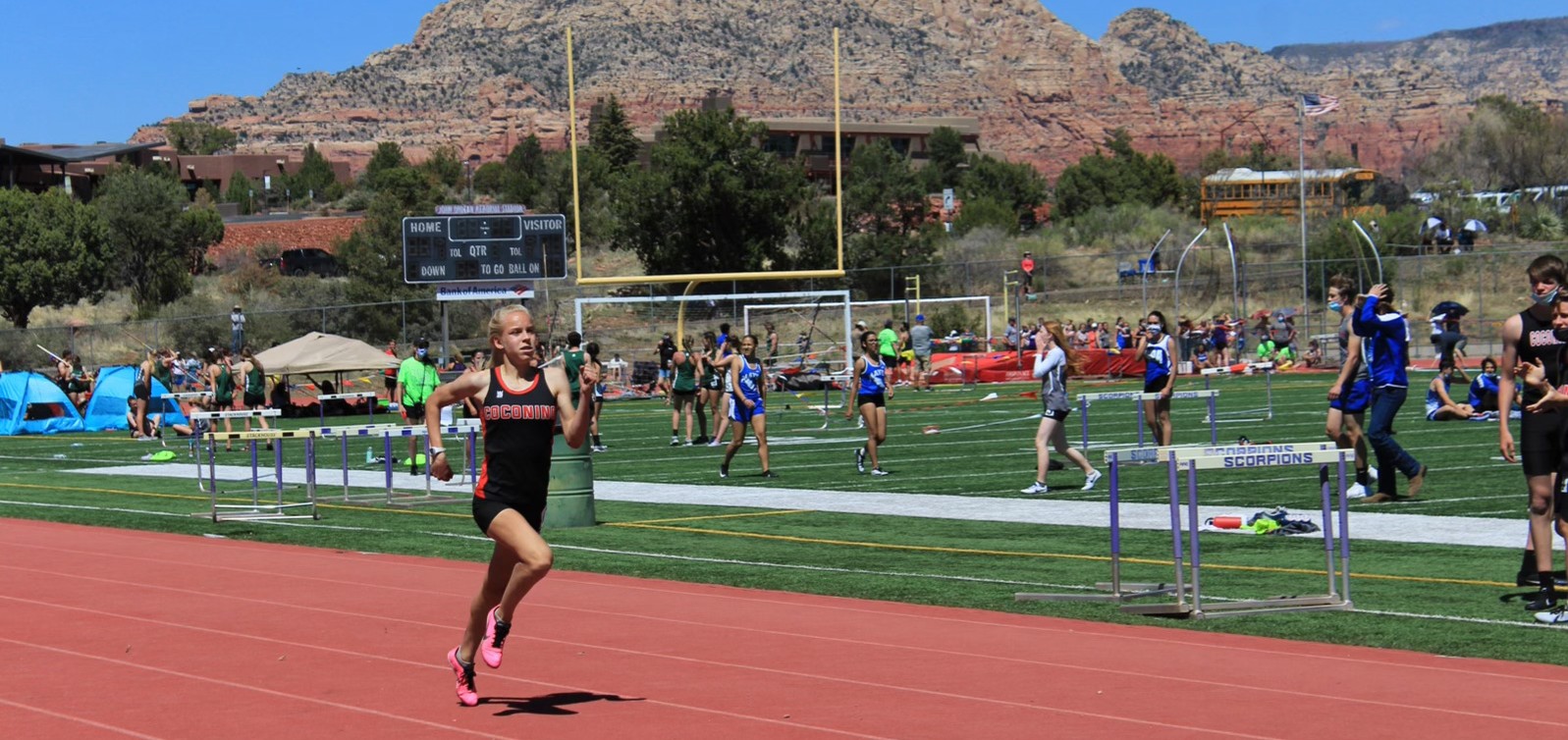 Welcome back to a (slightly delayed) Notes from the North!
Thank you, constant readers, for your patience. Publication was put off a week until the Arizona Interscholastic Association conference alignments for the 2021-22 school year had been released.
Not only is the excitement catching as fall football schedules slowly release, but nowhere more than in Northern Arizona, where so many teams are returning to action for the first time after shutting down due to COVID-19.
So, with your courteous fill-in of drum roll and introductory fanfare, here are the schools returning to action in football for the first time. (Please click your school's link below or visit AIA Online for more information on conference alignments and affiliations in other sports.)
Welcome back, to the 2A Conference and the San Juan Region:
Welcome back, also to the 2A Conference, the Lobos of Many Farms High School and
the Pirates of Valley (Sanders) High School. Their football teams will join Alchesay, Holbrook and St. Johns in the Little Colorado Region.
In the 3A Conference, a hearty welcome back to the North Region goes out to:
They will join Page High School, which returned to action for the winter sports season after ending quarantine in the fall…
Page basketball loses Smith
One person who won't be returning with the Sand Devils, however, is head basketball coach Justin Smith. After winning two state titles as head girls hoops coach, he directed the Page boys to their first ever Arizona state championship last month.
Smith, after the win over Snowflake, mentioned "stepping away for a while" from Page basketball. Today, April 14, he made it official.
At least for next season.
"I won't say the word 'retiring'," Smith confirmed via text. "[I] did that once before and got drawn back.
"But yes, you are correct. I will not be coaching in Page next year and don't intend to coach basketball next season.
In just two seasons as head coach of the boys, Smith won 43 games and lost just six after compiling a 143-35 record in seven seasons as head girls coach, winning state titles in 2012 and 2015.
"Love these programs and kids from PHS," he added. "Will miss being around them, for sure."...
Camp Verde wrestling loses head coach
Also stepping down as head coach, although still helping out the program, he said, is Camp Verde High School head wrestling coach Larry Allred.
A former assistant under predecessor Tracy Tudor, Allred took over leadership of both boys and girls wrestling programs from Tudor in October of 2018. Since then, no Cowboy wrestler has finished higher than fourth place at subsequent boys or girls state tournaments.
"I have four rental propert[ies,] I work about 55 hours a week at my job, my wife has a 'honey-do' list for me that's a mile long[, a]nd my father-in-law passed away last year, so I inherited my mother-in-law's list," Allred confirmed via text message. "Juggling everything and still stay[ing] head coach [j]ust [became] a bit much."
Although the Cowboys enjoyed six state team titles and two four-time state boys wrestling champs under head coach Bob Weir, including Allred's son and assistant coach, Ryan, that success did not sustain. Over the last three seasons, the highest Division IV postseason finish the Cowboys had as a team was 15th.
Both programs owed much of this success over the past 15 years not only to Weir but to former assistant Mario Chagolla, Sr., and his off-season Weekend Wars, in which wrestlers from all over the state would grapple on Saturdays, from April through August, in the old Cowboys wrestling room.
But by the end of 2018, Chagolla had left to assist the wrestling program at Mingus Union High School, the Weekend Wars went with him, and long-time Camp Verde boys basketball coach Dan Wall became the school's new athletic director.
The hire Wall ultimately makes to guide what Weir built into the Cowboys' signature program may be his most important of the post-Coronavirus era...
4A football loses Mohave
After its 2020 season was cancelled after just three games due to the Coronavirus, Camp Verde football is just looking to play a full season. It will do so in the fall as a member of the Agua Fria Region, after sliding over from the Verde Region.
Four regional opponents like Kingman Academy and Parker High School, as opposed to five Phoenix-area opponents, may help the team's competitiveness, although road trips will be longer now.
The bus rides will be mercifully shorter, though, for the Thunderbirds of Mohave High School, which ended their six-year football struggle in the Grand Canyon Region after winning only nine games, including a winless fall.
The Bullhead City school successfully appealed for a fresh start in the 3A Conference following 38 losses, every one of which were endured by sixth-year head football coach Rudy Olvera.
Although Mohave's baseball, basketball, soccer, softball and volleyball programs all remain in the Grand Canyon Region, Olvera should find West Region opponents like Chino Valley, Kingman, Parker, River Valley and Wickenburg much more to his liking...
Fourth-ranked Williams (rarely) loses in 1A baseball, softball
Back in spring sports, Williams High School's baseball and softball have each won six games and so are each enjoying a No. 4 ranking in the 1A Conference.
The 6-3 Viking softball team survived a loss at 3A Conference school Chino Valley and two losses at 4A Conference schools, including second-ranked Mingus, to go undefeated in the North Region.
Freshman infielder Bradyn Larimore's .778 batting average is the sixth-best in Arizona, while sophomore Cheznee Carter is one of the best defensive catchers in the state, with only one error and one passed ball to date.
Larimore's counterpart on the baseball team, freshman Tyler Jensen, is right behind her batting average. His .667 percentage ranks seventh in all of Arizona, and his fielding percentage is fourth-best in the state as well.
The barrier to further success by the baseball team is 1A's last undefeated team, Mogollon High School, playing above its alignment at 5-0.
Mustangs junior Cael Porter did it all against 2A regional rival St. Johns, striking out four batters in the final two innings on the mound, scoring a run and doubling in another in the 6-4 win Tuesday, April 13.
Porter's pitching performance came in support of starter Caden Owens, one of only two seniors for the Mustangs. Owens struck out five in the final two innings of his win, 15-5 over sixth-ranked Mayer, in Mogollon's season opener…
Coconino, Donaldson never lose in beach volleyball, dashes
A final success story to report comes from Coconino High School, whose eighth-ranked beach volleyball team is enjoying its best start in five years.
The 2017 Panthers had a perfect regular season through 11 matches, only to see all five of its pairs get shut out by eventual Division I runner-up Millennium High School in the second round of the state tournament.
Now realigned into Division II, Coconino has returned the 5-0 defeat it was on the wrong end of against Millennium, times six. Since edging Boulder Creek High School, 3-2, in the March 22 season opener, all five pairs of Panthers players have been perfect through five freedom matches and one sectional tilt, April 7, at Dysart High School.
Following two more freedom matches, the Panthers begin the final stretch of their schedule Wednesday, April 21, at the first of three sectional opponents, River Valley…
If that team needs tips on being successful in dashing to the finish line, it could do worse than consulting sophomore Cathron Donaldson, who not only won the 100-meter and 200-meter dash in her second meet April 1, she joined the events' five fastest runners in school history in doing so.
Donaldson ran the 100 in 13.22 seconds and the 200 in 26.7 seconds to win both events at the Marauder Early Qualifier.
"I had the privilege to coach her during this past [cross country] season," said head girls track and field coach Shannon Taylor. "To see her growth [is] amazing."
Donaldson is one of just two Division III girls to run the 400-meter dash in less than a minute, with fellow sophomore Wheaten Smith also running second to Snowflake in the 800 meters.
Donaldson's second-place finishes in the long jump and 4 x 800 relay--running that event with Smith, another sophomore in Zoe Sather and junior Akasha Ashley--were also among the top five all-time performances in the events by Panther girls.
"I expect Cate to qualify in many of the above events, but for sure the open 400, 800 and l[ong] j[ump]," Taylor added. "She is a well-round[ed] and capable athlete, and she is amazingly humble and gracious in everything she does."
Next Time
Chino Valley baseball is fighting not only to stay unbeaten, but also to keep home-field advantage in the first round of the 3A playoffs as a No. 7 seed.
Lake Havasu High School is making a big splash in 4A boys and girls tennis this season. More on the performance by the Knights, unbeaten Flagstaff High School and other teams in the postseason in two weeks.
Also, a plea to Northern Arizona high school golf parents and coaches: Please contact me with your results. The state tournament is coming up soon, and it is difficult to stay current with all Northern Arizona schools only using Iwanamaker.com.
There are many young players out there who deserve the spotlight and look to continue playing golf at the next level, in college or elsewhere. Please email me with these or any other tips and story suggestions at gwerner@azpreps365.com or DM me on Twitter at @ProfGWerner.
---