Canyon del Oro over Marana 4-1
April 14, 2021 by Andy Morales, AZPreps365
---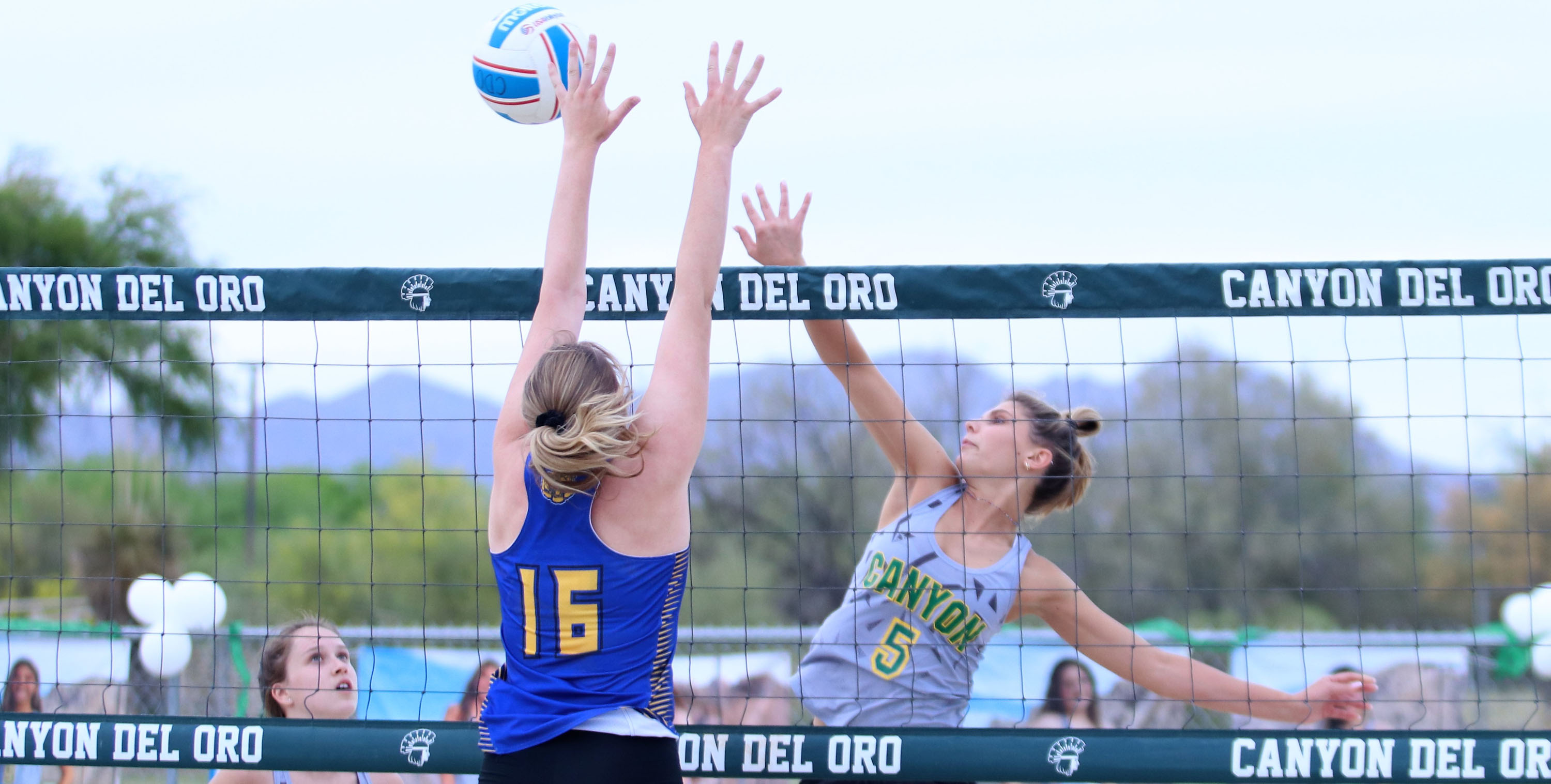 Canyon del Oro and Marana might not be in the playoff picture this week but there's still plenty to play for with two weeks left in the regular season. The Dorados beat Marana 4-1 Wednesday to improve to 3-4 on the year in Division II and Marana fell to 4-2 in Division I action.
A playoff team in 2019, Canyon del Oro had a promising start last spring but the season was stopped before it really got started and the team lost six seniors to graduation. The drop in leadership has the program at No. 20 in the latest power-rankings but a move into the Top 16, and a spot in the playoffs, is still a realistic possibility with No. 16 AZ College Prep and No. 1 Salpointe on the schedule ahead.
Senior standout Katie Call played with a couple of partners in her time on the first court and the San Diego Christian commit is paired with junior standout Morgan Hains this year. Hains is a defensive specialist on the indoor court but her athletic ability has suited her well in her first year on the beach.
Call and Hains came back to beat Marana standouts Dalia Haase and Rylie Adams 2-1 Wednesday and it was a great showing for Adams who is only a sophomore playing with the top pairs along with her senior partner. Haase will be playing the middle for Embry-Riddle next year.
The Tigers went 2-10 in their first year of competition in 2019 and the team was 0-2 before the season was cancelled last spring so four wins (so far) is a dramatic improvement but things will get remarkably more difficult with a trip to Salpointe (6-0) slated for April 19. The Tigers have one of the most difficult schedules remaining with four playoff teams still left out there.
Canyon del Oro 4, Marana 1
1: CDO: Katie Call/Morgan Hains over Dalia Haase/Rylie Adams: 2-1 (19-21, 21-13, 15-10).
2: CDO: Maddison Navarette/Isabella Coulter over Hannah Dotson/Natalie Glasshoff: 2-0 (21-16, 21-16).
3: MAR: Takaia Hicks/Giana Biazo over Chris Placencia/Faith Kirkland: 2-0 (21-9, 21-10).
4: CDO: Emma Guzman/Katelyn Hawkins over Caity Stueck/Tayler Parris: 2-1 (20-22, 21-12, 15-6).
5: CDO: Ashley Jennings/Sydney Enos over Jaci Montero/Sierra Mills: 2-0 (21-17, 21-14).
---