Tucson comes back for 3-2 win over Flowing Wells
April 19, 2021 by Andy Morales, AZPreps365
---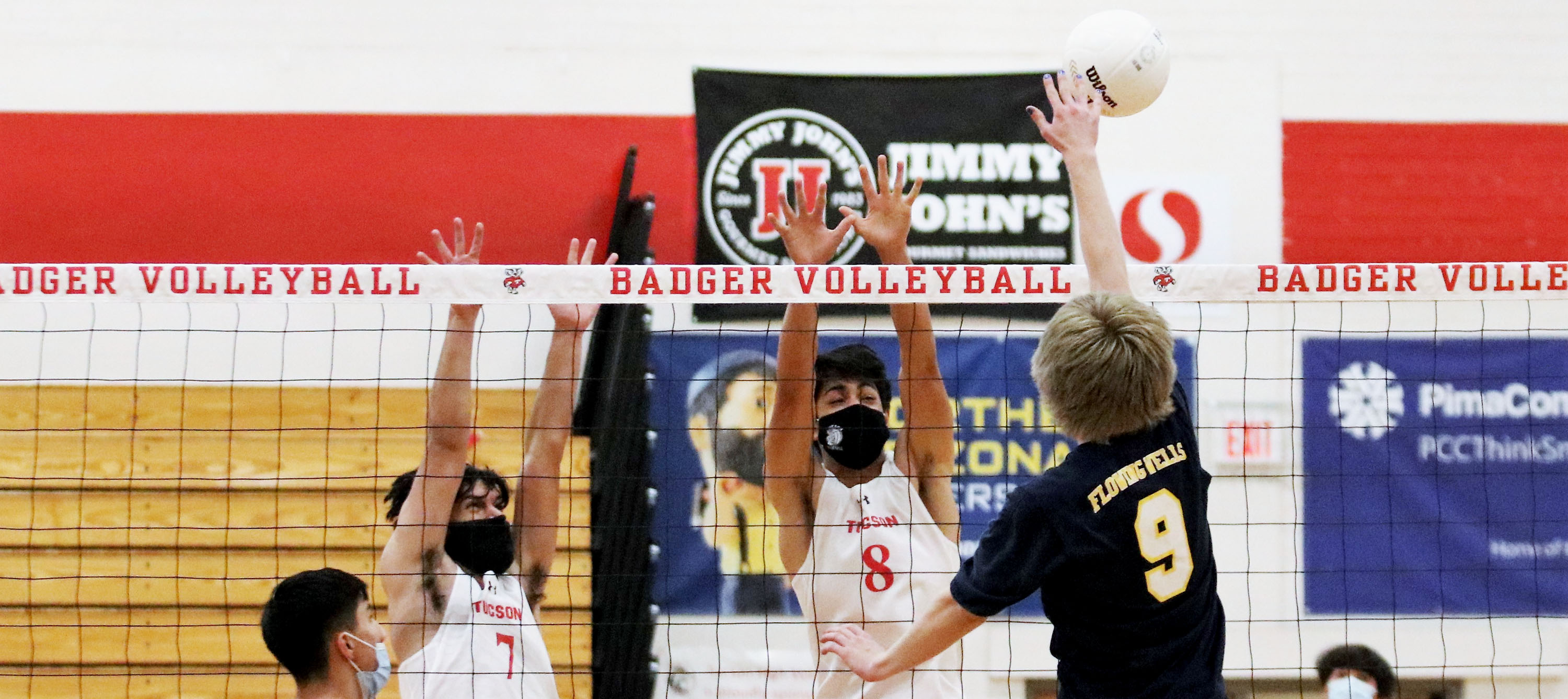 It's going to take a bit of work for Tucson High to climb high enough in the rankings to qualify for the 6A playoffs but a 3-2 win over Flowing Wells Monday night could set the Badgers in the right direction. On the other hand, Flowing Wells is on the edge of making the 5A playoffs but the team is currently headed in the wrong direction after dropping three matches in a row. It's going to be an interesting stretch the rest of the way for both programs.
Tucson (6-6) started the night ranked No. 23 in the upper division and Flowing Wells (5-6) was No. 17 in 5A with the top 16 teams guaranteed a spot in the playoffs slated to begin on May 8.
The Caballeros got off to a great start after taking the first two sets 25-21 and 25-16 from Tucson but the turning point in the match came during the final run in the third set where Flowing Wells battled back from being down by as many as seven points in the set to cut the Badger lead down to 18-14 but Sam Yonan hit Sam White, Michael Harman and Luca Diamente in order to fuel a 5-0 run and the Badgers took the set 25-16.
The Badgers took complete control of the fourth set, winning it 25-13, and the victory forced a deciding fifth set where Tucson dominated again for a 15-7 win.
Unofficially, Yonan put together 27 assists with Agave Frankenberger and Diamante leading the team in kills while Christian Wilton collected 21 assists for the Caballeros with Jusber Barreiro and Darren Zhuo leading the team at the net.
Flowing Wells has an excellent chance to turn things around with trips to Sunnyside (3-6) on Tuesday, Amphitheater (1-9) on Wednesday and Sahuaro (2-8) on Thursday up ahead. Tucson hosts Sunnyslope (3-7) on Tuesday and the Badgers will follow that up with a trip to Valley Vista (1-8) on Thursday.
There are only three undefeated teams left in boys volleyball with Perry (9-0) leading the 6A Conference, Cienega (9-0) ranked No. 2 in the 5A Conference and Northwest Christian (8-0) tops in the 4A Conference. None of the various region races have been decided but region finish has no bearing on playoff position.
---