Mesa boys volleyball tames Red Mountain
April 28, 2021 by Les Willsey, AZPreps365
---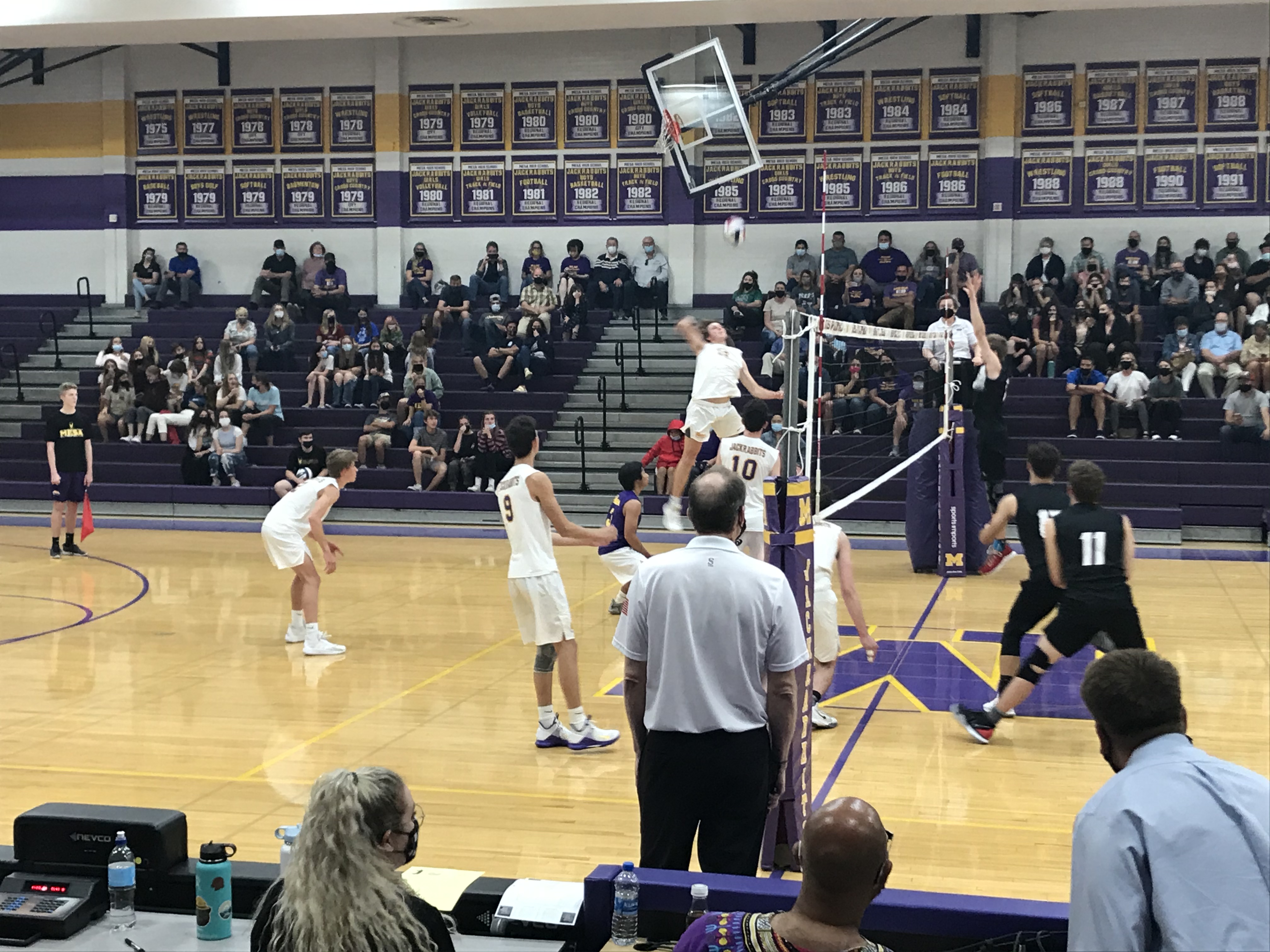 Mesa boys volleyball team stretched its winning streak to nine matches on Wednesday night, having already clinched the 6A East Valley Region title the night before after Red Mountain upended Mountain View. The Jackrabbits, No. 8 in the 6A power rankings, swept #13 Red Mountain, 25-18, 30-28, 25-15, to begin a four-pack of matches against top teams headed to postseason.
Mesa improved to 11-3 overall and 9-0 in region. Red Mountain, who began the week #16, bumped up three spots after topping Mountain View, is 8-6, 5-4. The Mountain Lions will be jostling for one of the final playoff spots with one week left in the regular season.
Mesa's attack -- nearly an all-senior effort - was too much for Red Mountain. Five Jackrabbits collected seven kills or more. Outside hitter Rylan Bloomfield led with 17 kills and middles Morgan Williams and Liam Arnett had eight each. Opposite Chris Beeler and Zach Skelton were next with seven apiece. Junior setter Hank Stoddard added three while setting 41 assists. Senior libero Kam Ratsamangkhon led in digs with 20 followed by Skelton (14), Bloomfield (11) and Stoddard (10).
"This was a tough one, they are scrappy," Mesa coach Kirk Hatch said. "Red Mountain's improved since we played them earlier."
Mesa controlled the first set, leading from start to finish. Its largest lead was seven a couple times, but dwindled to 19-16 late. Four straight kills (three by Bloomfield and one by Williams) iced it. The second set could have gone either way (18 ties). Mesa finally prevailed on its its sixth set point. Williams and Bloomfield knocked down the set-clinching points. The third set was Mesa's with ease.
Mesa's three losses this season are to current #3 Highland, #4 Brophy Prep and #7 Chandler. There's more in store with three tough matches to go.
"We have (#10) Mountain View (Thursday) and next week it's (#2) Sandra Day O'Connor and (#1) Perry," Hatch said. "This was going to be a good team last year. It was too bad it got cut short. (Former Mesa coach) Ray (Lewis) did a great job the last couple years training them up."
Red Mountain stat leaders Wednesday were senior hitter Wade Guthrie (12 kills and 17 digs), senior opposite Kaden Hall ( 7 kills), senior libero Dustin Tetlow (19 digs) and senior setter Adam Seibal (26 assists). The Mountain Lions have three matches left, two of those opponents contending for final playoff spots (Thursday vs. #17 Westwood May 4 #20 Queen Creek). Nexst Mndayand Monday #1 Perry looms.
---