Miranda's 15 strikeouts push Payson to title tilt with top 3A seed
May 15, 2021 by George Werner, AZPreps365
---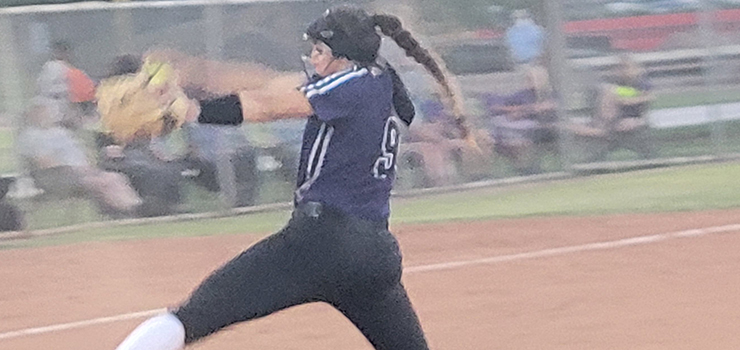 Friday, May 14, was just another night at the ballpark for Raci Miranda.
Never mind that the ballpark was a lower field at the Rose Mofford Sports Complex in Peoria. It doesn't matter it was the 3A Conference state semifinals. Or that the opponent, No. 10 seed Tanque Verde High School, had just held Payson's East Region rival, one of its three regular-season losses, to a run in a 5-1 upset in Snowflake.
To Miranda, her team's 20th win, a 2-0 shutout of the Hawks, was no greater than any of its others, even though she struck out 15 and held them to one hit.
"Just another night under the lights with my team," she said. "So, so proud of getting to play with them, getting to play Monday.
"It's not just for us anymore. It's, like, bigger than us."
The day after the Coronavirus cancelled the 2020 season prematurely, Miranda was back out on Payson's home field, practicing her pitching for the moment Monday, May 17, at 11:30 a.m., when she could pitch in a state championship.
"She's a premier pitcher," said head coach Curtis Johnson. "Incredible work ethic."
The University of Arizona will provide at least a hometown advantage for top seed Sabino High School, which needed 15 innings, 26 strikeouts and an RBI double from junior Riley Nielson to edge fourth seed Empire High School in its semifinal, 1-0.
"It's all any of us are thinking about now," Johnson said. "We've been practicing [for] two-and-a-half months now. We're ready."
But what Rita Hillenbrand Stadium can't provide is Miranda, whose aggressiveness applies to every batter, no matter how many Sabercats she may have to face.
"I'm going in there to win," she said. "If they give me a groundout, great. But I'm trying to go right at 'em. Every pitch."
And she isn't throwing even as hard as she could, she added.
"I had jaw surgery in December," she explained. "Before jaw surgery, I was, like, at 68 (mph). Coming back from surgery, the fastest I can hit is, like, 65-ish."
Johnson credited Tanque Verde for hanging tough in its 27 at-bats, even though more than half of them were Ks--to the point where Johnson couldn't just sit back and let Miranda throw gas for more strikeouts.
"I couldn't call pitches to strike them out," he said. "I was calling pitches to get outs--ground balls to the right side."
Sophomore infielder Bree Hall provided more than ground balls. She gave Miranda all the run support she would need, driving home senior Missy Chiccino in the first inning before crushing a double in the third that brought home little sister Brinna Hall, a freshman.
"That ball was sent," Johnson said. "It reminded me of pitching slow-pitch, when those big old guys hit the ball at you fat.
"Outside Raci, [Hall] was, without question, our player of the game."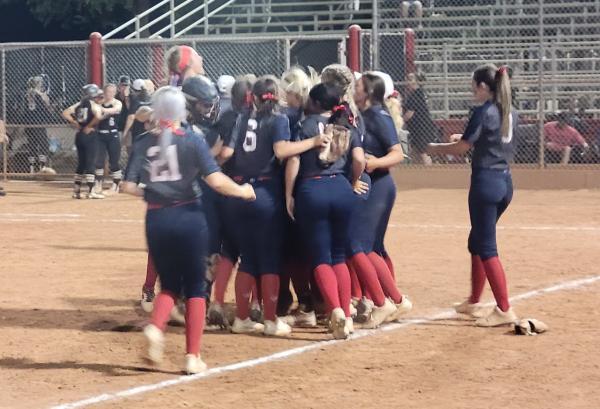 Bobcats, Dust Devils hold semifinal opponents to one run
For those more casual fans bored with Miranda's dominance, more offensive fireworks were lighting up Fields 1 and 2 across the Mofford plaza, where top-ranked Benson and the last undefeated team in the 2A Conference, River Valley High School, were taking apart their semifinal opponents.
The Bobcats, in fact, were Payson's earliest of its three losses, shutting out the Longhorns at home April 3, 11-0. Payson, in a much closer contest, would return the favor May 1 on its field.
Benson couldn't quite attain that offensive productivity in their quietly efficient 9-1 dismantling of No. 4 Round Valley High School, but they might need to against third seed River Valley, whose 15-1 blowout of second seed Northland Prep was actually its first seven-inning game of the postseason.
The others triggered the AIA's 10-plus run margin mercy rule after five innings.
"This is a magical team," Dust Devils head coach Kathleen Watson said. "They're going to give Benson a good fight."
Magical, in this case, may be further described as scary offensively. The 20-0 Dust Devils needed nine runs in the top of the seventh inning May 14 against the Spartans just to reach their postseason average.
During the regular season, their average win was by a near 20-0 margin, outscoring their 17 opponents by a whopping 336-8.
Sophomore catcher Karina Pulu had a home run and a double to drive in five runs on her own. Senior first basewoman Olivia Yoney had another four RBIs on just two singles.
Junior Rusti Glenn followed Pulu's lead, knocking another Northland Prep pitch out of Mofford's Field 4 and hitting a double to collect three RBIs.
That was more than ample run support for senior workhorse Chloe Spitzer, who has won 19 of her team's 20 games, with an earned-run average of 0.31.
"We know that, if she can keep us in the game, eventually our hitters are going to bust it open," Watson said. "We're going to get her the runs she deserves."
Spitzer will go up against the championship tradition of Benson, which will be playing for its third state title in the past five seasons.
"We know that they've been in the championship a lot," Watson said. "This is our first time in the finals."
So River Valley may not have seen everything Benson can do. River Valley has never scored less than 12 runs in a game this spring, and no River Valley opponent has scored more than two runs against the Dust Devils this season. So something's going to give Saturday, May 15, at 7:45 p.m.
The Bobcats, sparked by sophomore infielder Celina Wilharm, struck Round Valley for a run in the first inning, three more in the second and three more in the fourth to put the Elks away early and help give senior Emily Darwin her 10th win on the mound.
"I feel like it's a very similar team to ours," Watson said. "They've got good hitters, they've got good pitching, they've got good defense."