4A-6A Southern Arizona Senior All-Star Baseball Game
June 2, 2021 by Andy Morales, AZPreps365
---

The 4A-5A-6A Senior All-Star Game, presented by the Kino Baseball League, took place Tuesday night at Kino Stadium with 36 standouts from 18 different high schools from Southern Arizona taking part. The players were divided between two teams with coaches from the Kino Sun Belt College League serving as coaches for the two squads.
Team Teal came back from a 3-1 deficit to win the 9-inning game 4-3 in front of about 1,000 fans in attendance. Every player batted in order and 13 different pitchers took the mound.
Team Copper got things started with a run in the top of the first after Marcus Sanders (Catalina Foothills) reached on a one-out single and Dante Schindler (Canyon del Oro) brought him in on a groundout. Copper added another run in the second after Diego Ochoa (Douglas) reached and Isaiah Roebuck (Marana) knocked him in.
Team Teal scored in the bottom of the fourth after Raul Moreno (Desert View) drew a leadoff walk and Devin Lopez (Cienega) singled him in. Roebuck walked in the top of the sixth and then took second and third where Cobi Copper (Mountain View) sacrificed him home to put Team Copper back up 3-1.
Team Teal responded with three runs in the bottom half of the sixth on a single from Erubiel Ozuna (Vista Grande), an RBI single from Paul Cruz (Cienega), an error to score Cruz after he stole third, a single from Andres Gonzalez (Sahuarita) and an RBI single by Christian Olea (Tucson). 4-3 lead held up the rest of the way.
The 1A-2A-3A Senior All-Star Game will be played Wednesday night at Kino Stadium.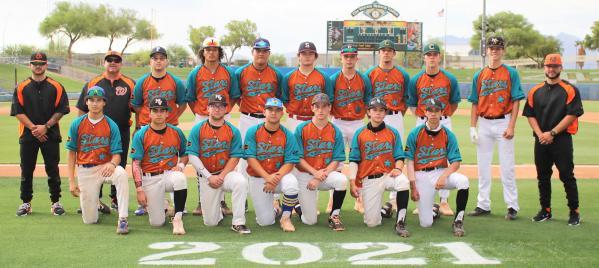 Team Copper (Andy Morales/AZPreps365)
TEAM TEAL
Austin Grimm, Buena
Josh Watt, Buena
Esrael Barajas, Cholla
Ricardo Gomez, Cholla
Paul Cruz, Cienega
Devin Lopez, Cienega
Andrew Gutierrez, Desert View
Raul Moreno, Desert View
Dominique Palacio, Desert View
Gabriel Palacio, Desert View
Albert Dominguez, Nogales
Brayan Espinoza, Nogales
Devin Alvarez, Sahuarita
Andres Gonzalez, Sahuarita
Sergio Perez, Salpointe
Tommy Toole, Salpointe
Kenneth Kroes, Tucson
Gerardo Mungaray, Tucson
Christian Olea, Tucson
Erubiel Ozuna, Vista Grande
James Velasquez, Walden Grove
COACHES: DESERT VAQUEROS
Antonio Fernandez, Manager
Carlos Colombino, Coach
Dustin Kupper, Coach
TEAM COPPER
Dante Schindler, Canyon Del Oro
Andrew Stucky, Canyon Del Oro
Ruben Enriquez, Catalina Foothills
Marcus Sanders, Catalina Foothills
Diego Ochoa, Douglas
Marco Pena, Douglas
Cameron Basaldua, Marana
Isaiah Roebuck, Marana
Cobi Copper, Mountain View
Jacob Roepke, Mountain View
Karim Soto, Mountain View
Jacob Vega, Pueblo
Steve Geiger, Rincon/University
Sam Sides, Sahuaro
Diego Solano, Sahuaro
COACHES: SOUTHWEST WILDCATS
Gilbert Valenzuela, Manager
Robert Valenzuela, Coach
Gilbert Valenzuela III, Coach
---