Valley Union over Ray 28-8
August 21, 2021 by Andy Morales, AZPreps365
---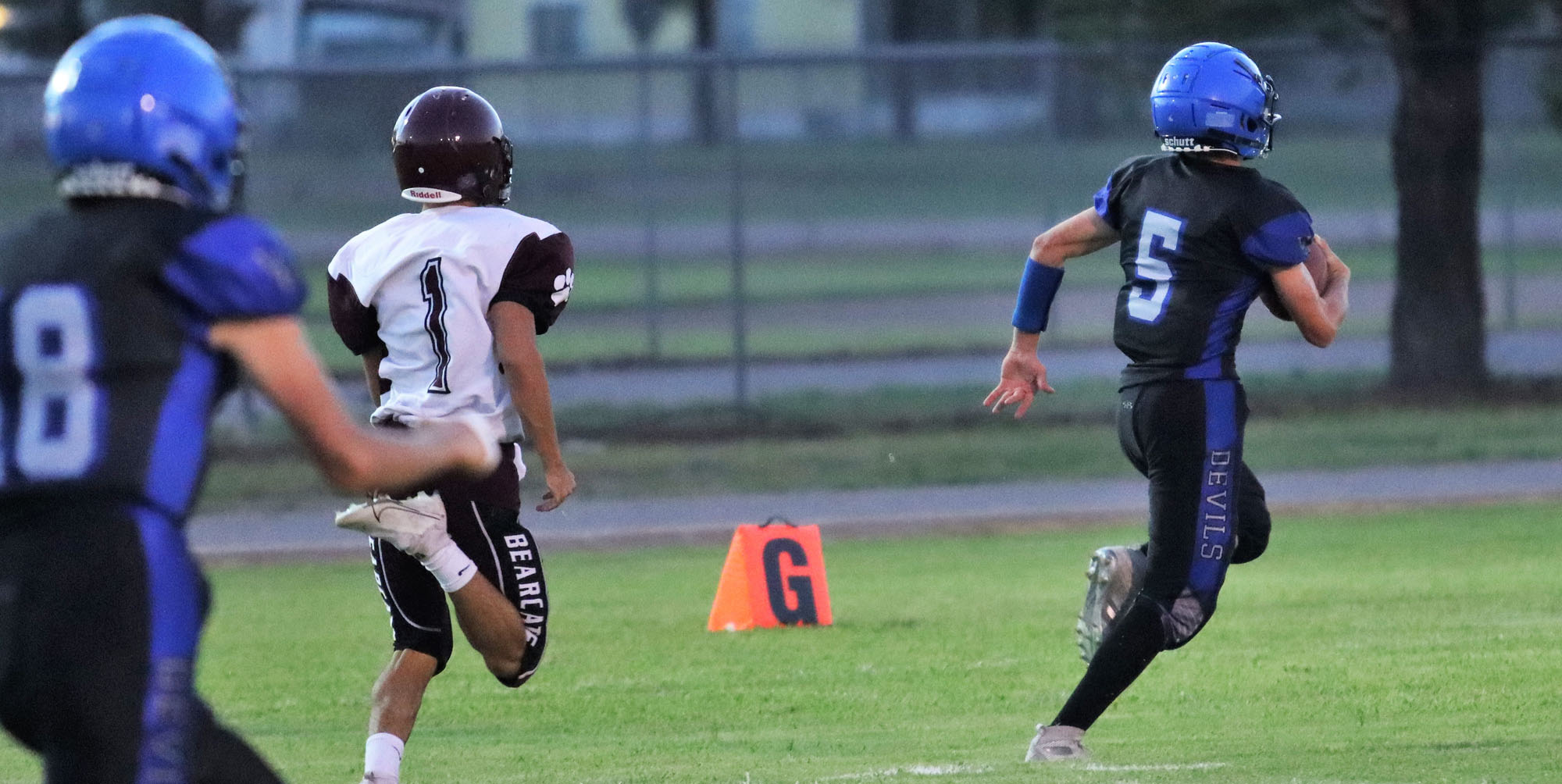 Jace Mitchell scampered 60 yards down the field five plays in to give Valley Union an early lead over the Ray Bearcats and the Blue Devils never looked back Friday night at home. The 28-8 victory answered a few questions but it also opened up a whole set of expectations for both squads.
It might be hard to find positives in a loss but Ray showed potential under circumstances very few teams have ever faced and hopefully will never face again. Sure the team is young with only three seniors on the roster, but you won't find an accurate measure of improvement or slippage from last year because there was no "last year." There are no stats, no records, no wins and no losses. It was a season lost to the pandemic and getting on a field this fall is victory in itself.
Despite the final score, it was evident the Bearcats drove almost four hours to get to Elfrida to play until the final whistle and that work ethic showed up on the scoreboard thanks to a blocked punt in the end zone that Hunter Day pounced on with 42 seconds left in the game. Tracon Naranjo ran in the 2-point conversion and those eight points just might be the most important points for the Bearcats looking forward.
"I'm very proud of them," head coach Jay Wernett said after the loss. "I've coached other teams that might have folded under similar circumstances but they played hard to the end. We are very young but we showed we can move the ball but we also made mistakes on the field but those are things we can work on."
Ray will visit San Manuel next week and the first home game for the team from Kearny will take place on Sept. 3 against Baboquivari. The Warriors also suffered a lost season last year with no games played.
Valley Union will now face expectations with a somewhat favorable schedule but those expectations are also fueled by players like Mitchell and Travis Morin. Mitchell transferred over from Tombstone and Morin from Sabino and the seniors where all over the field Friday night.
"I was really nervous at first," Mitchell said. "We really fought. We came out in the first quarter and put up 16 points. We kept at it. We got our first win."
Mitchell finished with 120 yards rushing on 12 carries with two touchdowns and he also threw a 14-yard TD pass to sophomore QB Kohan Evans. Morin made his presence known on a blocked punt of his own in the first quarter and that led to a 14-yard scoring run from Mitchell. The Blue Devils led 16-0 at the half and a score like that isn't very safe at the 1A level where the play is similar to indoor football with the last player with the ball usually pulling away in a high-scoring tilt but Friday night was different.
The Bearcats showed glimpses of offense but turnovers and penalties made things more difficult but a lot of credit for stopping the Bearcats has to go to the Valley Union defense. The Bearcats were limited to 112 yards of offense with Naranjo accounting for 89 of those yards.
At the other end, Mitchell hit Evans on that TD throw to make it 22-0 with 7:40 left in the third quarter and Kolby Gilbreth blew through the Bearcat line like a tank in the opening moments of the fourth quarter and he ended that 18-yard scoring run like a ballerina, tiptoeing around the pylon for the 28-0 lead.
Valley Union will travel to Bullhead City to play Mohave Accelerated next week and that 8-hour drive could lead to a very happy drive home if things go according to plan. The Blue Devils went 1-4 last year with the victory coming over the Patriots 48-44. Mohave Accelerated beat Bagdad 60-42 Friday night so both teams will come in with 1-0 records but expect Valley Union head coach Brandon Gilbreth to have his team ready even if that preparation comes at the last moment.
"We never play under center," Gilbreth said. "But we worked on that yesterday and Jace picked it up quickly. I think we have a chance to do great things."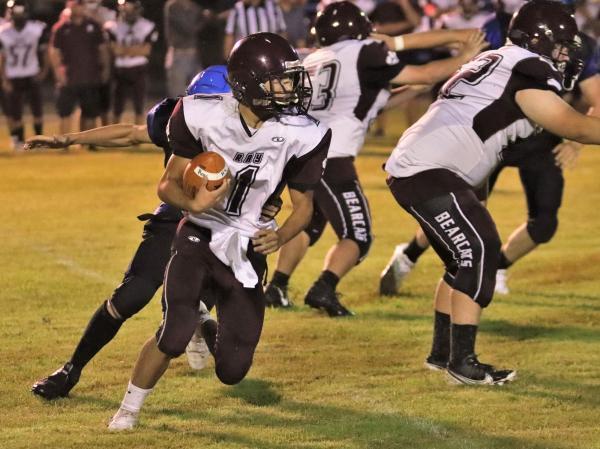 Tracon Naranjo. (Andy Morales/AZPreps365)
---