Empire sweeps through the TUSD Invitational
September 4, 2021 by Andy Morales, AZPreps365
---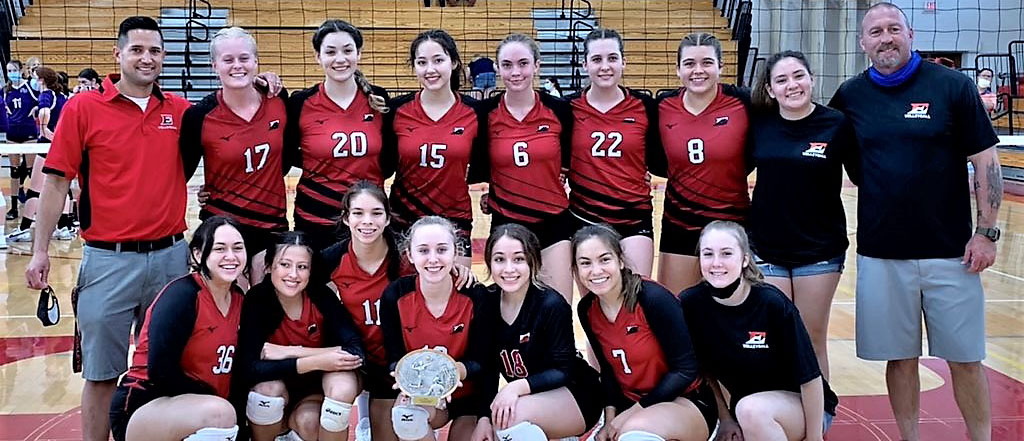 Two of the hottest teams in Southern Arizona met in the championship match of the TUSD Girls Volleyball Invitational Saturday afternoon and Empire came away with 2-0 win over Rincon/University to set the tone for the regular season.
The Rangers are now 6-3 on the year but 2-0 in power-ranking games and those were a couple of big wins prior to the TUSD Invite. Rincon/UHS defeated Ironwood Ridge in four sets to start the season and the Rangers followed that up with a sweep at home against a highly-skilled Catalina Foothills squad.
"We have very good communication and we are very agressive with our hitting," junior setter Emma Mullins said. "Growing together as a team last year helped us out a lot."
Winning a match at Ironwood Ridge is almost unheard of and it was the first win for a team from Tucson in the Nighthawk Nest since Cienega pulled it off on Oct. 12, 2017. On the other side, Empire is now 9-0 with wins over Marana, Cienega and a couple more wins over the Rangers with the previous win coming during pool play.
The Ravens recorded nine aces in the championship match and the scores were deadly with Sophia Vera collecting seven of them with four straight aces putting away the first set 25-15. The Ravens started out strong again in the second set but a 17-12 lead evaporated and Mullins hit Elena Sasselli at the net to give the Rangers a 19-18 lead on the 7-1 run.
The teams played on to a 22-22 tie but the Ravens closed the match out from there with three straight scores for the 25-22 win. Mullins finished with 11 assists for the Rangers and the standout spread out the points with Graciela Escobar collecting four of them. For Empire, Maliyah Johnson had 18 assists with Vera, Kyla Knight and Emmy Overson benefiting from her play.
"We are an old team this year," Overson explained. "We have a lot of seniors and our chemistry is solid. There are a lot fo expectations for us comign out of last year and I fell this si just the beginning."
Rincon/UHS visits Mountain View Marana (2-0) on Tuesday, Sep. 7 and Empire will travel to Douglas (1-1) on Thursday with region play on the horizon.
Desert Christian hosted a round-robin tournament on the other end of town with Benson sweeping through the field to improve to 9-0 overall.
The Flowing Wells Invitational is scheduled for Friday and Saturday with matches slated to start at noon on Friday.
TUSD ALL-TOURNAMENT TEAM
Salpointe: Meena Moore
Catalina Foothills: Lauren Rumel
Rincon/UHS: Sophia Lee and Emma Mullins
Empire: Sophia Vera and Emmy Overson
Tanque Verde: Jasmin Joseph
Marana: Abriana Hernandez
Cienega: Kaitlyn Molina
Pusch Ridge: Christina Shaffer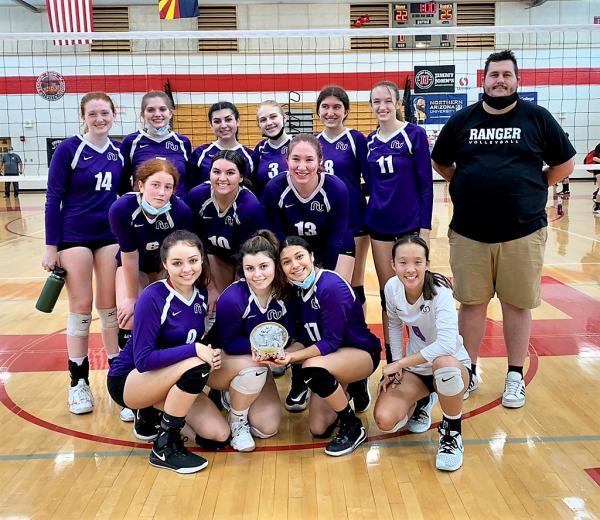 Rincon/UHS (Andy Morales/AZPreps365)