Queen Creek trounces Mountain Pointe in three sets
October 18, 2021 by Nick Hogan, Arizona State University
---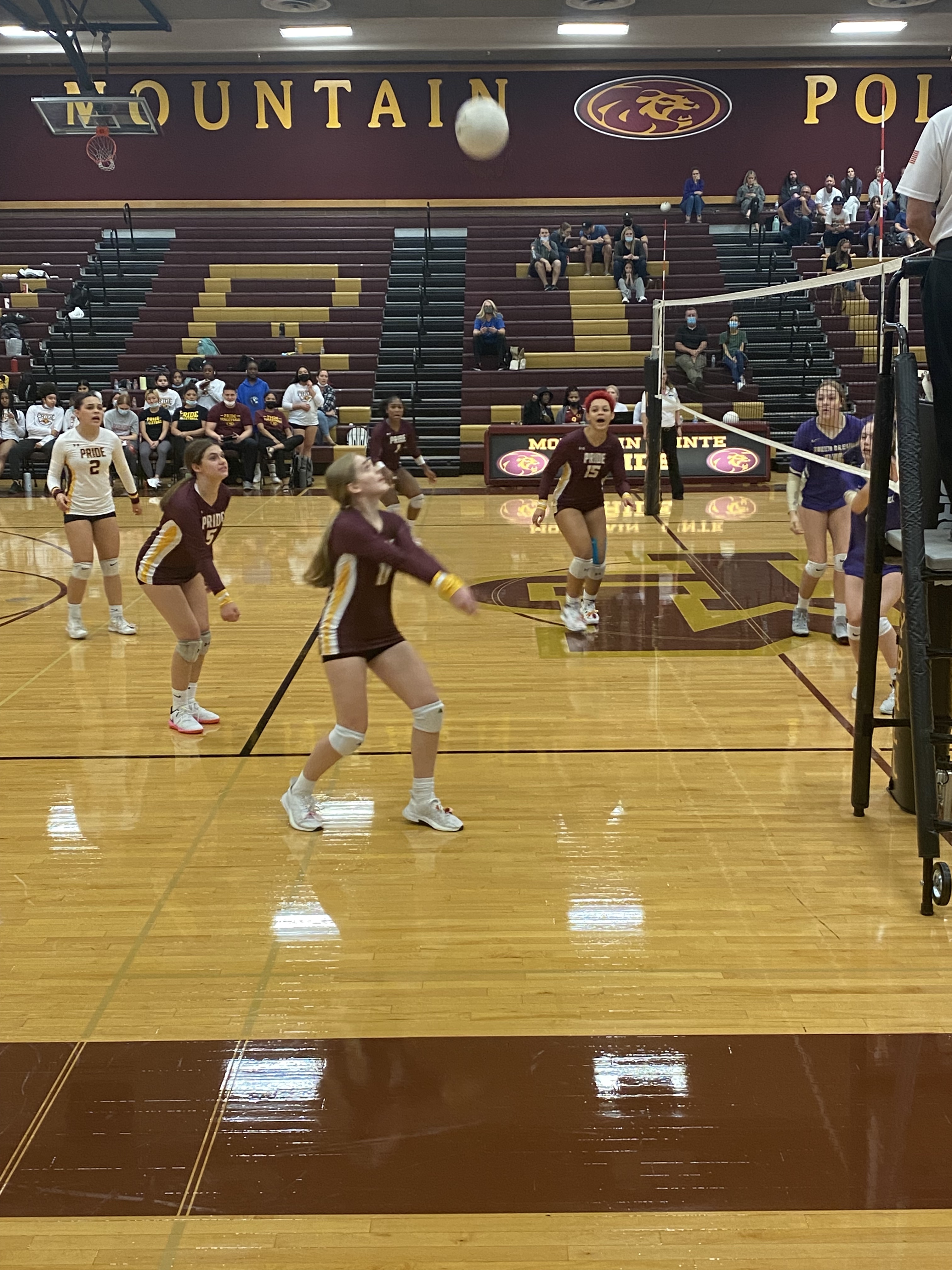 Nick Hogan is an ASU Cronkite School of Journalism and Mass Communication student assigned to cover Mountain Pointe High School for AZPreps365.com
PHOENIX-- Mountain Pointe volleyball (1-13) was left flummoxed and frustrated on its home court after Queen Creek (8-6) visited on Monday night.
Queen Creek made quick work of Mountain Pointe, swiftly claiming all three sets in what was a dominant sweep.
Both sides waited eagerly for the first serve of the region matchup as its JV teams battled out a grueling five-set match, delaying the start of the varsity game by 40 minutes.
The eagerness for the commencement of the game brought a fiery energy to the gymnasium. High-pitch screams, like the kind heard at a Justin Bieber or One Direction concert, echoed off of the gym walls.
The energy manifested itself on the first rally of the night when senior libero Alyssa Groves did her best Willie Mays impression, diving while sprinting away from the net to extend the rally. Her effort helped give the Pride an early 1-0 lead.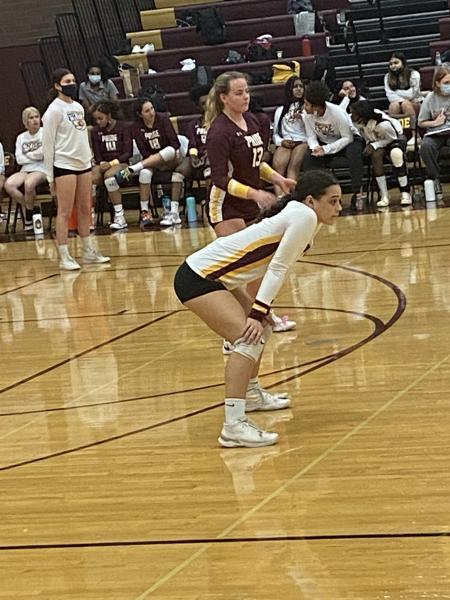 Mountain Pointe senior Alyssa Groves prepares for a Queen Creek serve (Nick Hogan/AZPreps365)"It's not just skill, that's hustle, passion and heart," Mountain Pointe head coach Justine Ackie said. "It's so much fun to watch when you just replay it over and over again, and it's even more fun to watch the girls' reactions."
There was little time for Mountain Pointe to bask in its highlight of the night as Queen Creek would score 10 unanswered points early in the first set, putting the Bulldogs in the driver's seat.
As Queen Creek fired kill after kill past the Mountain Pointe front line, the Pride's early success faded away like a distant memory. Queen Creek claimed the first set 25-17 in what would be the most competitive set of the night.
The Pride attempted to rally the troops in set two by way of a vicious kill from senior Kinsi Norris but it would not be enough to narrow the gap between the two squads. Ultimately, the second set looked like a rerun of the first as Queen Creek strolled its way to a 25-17 victory.
With only one win on the season, Mountain Pointe was exceeding its low expectations as they remained competitive with an eight-win Bulldog team.
However, reality set in during the third set and Mountain Pointe began to play like a one-win team. "We got in our own heads and we were making our own mistakes," senior defensive specialist Madison Bratlie said.
The end was hard to watch for Mountain Pointe fans as some kicked the bleachers out of frustration, and even made an early departure. The Pride looked like a completely different team as they whiffed multiple times when trying to strike the ball and almost collided with one another on multiple occasions. When the dust settled, the scoreboard revealed a 25-8 blow-out victory for Queen Creek.
Although the Pride's finish was undesirable, the energy, effort and heart displayed by the squad was always apparent. The cheering, and the screeching noise of players' sliding on the hardwood never ceased no matter the score.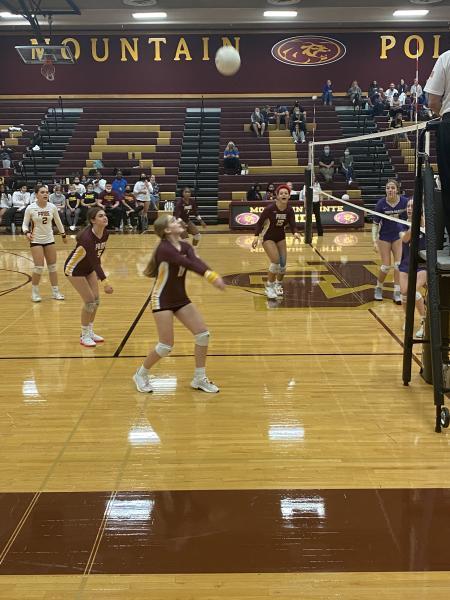 Mountain Pointe junior Ashlynd Beattie in position to make a play on the ball (Nick Hogan/AZPreps365)"Being this late in the season and with our losing record, it is hard to maintain that positivity and that energy and still keep it and bring it to every game," Ackie said. "That's something that the girls have continuously surprised me with and have continuously done very well."
The Pride are no strangers to adversity, as the roster has been injury-plagued all season. Senior Mimi Harris, sophomore Zariah Brown and junior Ashley Brooke, have all missed time this season due to surgery.
Harris made her first appearance of the season tonight, but was not thrilled with her performance. "I just wanted to jump back into it like how I was before and obviously like you saw tonight, it was not my best work but it'll get better," Harris said. "This is like my first day back so I can't expect too much."
Harris' return was a bright spot in what was an overall cloudy day for the Pride. "We do have a lot of players out hurt right now so I do love to see them come back," Bratlie said.
The Pride won't have long to dwell on the loss as they play Tuesday evening at Desert Ridge. The game should provide an opportunity for Mountain Pointe to add its second win of the season as Mountain Pointe swept Desert Ridge earlier this season, giving the Pride its sole win of the season.
As for Monday's game, it will go down as a loss. However if you believe in moral victories, you may chalk one up for the Pride as they continue to face trial after trial with an energy and positivity that has radiated through their dark times.
ENDIT
---