Always at 100: How senior Adina Kolia's energy helps spur the Gilbert Classical volleyball team
November 14, 2021 by Jacob Shannon, Arizona State University
---
Jacob Shannon is an ASU Cronkite School of Journalism student assigned to cover Gilbert Classical Academy for AZPreps365.com.

The environment is electric at the Gilbert Classical Academy gym on Nov. 2. The Spartans girls volleyball team is losing to Ganado in a do-or-die playoff match with a Class 2A state tournament berth on the line. The score is 17-17 and even though the Hornets are up 2-1, it's been a back-and-forth game all night.
The Spartans' Caitlin Chua sets the ball to opposite hitter Mia Drake who perfectly crosses it to the opposite side of the court. The bench erupts, but one player, in particular, stands out from the others: senior Adina Kolia.
Kolia has been ready to get the entire team hyped on a dime, regardless of the score. Her teammates mean everything to her and she's ready to do whatever it takes for them to come back and keep their season alive. Even if it means jumping up and down on the bench, screaming like her hair is on fire.
Kolia was born in Hoffman Estates, Illinois, after her parents emigrated from Iran in order to escape religious oppression. Her parents pushed her into playing volleyball beginning when she was 9 years old. They wanted her to be more active, so she was given a choice: either play soccer or volleyball. She chose the latter and was forever grateful she did.

Fast forward to her freshman year of high school, when she joined the Gilbert Classical volleyball program and immediately started bonding with her fellow teammates. It didn't take long for her teammates to notice the endless energy she brought every day on the court, something they have always admired.
"We have been playing together for three years and she has maintained the same high energy throughout," her teammate Mia Drake said. "Her enthusiasm created a positive environment for the whole team to thrive in."
Back in 2019, when Kolia was spending time as a swing player on the junior varsity and varsity teams, her older teammates were already taking notice.
"Whenever game days would come around, she would always be the first to cheer us on while we'd play," former teammate Sasha Subzwari said. "You can tell how much she loves playing volleyball just from her support of every single person on and off the court."
Kolia has never had a problem being the person to encourage her teammates to keep pushing themselves, even when down to other, bigger teams due to a size disadvantage. But for Kolia, it's not just about helping her teammates win games, it's also about making sure they aren't affected mentally by their games either.
"I know that having the constant fear of greater and bigger teams does not help anyone's mental health," she said. "So with a little encouragement, they are able to defeat their pessimistic feelings. We may lose, but with a positive mindset, we can at least enjoy playing."
If you asked anyone who has played with Golia, they would be quick to tell you just how selfless she was.
"Adina was there for everyone on the team whether she knew them or not," former team captain Monet Bouchard said. "She was willing to listen and comfort anyone through hard practices or upsetting losses. She helped the younger girls feel a part of the team and brought all of us together."
Firing up her teammates is what Kolia does best, and it's what she was doing all night against Ganado in GCA's pivotal play-in match. She had a clutch kill in the third set to help tie the match and close the gap. The team fought all night thanks in part to Kolia's support, but even then, it was not enough. The Hornets won the game to end the Spartans' season.
"To be honest, it felt horrible," Kolia said. "I was extremely sad over our loss. Not only did we lose our ride to state, but it was the last game I would ever play with my closest friends."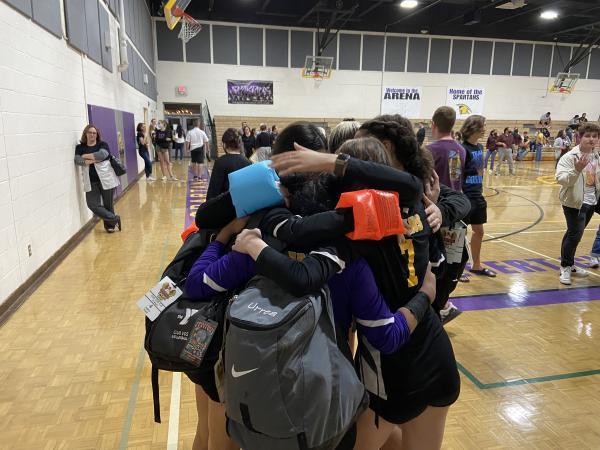 Gilbert Classical's Adina Kolia joins her fellow seniors in a final group hug after their volleyball season ended with a loss to Ganado on Nov. 2. (Jacob Shannon/AZPreps365)

Walking off the court, it was a bittersweet moment for Kolia. She knows all the lessons she learned will stay with her — but it's still difficult accepting her high school career is over.
She hoped she did enough to leave an impact on her younger teammates. Her advice to those coming up behind here was: "Always stay positive, especially during times where joy does not seem attainable."
It's safe to say the impact Kolia had on their Spartans' program will be felt long after she stepped off that court one last time.
---