3A FB semis: Snowflake sinks Valley Christian, 44-10
November 20, 2021 by Les Willsey, AZPreps365
---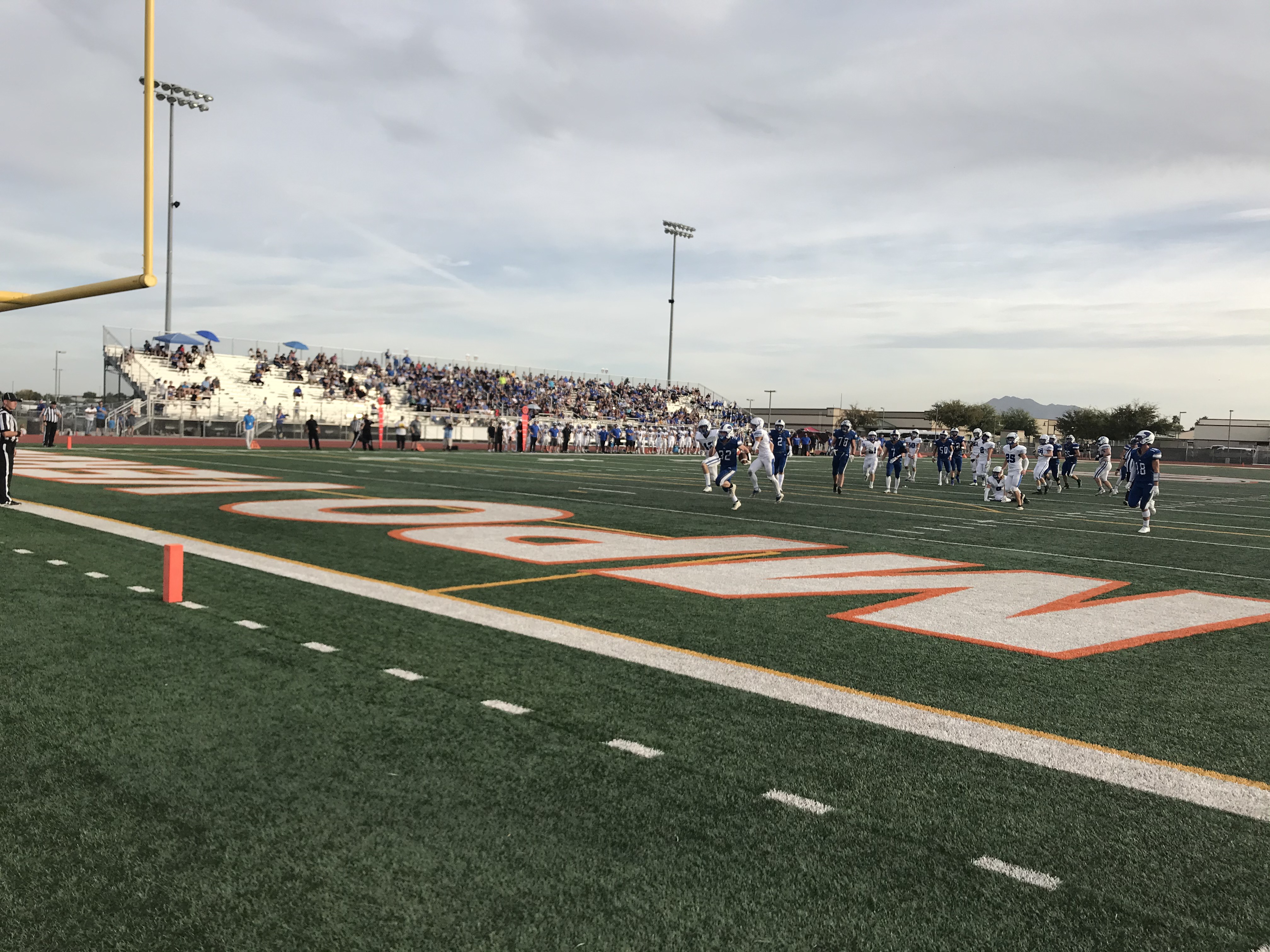 The second half of Saturday's 3A football semfinal matching #2 Snowflake and #3 Valley Christian couldn't have been more lopsided. Snowflake scored on five offensive possessions and via a special teams TD after intermission to post a 44-10 victory over Valley Christian at Campo Verde High School.
Snowflake (12-1) scored on its first five possessions of the second half and again via a special teams touchdown to obliterate a 10-3 halftime deficit. The Lobos won their 12th game in a row and avenged their only loss - a 38-24 decision to Valley Christian (11-2) in the season opener. Snowflake takes on Yuma Catholic for the 3A championship on Saturday Nov. 20 at 6 p.m. at Campo Verde. Yuma Catholic edged ALA Gilbert North, 31-26 in the other semifinal. It's a rematch of last year's final won by Snowflake.
Snowflake coach Kay Solomon said nothing special was said at intermission with his team down a touchdown.
"We didn't have or play with much energy the first half," Solomon said. "The second half we finally found it."
Snowflake kicked its second field goal - a 33-yarder by Samuel Crockett - to pull within 10-6 at the 7:47 mark of the third period. Fifty seconds later, the Lobos grabbed the lead for good at 13-10. A high snap out of punt formation deep in Valley Christian territory was covered in the end zone by Snowflake's Bradden Lewis.
Three possessions later, Snowflake's lead ballooned to 34-10 five seconds into the fourth period. A 9-yard TD pass from quarterback Caden Cantrell to leading receiver Noah Baum made it 20-10. Valley Christian muffed the ensuing kickoff and the Lobos Jacob Wagner recovered at the VC 20. Cantrell fired a 20-yard TD pass on the next play again to Baum pushing the lead to 27-10.
Snowflake capped a 24-0 run over eight minutes on the first play of the fourth quarter. Cantrell's third TD pass was gathered in by Jett McCray. McCray tallied again with 5:22 to play with 24-yard run up the middle. Crockett's third field goal closed out the Lobos scoring with 1:28 left.
"We played better in the second half," Solomon said. "And we didn't play a bad first half. The huge play was the special teams touchdown. A break like that adds up. Our kids found another level after that."
Cantrell finished 14 of 22 for 163 yards and one interception. He added 49 yards rushing on six carries in the second half. Cantrell left the game midway through the fourth quarter with a foot injury and did not return. Snowflake's running game amassed 144 yards in the second half compared to 23 in the first half.
Valley Christian quarterback Hunter Heeringa was just 5 of 12 with an interception in the second half and totaled 15 of 29 for 191 yards, one TD and two picks. His TD pass was an 84-yard connection with Austyn Gerard in the first quarter. Gerard caught three passes for 16 yards the rest of the game.
The Trojans couldn't get 1,700-yard rusher Kaden Majercak loose for many chunk plays. The senior carried 28 times for 116 yards. His best run was for 13 yards on VC's first play from scrimmage.
---