Primavera sees efforts paying off for Scottsdale Prep football
November 22, 2021 by Anthony Ravasio, Arizona State University
---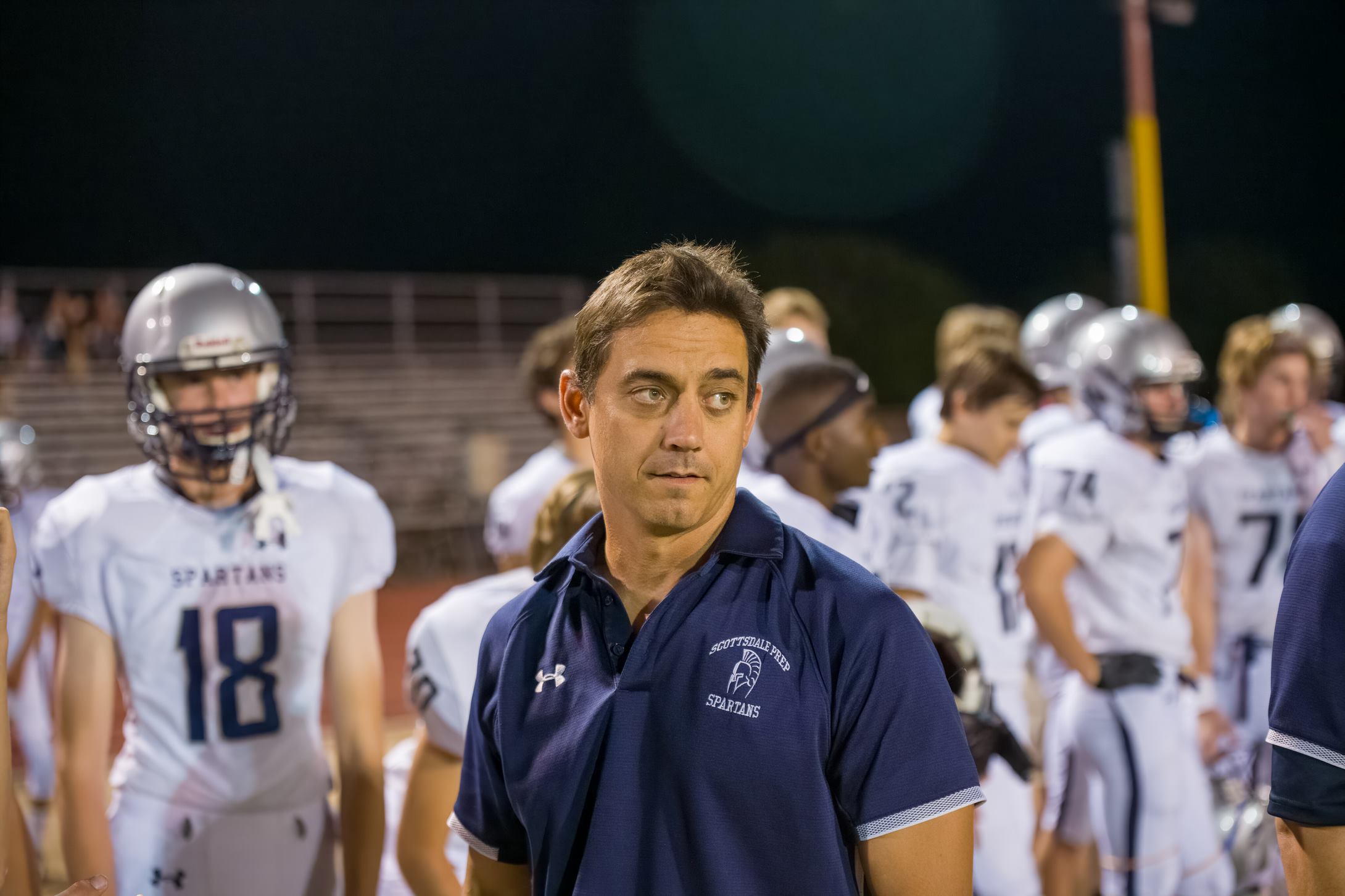 Anthony Ravasio is an ASU Cronkite School of Journalism student assigned to cover Scottsdale Preparatory Academy Football for AZPreps365.com.
Just five seasons ago, David Primavera took over the reins as head football coach at Scottsdale Prep. Now, he heads a team that just finished with its best record (8-2) in nearly a decade.
Primavera grew up in Lincoln, Nebraska, and lived there until he and his family moved to Arizona to start working at SPA in 2013.
He is a teacher at heart and loved what the school offers academically. He teaches physics and has even taught a lot of his players, including all of the current juniors.
"We moved our family to Arizona after living in Lincoln for a couple years. The educational goals at SPA attracted me to the school," Primavera said.
He went to Thomas Aquinas College in California for his undergraduate degree and then moved back home to Lincoln to pursue his master's degree from the University of Nebraska.
About three years into teaching at SPA, he was asked to coach the middle school football team. In January 2017, he was offered the varsity head coaching job.
Primavera is well-liked around campus and his players have seemed to really buy into his program.
"Coach Primavera has really turned our football program around, ever since I joined as a freshman," senior Carson Boyll said. "I think he realized that success wouldn't be created in only one year, and he was incredibly patient with his players, especially my class when we were freshmen. Clearly, his patience and trust in his (players) paid off, which I think has created a great winning culture in our program. I cannot thank him enough for never giving up on us and seeing a vision of success in our future that even we weren't able to see."
Primavera credits his players' dedication for turning around the program from a winless season in 2017 to eight wins and a second consecutive state playoff berth in 2021.
"I'm really proud of how we have been able to turn things around into a winning program," he said. "The boys really work hard and believe in each other. It's important to be good athletes and good citizens. I believe we have a strong foundation where we can keep having success into the future."
Primavera also credits the school and athletic department for helping to boost the football program. The school just opened an on-campus stadium for football and other sports.
"Getting the field on campus was huge for us. It allows the football team to feel closer to the Scottsdale Prep community," Primavera said.
As the program moves on from the seniors that have been along for most of the ride, Primavera welcomes what the younger kids can bring for the future.
"It'll be difficult to replace our seniors, but the younger kids are talented and are anxious to get better. Those kids want to continue the winning that we have had here over the past few years," Primavera said.
---