Salpointe's Wolfgang Weber earned his 700th career win
December 1, 2021 by Andy Morales, AZPreps365
---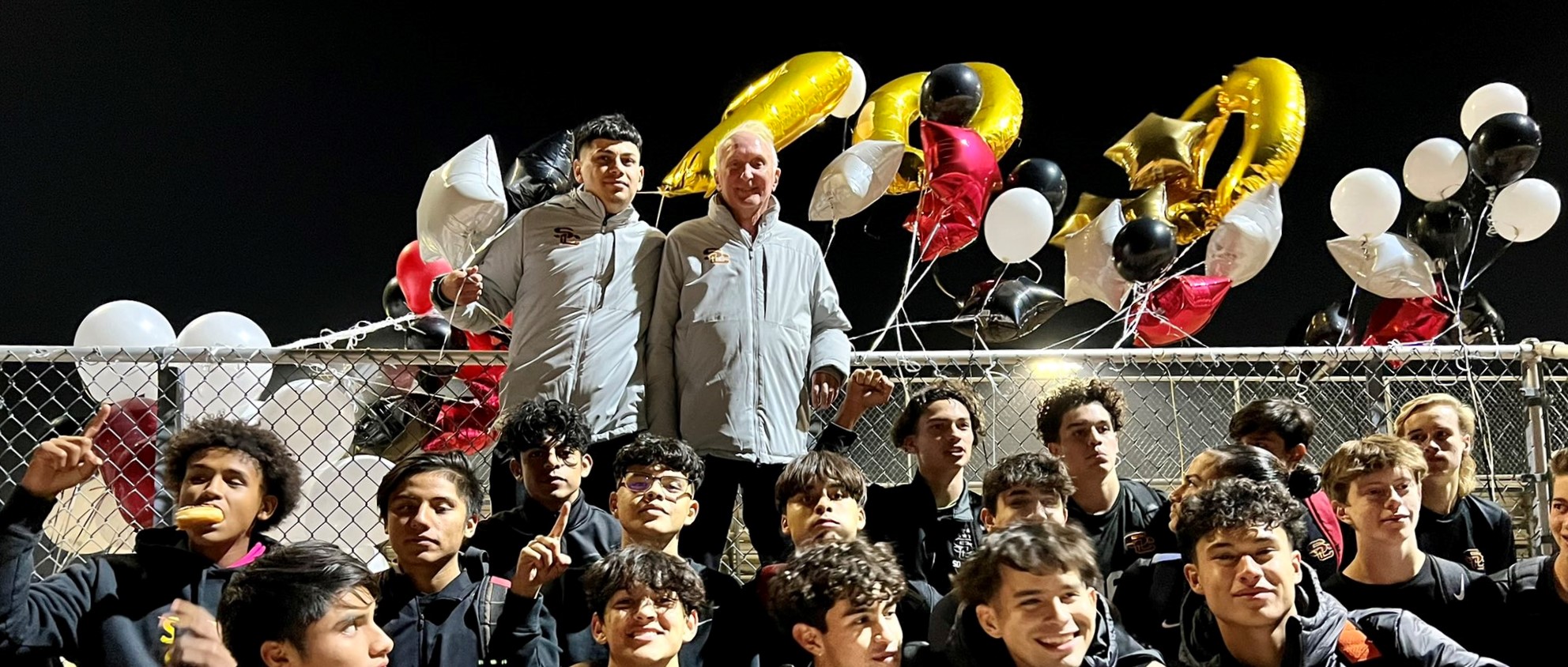 Wolfgang Weber believes his first victory as a head coach came some 40 years ago at Amphitheater. The wins kept coming and the Hall of Fame coach picked up his first state championship in 1985 and that was followed by another in 1986. He was the first coach in Arizona to win back-to-back state championships. Actually, he was the first to win two titles. In all, Weber earned eight state titles with Salpointe with his latest coming last season.
The 36 years between his first and latest championship is remarkable in itself but he walked off the pitch some eight months ago with 699 career wins. His beloved wife Nina passed away in 2013 and was able to lift up another trophy with another bunch of teenage boys. Still, how can a legend retire with 699 wins?
700 is a nice number and Weber added that to his ever-growing legend Tuesday night against Sahuaro but, this win did not come as easy as some of his first when some schools fielded coaches who had very little knowledge of the game – very few did. Weber did.
Weber only had four substitutes on his bench Tuesday night for a variety of reasons and the Cougars stepped up and fought to the final whistle but the 2-1 victory stood with the rest of his victories. Freshman Leo Gutierrez scored on an assist from Raul Torres in the 54th minute and Weber was able to breathe easier when Santi Ballesteros took an offering from Gutierrez moments later for a 2-0 lead. The breathing got more difficult when Sahuaro found the net in the 65th and the crowd had to spend the next five minutes wondering if the team could hold on. They did.
Meanwhile, on the Stadium pitch about 100 yards away from the boy's match, a couple of other coaching legends battled it out with the Salpointe girls coming away with a slim 1-0 victory over Sahuaro with the goal coming in opening minutes of the second half. Salpointe's Kelly Pierce earned her 86th win in her career with three of those wins coming with state championships and Sahuaro's Dave Kruszewski has 308 wins and counting.
The Brandon Bean Invitational seems to bring out some of the most successful coaches in the game including Sean Watkins with Ironwood Ridge, Amy Garelick with Pusch Ridge, Roxanne Taylor with Rincon/UHS and Casey O'Brien of Sunnyside to name but a few.
The Brandon Bean is held every year at Salpointe to honor a former player of Weber's who passed away in 1992 after an on-field collision at a soccer scrimmage. In addition, the tournament also honors former player Laura Kea who died in an auto accident on her way to a soccer tournament. When a person coaches for 40 years, real-life heartaches like these tragedies cannot be avoided but, somehow, the waves that go out always seem to come back in to help pull us back to a safe place and a few of those waves were present Tuesday night in the form of several former players who came in to help Weber celebrate after the match.
IN HIS OWN WORDS
Q: Win number 700 looked a little difficult.
A: It was a lot more difficult than I think most of them. It's the first game of the season and I thought in the first half we actually did a good job of creating some chances, but we just wasted them all. Leo got the first goal and they stayed after it, I mean, that's all we really could do. Hats off to Sahuaro, they were pesky and defended well.
Q: You were missing a lot of your players tonight.
A: Of 26, 15 were able to play. Before the game, I got a phone call from two more people that they were sick and it also reduced our roster but it's okay.
Q: Do you remember your first win?
A: The first one, I think the first game we ever played was against Amphitheater and I think we won one to nothing, that was number one. That's just a faint memory. Those were different days, just a bunch of people running around, kicking the ball, now you actually see a resemblance of the game and I think we played a major part of that. So that gave us a little bit of an advantage in the early years, but not anymore. We've seen so many good people now in good positions.
Q: You seem to be really relating with kids over the years.
A: Yeah, that's what keeps me going. I still enjoy it. I can't say I don't want to spend more time with my family because this is my family. My wife passed away and I have my stepson. If Nina was still alive, I might have stayed home and did some traveling with her and that sort of thing. They put me in the Hall of Fame here at Salpointe and then they put a book together with letters from 50 or 60 kids talking about the influence I had on them, in my mind, that's really the main reason. A lot of my former players became All-Americans. This makes you proud, but then you look at other people like Brenden Griffin, a Superior Court judge. He asked me to speak at his ceremony when he was sworn in as the judge and I made jokes about how he hated to be on the bench, but now he loves the bench. That's what really what drives you, helping people to move on and do what they want to do.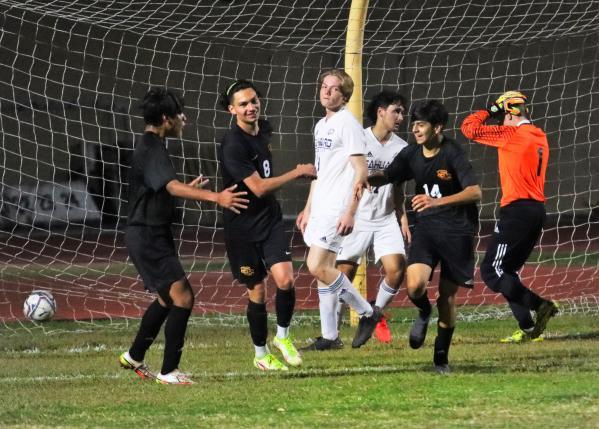 Santi Ballesteros (8) and Leo Gutierrez (14) came up big for Salpointe. (Andy MOrales/AZPreps365)
---