Pusch Ridge over Tanque Verde in overtime
January 8, 2022 by Andy Morales, AZPreps365
---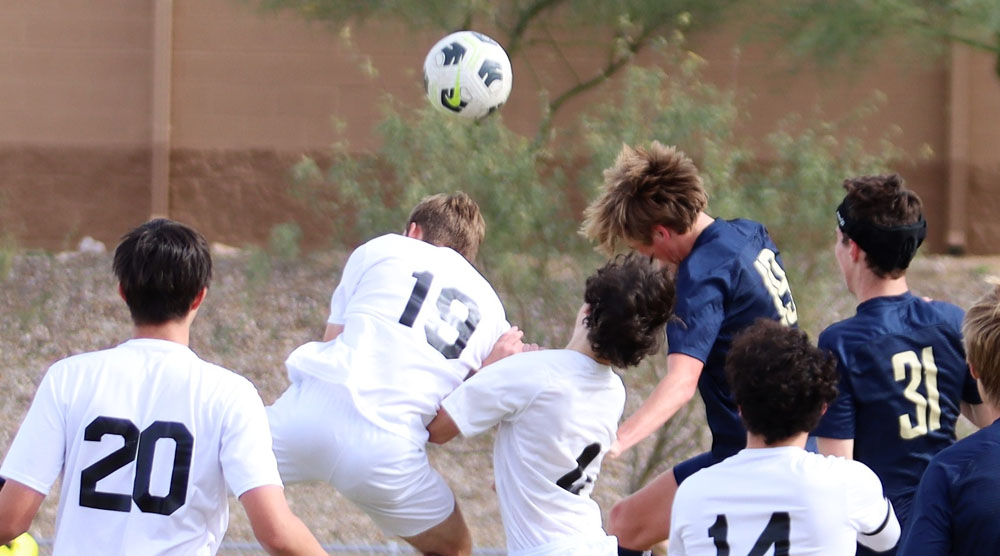 The conference play-in tournaments for soccer are about one month away but the first hurdle for teams seeking postseason play will be power-rankings and the first set of AIA rankings are set to be released on Tuesday, Jan. 11. As is typical, teams ranked No. 9-24 will advance to the conference play-in tournaments for a shot at the state tournament. The top eight teams in each conference will earn an automatic playoff berth.
The Pusch Ridge boys beat Tanque Verde 1-0 in overtime on Saturday afternoon to improve to 3-8 on the year but seven of those losses came during invitationals so they will have no bearing on the power-ranking formula. So, at 3-1, the Lions should be looking at a more favorable initial ranking.
Tanque Verde fell to 0-5 in ranking matches with the loss at Pusch Ridge. The Hawks have five matches left in the regular season beginning with a trip to Tombstone (1-4) next Thursday. The Lions will host Empire (3-2-1) on Tuesday.
Pusch Ridge sophomore Evan Garelick provided the winning goal against Tanque Verde to keep the Lions' season heading in the right direction. Pusch Ridge put up more shots than the Hawks in regulation but there were no real opportunities heading into overtime.
"I'm really happy my team worked to the end and was grateful to score the winning goal," Garelick said on his chance. "The season has been good so far, Garelick added. "We're working hard and hope to be back-to-back region champions."
The Lions competed in the 3A East Region last year and the team went 11-2 in ranking games, winning 11 straight after starting out 0-2. A 1-0 first round loss to BASIS Phoenix ended that run. Pusch Ridge is placed in the 3A South Region this winter along with eight other teams and there has yet to be a favorite heading into the final month of the season.
---