VOLLEYBALL: First rankings released
September 22, 2015 by Andy Morales, AZPreps365
---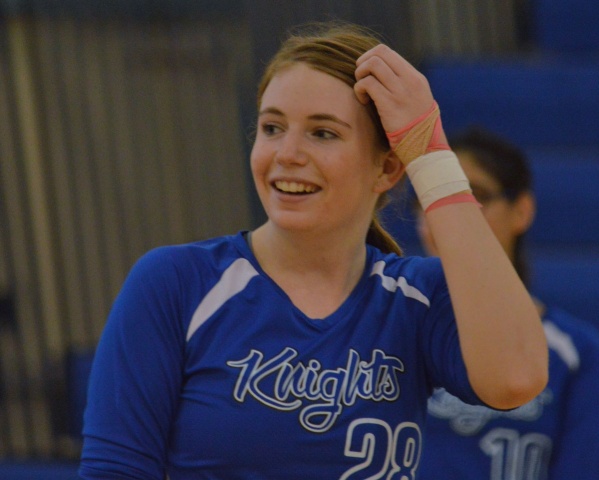 The state playoffs begin the first week of November with the Bracket Show tentatively scheduled for Friday, Oct. 30. Until then, the rankings will be updated everyday after 10 a.m.
Starting with Division V, let's take a look at the teams from Southern Arizona that are making an early move:
No. 4 Duncan
No. 5 St. David
No. 6 St. Augustine
No. 10 Santa Cruz
No. 11 Patagonia
No. 14 Immaculate Heart
Duncan went undefeated at the Morenci Round Robin Invitational but matches played during invitationals are not figured into the seedings.
With their 3-0 win over the Arizona State Schools for the Deaf and Blind (ASDB) on Tuesday night, the Knights of Oro Valley Immaculate Heart have improved to 4-2 in qualifying matches. The win was also their third in a row.
Leading the way for Immaculate Heart was senior Amity Brown. Brown won the state high jump title for the school last spring and she wants her last year in high school to be a special one.
"We have a lot of new people on our team but we also return all of our starters," Brown said. "I've been at this school since preschool and it's beginning to feel different but I'm ready."
Immaculate Heart is a K-12 campus. Amity won her high jump at 5 feet 1 inch but is hoping to add a few inches to that this year before she woks towards her veterinary degree in college.
Former Amphitheater multi-sport athlete Darlene Danehy is the new volleyball coach at Immaculate Heart.
Danehy is a former AIA Scholar-Athlete of the Year Award recipient. She lettered in five sports at Tucson Amphitheater, earning a total of 14 varsity letters, while leading her basketball team to a state championship.
Danehy earned a degree in civil engineering at the University of Arizona and then a Master's Degree at Cornell. She coached softball at Tucson Green Fields while she was a student at Arizona and played basketball for Tohono O'odham Community College from 2012-14.
ASDB is struggling to win sets this year but head coach Lani Murashige, like all great coaches, is in it for the journey.
"My team is very young with five freshmen and zero seniors, Murashige said. "They will get there when they understand the game of volleyball better.
"I enjoy coaching my young team. I'm looking forward to see them grow."
Murashige was a standout athlete at ASDB, graduating in 2009. She went on to play for Gallaudet in college and played for Team USA in 2013 where she earned a Gold Medal at the Summer Deaflympics held in Bulgaria.
More recently, Murashige was an assistant coach for Team USA this past summer when the squad won the 2015 World Deaf Basketball Championships gold medal in Taiwan. Former ASDB standouts Juliana Apfel and Sabina Shysh are members of the Gold Medal team.
Team USA went undefeated in group play with wins over Ukraine (57-47), Japan (95-38), Turkey (89-26) and Italy (69-39). In the knockout stages, Team USA defeated Chinese Taipei (84-19) and then Greece, 76-37. Team USA defeated Lithuania in the championship game, 68-54.
The head coach for Team USA is ASDB coach Laura Edwards.
---