BOYS VOLLEYBALL: Cienega & Salpointe advance
May 7, 2016 by Andy Morales, AZPreps365
---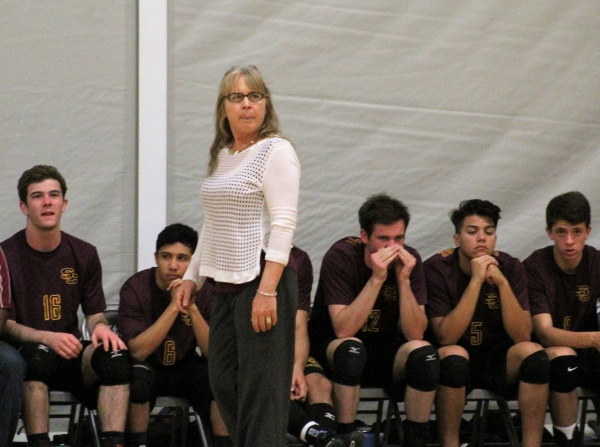 Division II Boys Volleyball
No. 11 Salpointe beat No. 6 Marana Mountain View 3-0 (25-16, 25-21, 25-23) Saturday to advance to the quarterfinal round of the Division II playoffs where the Lancers will take on No. 3 Ironwood.
Ironwood defeated No. 14 Rincon/University 3-0 (25-18, 25-13, 25-13) to set up the match with Salpointe. The Eagles will host with the quarterfinal match set for 6:30 p.m. on Tuesday, May 10.
Mountain View posted a perfect 10-0 record in Section V, giving the Mountain Lions their first section title and first postseason home match in program history. One of those wins was a 3-2 victory over Salpointe back on March 3 to start the regular season off.
The Lancers dictated the action in the rematch thanks to the play of Luke Wallace and Jackson Baker. Wallace finished with 14 kills and 19 digs to lead the Lancers and Baker recorded 40 assists and six blocks. John Dunn and Jackson Breshears pitched seven kills each.
"We played our own game and we play with speed," Wallace said when asked about controlling the net." "Our setter (Baker) helped keep up the tempo and we were aggressive."
Mountain View led 4-1 in the first set but the Lancers kept coming and the tempo increased to the point where the Lancers turned the early deficit into a 9-4 lead and never really looked back heading to the 24-16 win.
Salpointe built a 20-11 lead in the second set but Mountain View went on a 7-1 run to cut the lead down to 21-18. The Lancers recovered and took the seconds et 25-21.
"We lost to Mountain View in our first game of the year and we really weren't playing as a team then," Wallace added. "We learned not to get frustrated when we are behind or when it gets close."
The will to stay focused when behind helped the Lancers at the end of the second set and it came in handy in the closing moments of the third when Mountain View took a 20-17 lead. The Mountain Lions made some errors at the net and Salpointe took advantage and closed it out on an 8-3 run for the 25-23 win.
While Salpointe has had some success in the postseason, this was something entirely new for Mountain View. First-year coach Lindsey Spivey took a team that went 6-11 a year ago and turned essentially the same team into a 22-7 winner. This loss should not diminish that accomplishment.
"They worked so hard. They were determined," Spivey said after the match.
"They wanted to prove people wrong and I think they did. It was a tough loss but they are like a family. They aren't talking too much right now but they are there for each other," she added.
The Mountain Lions will lose eight players to graduation including hitter Griffin Whithed. Whithed finished with 15 kills and it looked like he had the whole team on his shoulders but it wasn't enough.
Junior setter Sean Losik returns and he will try to build on the 34 assists he earned in his first playoff match.
Salpointe head coach Heather Moore-Martin won two titles coaching Catalina in 2010 and 2011 and she is just a couple days removed from coaching the Salpointe sand volleyball team to a runner-up finish. She is now one step away from the semifinal round.
Bill Lang also pulled double duty this spring, coaching the boys of Ironwood Ridge and the girl's sand volleyball team. His sand team was not eligible for the playoffs due to limited game action in their first year but the boys earned a 12 seed.
The Nighthawks felt to No. 5 Mesquite 5-0 (22-25, 25-20, 15-25, 25-14, 15-10.
No. 7 Sahuaro fell by the slimmest of margins at home to No. 10 Centennial 3-2 (27-25, 16-26, 27-25, 26-28, 16-14).
No. 2 Cienega swept No. 15 Canyon del Oro 3-2 (25-16-25-11, 25- 22) in the other match held in Southern Arizona. The Bobcats will host Centennial Tuesday night at 6:30 in the quarterfinal round.
---