2A SOCCER: Most region races still undecided
October 14, 2017 by Andy Morales, AZPreps365
---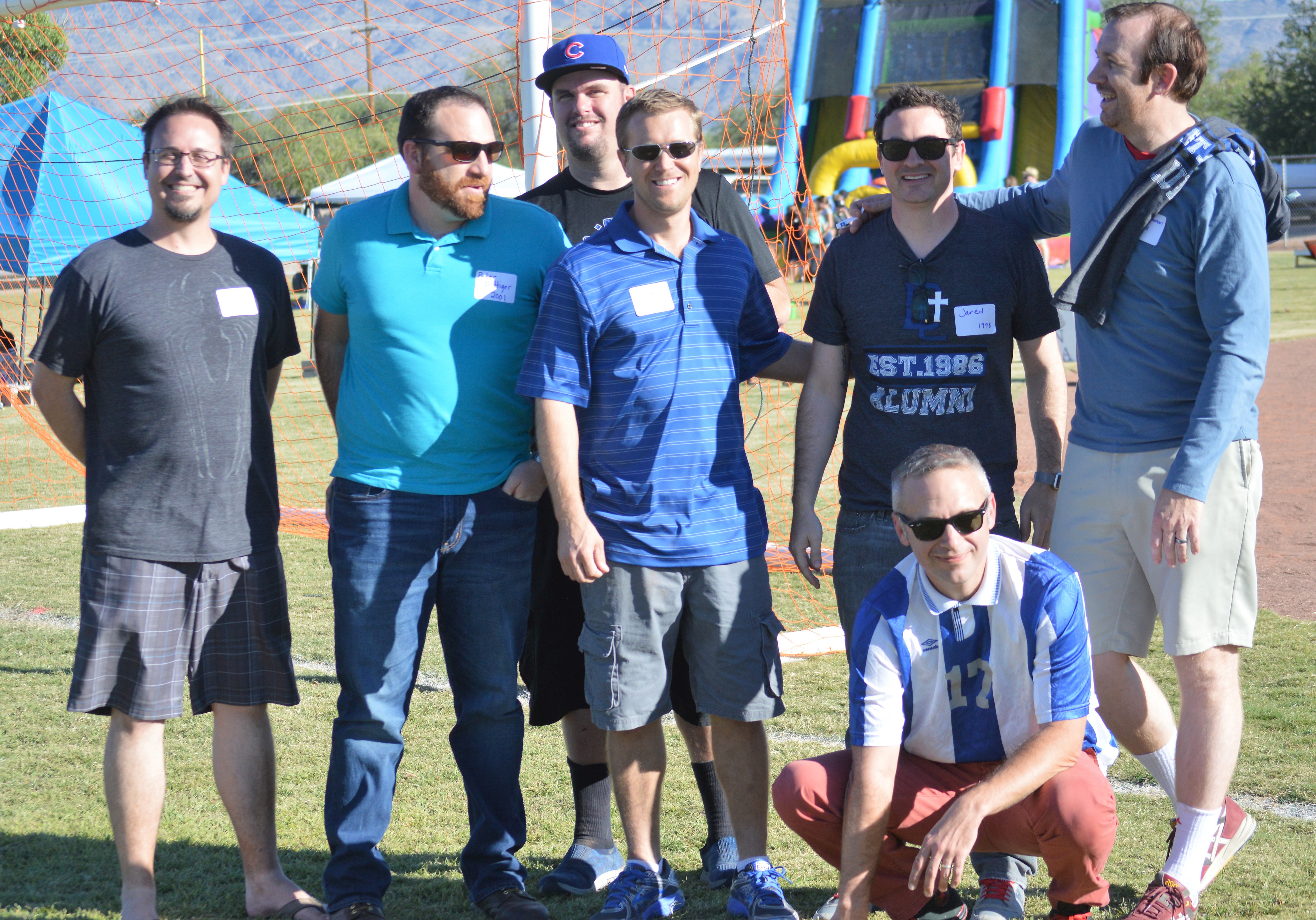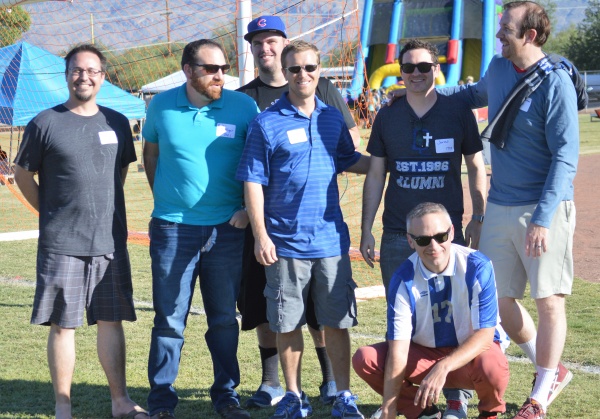 Members of the Desert Christian state championship team from 1997 were recognized on their 20th Annivarsary. (Andy Morales/AZPreps365.com)
No. 7 Desert Christian beat No. 11 Benson 2-0 at home on Saturday afternoon to help solidify a possible higher seed in the state playoffs but the 2A South Region race still wide open.
The Eagles improved to 8-2 in power-ranking games and 3-0 in region play while Benson fell to 4-4 and 3-1 with one week left in the regular season. The state playoffs are slated to begin on Wednesday, Oct. 25 with eight teams making up the championship bracket.
The bracket will consist of three region winners and five at-large berths and, at the moment, Desert Christian is the only team from Southern Arizona ranked in the top eight which means teams such as the ninth-ranked Gregory School (7-3, 3-2) will be sweating out the final days of the regular season.
Palmer Hoffman put Desert Christian up 1-0 in the 4th minute and he scored again 11 minutes later on a pass from Matthew Boge. Hoffman was denied the hat trick but the Eagles outshot the Bobcats 13-4 with Hoffman responsible for seven of those attempts alone.
The Eagles can claim the region title with a win against Academy of Tucson (1-6, 0-4) on Tuesday, Oct. 17.
In 2A Central action, No. 5 Camp Verde (10-1, 5-0) and No. 1 Chino Valley (10-0, 4-0) are headed for a winner-take-all match scheduled for Thursday, Oct. 19. at Camp Verde.
No. 2 Blue Ridge (11-0, 5-0), No. 3 Snowflake (8-3, 5-1) and No. 6 Show Low (6-2-1, 4-1) are the top teams in the 2A East Region.
Blue Ridge beat Snowflake and Snowflake beat Show Low in region play. The Yellowjackets will host Show Low on Wednesday, Oct. 18. but Blue Ridge holds the tie breaker even with a loss. At this point, the three power teams are fighting for a better seed if possible.
On the girl's side, two teams will come from region play while two at-large berths will be awarded to the four-team state bracket scheduled to start on Friday, Oct. 27.
No. 2 Round Valley (9-0-1, 8-0) won the 2A East title but No. 1 Northland Prep (10-0, 4-0) is still in a race with No. 3 Chino Valley (7-1-1, 3-1) in the 2A Central Region. The two teams will face each other on Wednesday, Oct. 18.
No. 4 Show Low (6-3-1, 5-2-1) and No. 5 St. Johns (5-5-1, 4-4-1) are scheduled to play each other on Tuesday, Oct. 17. With only four teams making the state playoffs, this is obviously a huge match.
No. 6 Snowflake (5-5, 4-4) can still make some noise down the stretch with matches against No. 8 Blue Ridge (3-6-2, 2-4-2) and Show Low scheduled for next week.
---