VOLLEYBALL: Ironwood Ridge over Tucson, 3-0
March 15, 2018 by Andy Morales, AZPreps365
---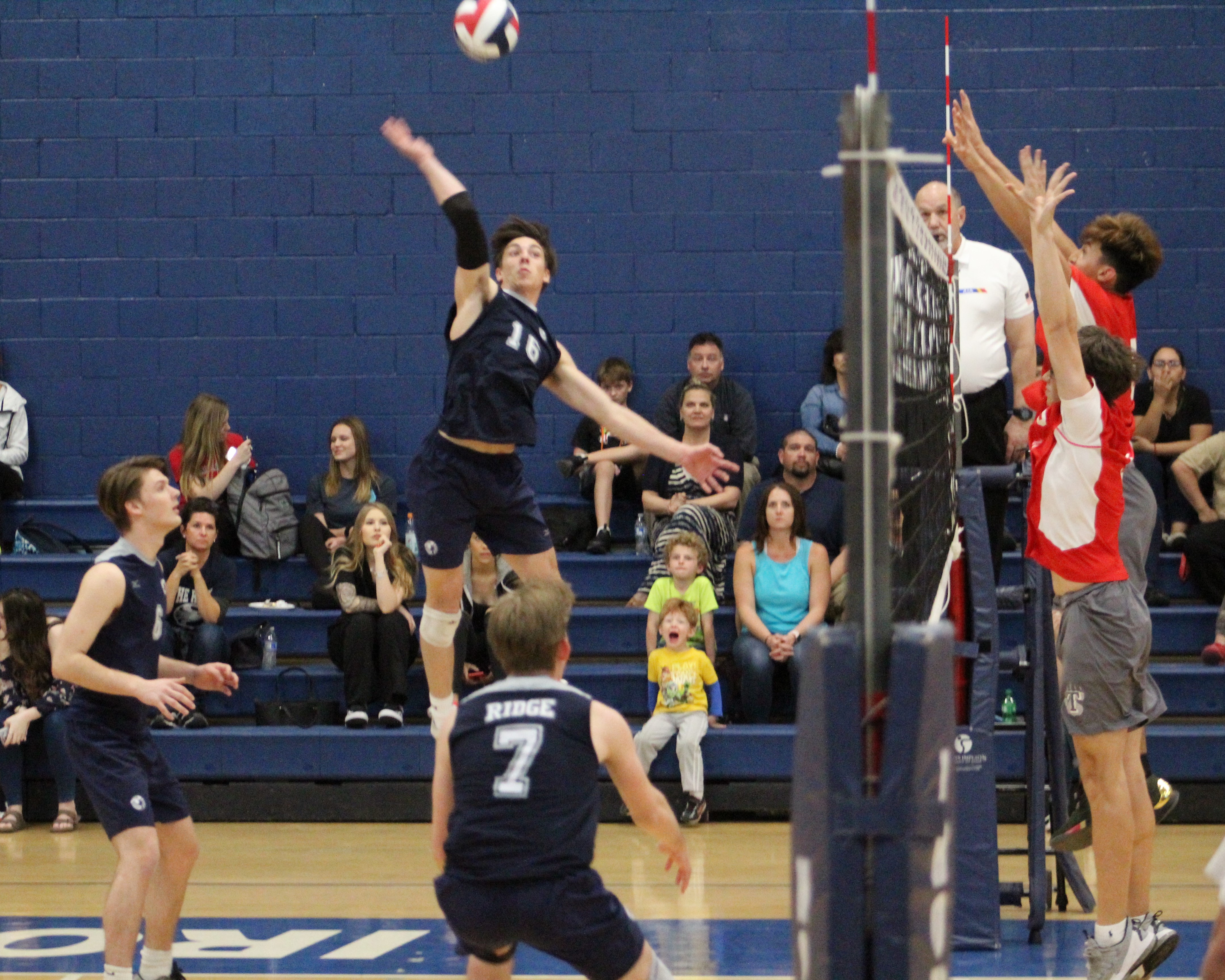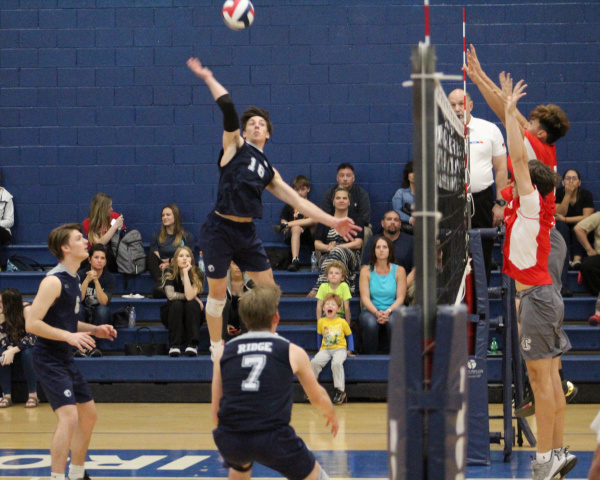 Jrue Jantz goes up for one of his game-high 19 kills. (Andy Morales/AZPreps365.com)
Ironwood Ridge beat Tucson 3-0 (25-23, 25-19, 25-12) Thursday night behind an outstanding attack from junior setter Justin Miller and senior hitter Jrue Jantz. Jantz led the Nighthawks with 19 kills and Scott Golden added 10 more to collect the majority of Miller's 42 assists in the match.
Ironwood Ridge (8-5) built a 24-19 lead in the first set but the Badgers were able to draw to within 24-23 before Jantz put it away with his ninth kill. The second set played out much the same with the Nighthawks building a 23-19 lead before closing it out 25-19. Tucson (5-7) played the third set close early on, but Ironwood Ridge pulled away for the 25-12 clincher.
Both squads are playing under similar circumstances with the Nighthawks trying to rebuild after losing 11 seniors to graduation and the Badgers are taking the floor with a trio of sophomores and a freshman libero.
"We lost a lot of experience and height," said Nighthawk head coach Ashleigh Houlton. "They are all well-trained players, so we have to focus on the technical performance to make up for our lack of size."
Both teams took part in the Las Vegas Invitational last week with the Nighthawks coming away with four wins while Tucson put together a couple more. The Badgers have three seniors on their roster, including Cristofer Lopez and Michael Ramonett. Lopez led the Badgers with 10 kills and he also added six assists. Sophomore Max Hernandez had nine assists to lead the team. Ramonett finished with five kills as did Kevin Hinojosa.
Taking away non-power point invitational records, Ironwood Ridge is sitting at 4-2 overall and 1-0 in the 5A Sonoran Region and Tucson is 3-2. The Badgers have yet to play a game in the 6A Southern Region.
The first AIA/MaxPreps rankings will be released on Monday, March 26 and both teams look to be rewarded for some early wins, with Tucson beating defending state champion Cienega 3-1 on Tuesday night and Ironwood Ridge sweeping Rincon/University, Catalina Foothills and Tucson. The Badgers are off until March 27 but Ironwood Ridge will have a big region match at Sahuaro (5-1, 0-0) next Tuesday.
Mountain View Marana is off to the best start in Southern Arizona with a 10-3 record that includes 6-0 in power-ranking matches and a huge 3-2 win at Sahuaro on Thursday night to go up 1-0 in the 5A Southern Region. The Mountain Lions also have impressive victories over Tucson and Ironwood Ridge.
---