Red Mountain falls to Mesa in three sets
October 16, 2018 by Alex Russell, Arizona State University
---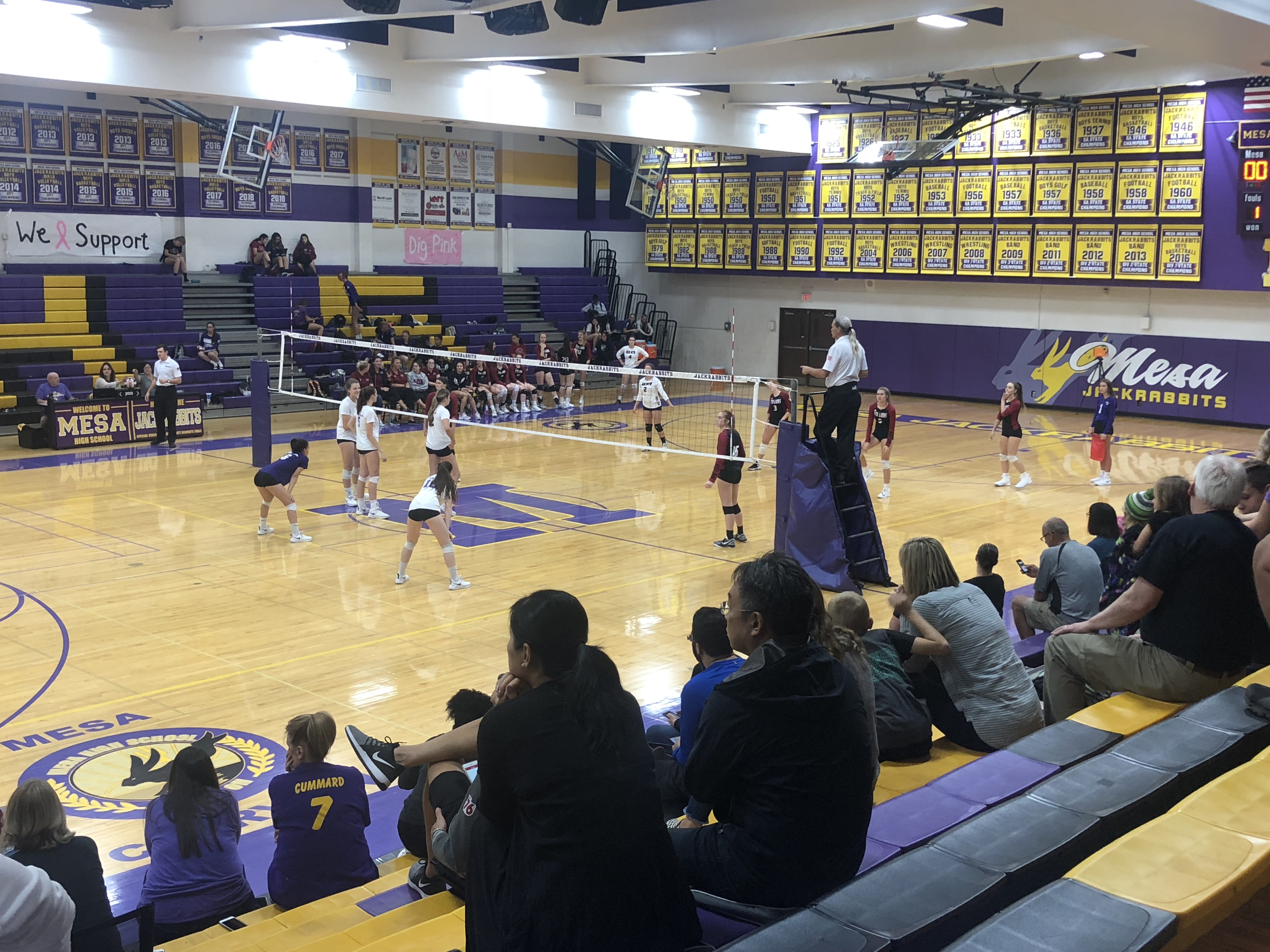 Heading into their first game out of fall break, the Red Mountain Mountain Lions faced a difficult and familiar opponent in the Mesa Jackrabbits on Tuesday night.
For the Mountain Lions, it was yet another disappointing loss. Red Mountain was swept in three sets and is now 3-5 in 6A East Valley region play.
Mesa defeated Red Mountain 25-9, 25-18 and 25-17 to complete the sweep.
"I was disappointed in that first set," said Red Mountain head coach Kristy Simmons. "When we played them the first time, there was at least fight. I think coming off of a break with only one day of practice was rough."
In the next two sets, it was much more competitive. However, the Jackrabbits, being 6-0 in 6A East Valley play, could not be stopped.
"The second and third game were better. I just decided I was going to put everybody in and give everyone a shot today. Some people surprised me and they got to play more," said Simmons.
Mesa executed early, as senior Kinsey Right began the second set with two aces in a row. As the Jackrabbits gained momentum, they jumped out to a 12-5 lead.
The Mountain Lions had errors which ultimately undermined them.
"In this one our serve-receive was the hardest thing. That's not a normal thing for us, we're usually very good serve-receivers. I just think it was a mental game for us today," said Simmons.
In their previous matchup, Mesa struggled against Red Mountain's serves, so they were on the lookout for the same challenge Tuesday.
"They served us tough last time and we struggled with serve-receive. So, one of our things today was to just receive," said Mesa head coach Amy Strawn. "Very first ball, we shanked. The second ball, we shanked. I was like 'Oh no, here we go!' and then we buckled down."
Red Mountain senior captain Makenna Fullford also noticed her team's lack of normality in their play.
"We tried, but we didn't play like usual. I think it's because it's Mesa and we always have a preconceived idea of how they're going to be even though I feel like we could have had closer games. We just kind of gave up," said Fullford.
With the Mountain Lions' season coming to an end, positivity and encouragement is what seems to be motivating them to finish strong.
"I just try to keep it as light as I can. It's frustrating obviously, because we have a young team. But I just try to keep it light and fun," said Fullford.
The Mountain Lions take on Westwood (18-11) at home on Wednesday night, as they look to improve their record in another section matchup.
---