Wrestling: Walden Grove & Santa Cruz win team titles; 10 girls claim championships
February 9, 2019 by Andy Morales, AZPreps365
---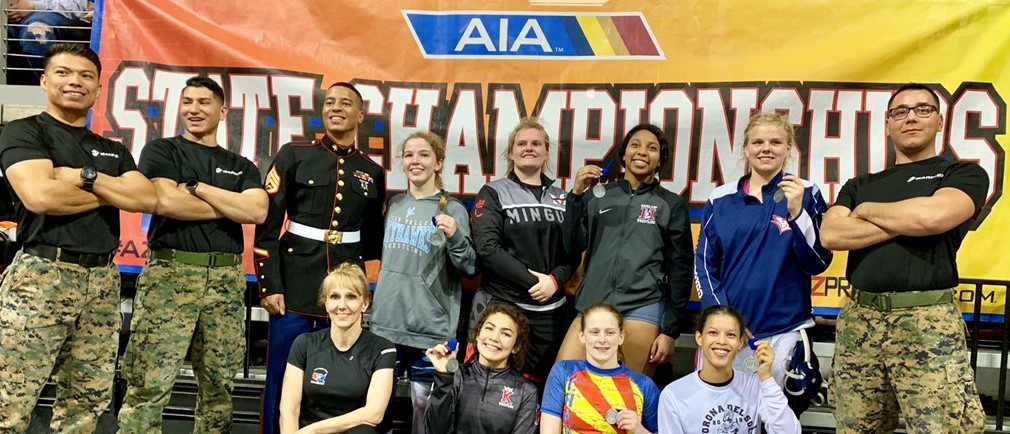 TOURNAMENT PHOTOS AT PAYNTERPICS.COM
For the first time in Arizona history, girls took to the mat to compete for a state wrestling championship they could call their own. To be fair, a few girls have qualified for state competition in the past but the competition was always designed for the boys. But not this year.
The AIA introduced a separate wrestling category for girls this year under the guidance of an "emerging sport," with the intent of collecting as much information and data as possible to make the experience a rewarding one for the girls. Everything was new. Every time a girl warmed up, wrestled, had her hand lifted in victory or held a medal proudly, was a first. Even the pain of defeat was a first.
4 national titles, including freestyle in Fargo, USA Junior Pan-American gold medalist and now 118 Arizona state champion Stefana Jelacic #azpreps365 pic.twitter.com/UKlNY9YU0w

— Andy Morales (@AZPreps365Andy) February 9, 2019
As an emerging sport, there was no team title this year, but ten girls earned individual state championships just like their counterparts who wrestled right along with the girls at the Findlay Toyota Center on Friday.
"Some of the girls told me they had to practice separate from the boys but I'm lucky because my coaches felt it was important for us to practice with the boys on our team," Canyon del Oro freshman Mylei Seigla said. "It made me quicker and stronger but it also caused us to bond as a team and I see the boys as my brothers."
The day of firsts was not reserved just for the girls, with the boys of Walden Grove winning the first state wrestling championship in school history with a 185.5 to 141.5 win over Yuma. Yuma beat Walden Grove 170 to 169.5 last year but the Criminals had a difficult time keeping pace from beginning to end this year.
"Most of these guys have been together since sixth grade and they will be the most memorable thing about this year for me," head coach Victor Gonzalez said. "They have heart, they are kind to each other, they are a great group of kids and this is why we do this. This just doesn't happen, it takes work. It's a beautiful thing."
A lot of programs can turn to a singular event or athlete and look back and say that was the game-changer. For the Red Wolves, Diego Guerrero is that athlete.
Guerrero (51-2) picked up his fourth state championship in the 132-pound division and his teammates Evan Killgore (50-2) and Jackson Edwards (51-4) also came through with gold medals. In all, Walden Grove had eight wrestlers standing on the awards platform and that is what it takes to dominate.
Safford's standout duo of McKade Finch (53-2) and Dawon Andrews (44-1) also picked up their fourth titles in a row.
It wasn't a "first" but it sure felt like it. The Santa Cruz Dust Devils had five state championships in school history but none since 1995. That all changed when the Dust Devils beat St. Johns 182.5 to 155 to claim the D-IV title and the first one to see that coming was head coach Ray Belloc.
"I called it last year when we left here," Belloc said. "I saw what we had and who was coming in and I knew we had this. It took lots of sweat, blood and tears but this is the most competitive team I have ever coached."
Belloc only loses three senior placers to graduation.
Lexi Borunda of Shadow Ridge first ever girls state wrestling champion #azpreps365 pic.twitter.com/JxRDvhGeeW

— Andy Morales (@AZPreps365Andy) February 9, 2019
For the girls, Shadow Ridge standout Lexi Borunda (10-0) was the first girl to win a state title in Arizona history. Canyon del Oro freshman Mylei Seigla (16-1) took third place in the 118 division to claim the highest finish for an athlete from Southern Arizona and Chandler junior Stefana Jelacic (11-0) added a state title to her impressing resume of four various national championships and a gold medal as part of the USA Junior Pan-American team.
GIRL RESULTS
101
1st Place - Lexi Borunda of Shadow Ridge
2nd Place - Grace Wietschak of Desert Ridge
3rd Place - Caylee Townsend of Camp Verde
4th Place - Arianna Erb of Dobson
110
1st Place - Sierrah Thrun of Corona del Sol
2nd Place - Genesis Angel Cejudo of Desert Mountain
3rd Place - Arely Carbajal of Yuma
4th Place - Sakina Lord of North
118
1st Place - Stefana Jelacic of Chandler
2nd Place - Cynthenie Tai of Washington
3rd Place - Mylei Seigla of Canyon del Oro
4th Place - Genesis Higuera of Odyssy Institute
125
1st Place - Julia Chambers of Skyline
2nd Place - Trinity Howard of Basha
3rd Place - Brinley Driggs of Pinnacle
4th Place - Camry Carter of Casteel
130
1st Place - Carolina Moreno of Kofa
2nd Place - Yaniva Carrillo of Cesar Chavez
3rd Place - Tiffany Salahub of Mohave
4th Place - Roxana Porras of Apollo
135
1st Place - Julia Lundberg of North Canyon
2nd Place - Jazmine Lobato of Mohave
3rd Place - Latasha Slim of Page
4th Place - Adriana Garland of Sunnyside
145
1st Place - Jessie McCurry of Deer Valley
2nd Place - Courtney Cardoza of Millennium
3rd Place - Nesa Martinez of Morenci
4th Place - Amber Rodriquez of Basha
160
1st Place - Jennifer Curry of Hamilton
2nd Place - Layla Velasquez of San Pasqual
3rd Place - Trinity Tompkins of Chino Valley
4th Place - Eva Schroeder of Arizona Lutheran
185
1st Place - Mia Didur of Centennial
2nd Place - Sofia Rubio of Marcos de Niza
3rd Place - Stefanie Valencia of Westwood
4th Place - Gaby Winter of Basha
225
1st Place - Danni Schulz of Mingus Union
2nd Place - Mariana Reyes of Cibola
3rd Place - Taylor Haney of Basha
4th Place - Destiny Magdaleno of Pinon
The Walk. Girls, D2 & D3 state wrestling: Part 1 pic.twitter.com/AtNkeEreiQ

— Andy Morales (@AZPreps365Andy) February 9, 2019
DIVISION III TEAM RESULTS
1 Walden Grove 185.5
2 Yuma 141.5
3 Chino Valley 121.5
4 Show Low 121.0
5 Safford 107.5
6 Canyon Del Oro 94.5
7 Pueblo 87.0
8 Marcos De Niza 64.5
9 Combs 63.0
10 Snowflake 60.0
11 Prescott 56.0
12 Dysart 45.0
13 Peoria 42.0
14 Salpointe 40.5
15 Apache Junction 33.0
16 Tempe 32.0
17 Lake Havasu 31.0
18 Coconino 30.5
19 Thunderbird 29.0
20 Estrella Foothills 24.0
20 Mesquite 24.0
22 Greenway 23.0
23 Blue Ridge 21.0
24 Cactus 19.0
24 Lee Williams 19.0
26 Casa Grande 18.5
27 Cortez 18.0
27 Desert Edge 18.0
29 Catalina Foothills 14.0
29 Washington 14.0
31 Douglas 13.0
31 Glendale 13.0
33 Payson 12.5
34 Youngker 12.0
35 Poston Butte 11.0
36 Shadow Mountain 10.0
37 Flagstaff 9.0
38 American Leadership - Ironwood 7.0
38 Arcadia 7.0
40 Buckeye 6.0
40 Gila Ridge 6.0
40 Moon Valley 6.0
43 Seton Catholic 5.5
44 American Leadership – QC 4.0
44 Mingus 4.0
46 Bradshaw Mountain 3.0
46 Palo Verde 3.0
48 Vista Grande 2.5
49 Florence 2.0
49 Mohave 2.0
51 Amphitheater 0.0
51 Sabino 0.0
51 Sahuarita 0.0
51 Sahuaro 0.0
DIVISION III INDIVIDUAL RESULTS
D3-106
1st Place Match
Pedro Billups (Coconino) 53-1, Jr. over Chase Sorenson (Blue Ridge) 16-4, Jr. (TF-1.5 3:46 (15-0))
3rd Place Match
Romeo Avalos (Canyon Del Oro) 48-6, Jr. over Noah Perez (Marcos De Niza) 14-4, Jr. (Fall 4:40)
5th Place Match
Thomas Kinnebrew (Safford) 50-8, Sr. over Cole Housley (Show Low) 40-13, Fr. (Dec 1-0)
D3-113
1st Place Match
Tanner Fellows (Show Low) 50-8, Jr. over Colby Evens (Chino Valley) 50-9, So. (Dec 7-3)
3rd Place Match
Oscar Seputveda (Peoria) 42-7, Sr. over Mario Bugarin (Yuma) 47-5, So. (Dec 5-2)
5th Place Match
Gabriel Castillo (Walden Grove) 32-15, Sr. over Gavin Gonzalez (Marcos De Niza) 34-14, So. (Fall 4:55)
D3-120
1st Place Match
Damond Lujan (Pueblo) 20-3, Sr. over Conner Schweigert (Show Low) 36-5, Jr. (Fall 2:36)
3rd Place Match
Jordan Busch (Casa Grande) 33-11, Sr. over Wade Payne (Chino Valley) 54-11, Sr. (Dec 4-1)
5th Place Match
Isaac Castro (Peoria) 42-10, So. over Sergio Zuniga (Douglas) 43-17, Jr. (Fall 2:16)
D3-126
1st Place Match
Trey Trejo (Canyon Del Oro) 42-10, Jr. over Owen Berry (Walden Grove) 49-2, Jr. (Dec 12-10)
3rd Place Match
Lane Evens (Chino Valley) 48-12, Sr. over Bryan Aizu (Glendale) 33-5, Sr. (Dec 9-4)
5th Place Match
Crew Perkins (Snowflake) 36-8, Jr. over O`Connir Vega (Peoria) 51-11, Jr. (Dec 3-2)
D3-132
1st Place Match
Diego Guerrero (Walden Grove) 51-2, Sr. over Connor Darling (Thunderbird) 37-11, Jr. (Fall 3:57)
3rd Place Match
Hunter Bateman (Show Low) 50-6, Sr. over Malik Shuaibe-Jones (Marcos De Niza) 42-8, Sr. (Dec 3-2)
5th Place Match
LIncoln Eby (Prescott) 33-10, So. over Earle Parra (Lake Havasu) 40-3, Sr. (Inj. 0:00)
D3-138
1st Place Match
McKade Finch (Safford) 53-2, Sr. over Carlos Ramos (Walden Grove) 39-10, Sr. (Dec 5-1)
3rd Place Match
George Sipie (Pueblo) 34-13, Sr. over Andrew Salberg (Prescott) 22-10, Sr. (MD 10-1)
5th Place Match
Rene Garcia (Canyon Del Oro) 46-16, Jr. over Easten Skinner (Flagstaff) 30-7, Sr. (MD 15-6)
D3-145
1st Place Match
Evan Killgore (Walden Grove) 50-2, Sr. over Corbin Nelson (Combs) 59-6, Sr. (Dec 7-1)
3rd Place Match
Jimmy Wayman (Lee Williams) 57-8, Jr. over Jack Northrup (Prescott) 38-8, Sr. (Dec 7-0)
5th Place Match
Carter Long (Show Low) 34-11, So. over Kody Ball (Desert Edge) 24-5, Sr. (For.)
D3-152
1st Place Match
Dawon Andrews (Safford) 44-1, Sr. over Kyle Lund (Chino Valley) 50-12, Sr. (Fall 5:27)
3rd Place Match
Erick Cervantes (Yuma) 57-8, So. over Aiden Keith (Salpointe Catholic) 48-16, Sr. (SV-1 9-7)
5th Place Match
Logan Mills (Show Low) 30-20, Jr. over Adrian Pena (Desert Edge) 33-16, So. (For.)
D3-160
1st Place Match
Zane McKissick (Canyon Del Oro) 52-7, Sr. over Marcos Gamez (Walden Grove) 39-6, Jr. (Dec 3-1)
3rd Place Match
Jared Thomas (Lake Havasu) 43-5, Jr. over Dallin Lewis (Snowflake) 35-9, Jr. (Dec 3-2)
5th Place Match
Colton Johnson (Greenway) 41-12, Jr. over Muzaffar Muzaffaro (Washington) 35-16, Jr. (Dec 12-6)
D3-170
1st Place Match
Keller Rock (Chino Valley) 58-2, Jr. over Robert White (Safford) 54-1, Jr. (Fall 5:37)
3rd Place Match
Aidan Irwin (Yuma) 59-7, Sr. over Davion Barnes (Cortez) 45-7, Sr. (Fall 3:26)
5th Place Match
Mark Orlando (Shadow Mountain) 30-12, Jr. over Koby Coates (Prescott) 21-9, Jr. (Dec 8-2)
D3-182
1st Place Match
Jacob Sanchez (Yuma) 62-2, Sr. over Lewis Everett (Mesquite) 45-4, Jr. (Fall 3:31)
3rd Place Match
Charles Hindley (Pueblo) 53-7, Sr. over Max Zavalza (Salpointe Catholic) 43-13, Sr. (Fall 0:59)
5th Place Match
Gibson Limongello (Apache Junction) 38-4, Jr. over Briggs Baldwin (Safford) 34-13, Jr. (Fall 3:58)
D3-195
1st Place Match
Jayden Dobson (Yuma) 43-3, So. over Roper Howard (Show Low) 43-9, Sr. (Fall 3:19)
3rd Place Match
Ricardo Avelar (Walden Grove) 49-9, Jr. over Justin White (Snowflake) 42-6, Sr. (Dec 10-3)
5th Place Match
Soto Sellis (Payson) 45-15, So. over Michael Milton (Poston Butte) 27-16, Sr. (Dec 8-4)
D3-220
1st Place Match
Jackson Edwards (Walden Grove) 51-4, Sr. over Wyatt Powe (Estrella Fh) 48-3, Sr. (Fall 1:47)
3rd Place Match
Michael Moussa (Catalina Fh) 44-11, Jr. over Ethan Wright (Apache Junction) 48-8, Jr. (Dec 2-1)
5th Place Match
Devin Montgomery (Combs) 44-9, Sr. over Trae Cates (Dysart) 31-9, Sr. (Dec 10-6)
D3-285
1st Place Match
David Leasau (Dysart) 38-2, Sr. over Orlando H. Molina (Tempe) 51-3, Sr. (Fall 1:25)
3rd Place Match
Taniela Taunima (Combs) 51-14, So. over Shane Garcia (Yuma) 37-9, Sr. (Dec 1-0)
5th Place Match
Ellye Hill (Marcos De Niza) 25-9, Sr. over Juan Rabago (Pueblo) 37-18, Jr. (Dec 3-0)
DIVISION IV TEAM RESLTS

1 Santa Cruz 182.5
2 St Johns 155.0
3 Morenci 144.5
4 Page 119.0
5 Willcox 96.0
6 Thatcher 90.0
7 Arizona Lutheran 87.5
8 Round Valley 80.0
9 Benson 79.5
10 Northwest Christian 76.0
11 Miami 67.0
12 Joseph City 49.0
12 Mogollon 49.0
14 San Pasqual 47.5
15 Camp Verde 45.5
16 River Valley 42.0
17 Winslow 40.0
18 Yuma Catholic 39.5
19 AZ College Prep 37.0
20 Monument Valley 36.0
21 Globe 31.0
21 Pima 31.0
21 San Manuel 31.0
24 Fountain Hills 27.0
25 Odyssey Institute 22.0
26 Pinon 14.0
27 Ben Franklin 13.0
28 Alchesay 11.0
28 Hayden 11.0
30 Phoenix Christian 10.0
31 Bourgade Catholic 9.0
32 Ganado 6.5
32 Parker 6.5
34 Antelope 5.0
34 Bisbee 5.0
34 Wickenburg 5.0
37 Tuba City 4.0
37 Window Rock 4.0
39 Catalina 3.0
39 Chinle 3.0
39 Holbrook 3.0
39 Mayer 3.0
39 Tombstone 3.0
39 Valley Christian 3.0
45 Santa Rita 2.5
46 Coolidge 0.0
46 Northland Prep 0.0
46 San Tan Foothills 0.0

DIVISION IV INDIVIDUAL RESULTS
D4-106
1st Place Match
Davian Guanajuato (Santa Cruz Valley) 60-0, So. over Marcus Morales (Morenci) 39-6, So. (Dec 7-2)
3rd Place Match
Malaki Porter (Mogollon) 43-13, Fr. over Terrell Kinlicheenie (Joseph City) 57-7, Fr. (Dec 7-2)
5th Place Match
Jozabad Ayala (Arizona Lutheran) 49-14, So. over Jackson Mccall (Round Valley) 44-11, So. (Dec 3-1)
D4-113
1st Place Match
Zachery Ruiz (Page) 53-4, . over Cael Porter (Mogollon) 46-7, Fr. (SV-1 8-6)
3rd Place Match
Bryant Ogle (Santa Cruz Valley) 27-7, Sr. over Calvin Dunning (Morenci) 38-6, Jr. (Dec 10-4)
5th Place Match
Collin Veen (Northwest Christian) 46-8, Sr. over Wesley Scarbrough (St Johns) 20-22, Fr. (Fall 2:44)
D4-120
1st Place Match
Emilio Ysaguirre (Santa Cruz Valley) 43-0, Fr. over Gilbert Rodriguez (San Manuel) 53-3, So. (Dec 6-5)
3rd Place Match
Carlos Bray (Morenci) 37-14, Jr. over David Pena (Miami) 43-12, Sr. (Dec 6-2)
5th Place Match
Miguel Loya (Yuma Catholic) 40-10, Jr. over Morgan Orona (Round Valley) 40-10, Fr. (Fall 0:38)
D4-126
1st Place Match
Tanner Crosby (St Johns) 45-4, . over Treven Clark (Thatcher) 39-3, Sr. (Fall 5:21)
3rd Place Match
Marcus Orona (Round Valley) 46-13, Jr. over Wyatt Ogle (Santa Cruz Valley) 31-5, Fr. (Fall 2:42)
5th Place Match
Benjamin Perez (Camp Verde) 44-6, Jr. over Brad Moreno (Monument Valley) 28-6, So. (Dec 4-2)
D4-132
1st Place Match
Anthony Tinghitella (Camp Verde) 47-0, Sr. over Ruben Tito Casillas (Morenci) 44-8, Sr. (Dec 5-2)
3rd Place Match
Seth Durbin (Globe) 44-3, So. over James Thomas (St Johns) 22-7, Fr. (Fall 0:38)
5th Place Match
Roy Sullivan (Santa Cruz Valley) 47-10, Sr. over Aden Cain (Yuma Catholic) 46-14, So. (Dec 7-0)
D4-138
1st Place Match
Kaiden Smith (St Johns) 53-4, Sr. over DAVID ENS (Benson) 52-7, Sr. (Dec 7-1)
3rd Place Match
Kelby Flowers (Willcox) 48-4, Jr. over Jose Macias (Yuma Catholic) 44-7, Fr. (Fall 2:23)
5th Place Match
Evan Clute (Santa Cruz Valley) 46-12, Jr. over Carson Stansfield (Page) 40-22, . (Dec 6-5)
D4-145
1st Place Match
Jake Borneman (Arizona Lutheran) 63-0, Sr. over Mark Roybal (Morenci) 13-1, Sr. (Dec 7-4)
3rd Place Match
Hunter Ogle (Santa Cruz Valley) 44-3, So. over Cameron Baldwin (Joseph City) 54-7, Sr. (MD 9-0)
5th Place Match
Timmy Porter (Mogollon) 51-7, Jr. over Matthew Tuni (Monument Valley) 36-9, Sr. (Fall 2:46)
D4-152
1st Place Match
Nicholas Steele (San Pasqual) 58-3, So. over Ote Allsup (Willcox) 47-4, So. (MD 11-1)
3rd Place Match
Gavin Davis (Arizona Lutheran) 55-8, Jr. over Austin Oppen (St Johns) 49-13, Sr. (Fall 1:48)
5th Place Match
Jason Carrosco (Thatcher) 24-6, Jr. over Hayden Gracia (Page) 13-8, . (Fall 0:56)
D4-160
1st Place Match
Diego Chavez (Santa Cruz Valley) 60-0, Fr. over Colter Hogle (Round Valley) 40-6, Sr. (Fall 5:39)
3rd Place Match
Cody Torres (Morenci) 37-14, Fr. over Kyler Curtis (Benson) 52-6, Sr. (Dec 6-2)
5th Place Match
Eligh Ashcroft (Joseph City) 56-8, Sr. over Fernando Luna (Ben Franklin) 42-10, Sr. (Fall 2:31)
D4-170
1st Place Match
Chase Jarvis (St Johns) 45-10, Sr. over Jad Mazboudi (Az College Prep) 27-4, Jr. (SV-1 10-8)
3rd Place Match
Brandon Garcia (Arizona Lutheran) 61-2, Sr. over Brenon Hughes (Pima) 56-6, Jr. (Fall 1:48)
5th Place Match
Seth Solano (River Valley) 46-13, Sr. over Christopher Shadle (Miami) 35-17, So. (Dec 9-7)
D4-182
1st Place Match
Leyton Kauffman (Fountain Hills) 51-6, Sr. over Michael Densmore (Winslow) 53-3, Sr. (Fall 5:03)
3rd Place Match
Brik Skousen (Thatcher) 51-4, Jr. over Miguel Vasquez (Willcox) 36-12, Jr. (Fall 3:53)
5th Place Match
Andres Jimenez (Santa Cruz Valley) 46-10, Sr. over Winden Trimble (Phoenix Christian) 20-11, Sr. (Fall 4:34)
D4-195
1st Place Match
Kimball Begay (Page) 50-5, over Caiden Hall (Willcox) 40-4, Jr. (SV-1 6-4)
3rd Place Match
Michael Mowrey (Miami) 46-9, Sr. over Raymond Hernandez (River Valley) 41-20, Sr. (Dec 3-2)
5th Place Match
Levi Bourland (Northwest Christian) 36-7, Sr. over Kellen Gibson (AZ College Prep) 43-9, So. (Dec 8-7)
D4-220
1st Place Match
Clayson Goodwin (Benson) 60-1, Jr. over Nathan Willey (Morenci) 45-8, Sr. (Dec 3-0)
3rd Place Match
Calvert Tsosie Jr. (Pinon) 28-4, Sr. over Edgar Espinoza (San Pasqual) 44-15, So. (Dec 7-5)
5th Place Match
Derek Henderson (Northwest Christian) 29-4, Sr. over Gauge Bryce (Thatcher) 43-12, Sr. (UTB 3-2)
D4-285
1st Place Match
Cheyenne Richardson (Page) 13-2, over Dominick Sahhar (Northwest Christian) 49-5, Sr. (Fall 3:06)
3rd Place Match
Quinten Mack (Thatcher) 56-3, Sr. over John Pina (Odyssey Institute) 35-6, Sr. (Fall 1:50)
5th Place Match
Cesario Hernandez (Alchesay) 29-7, Sr. over Skylar Guerrero (Miami) 41-13, So. (Fall 1:30)
---