Notre Dame ready for return to the court
February 18, 2019 by Sarah Farrell, Arizona State University
---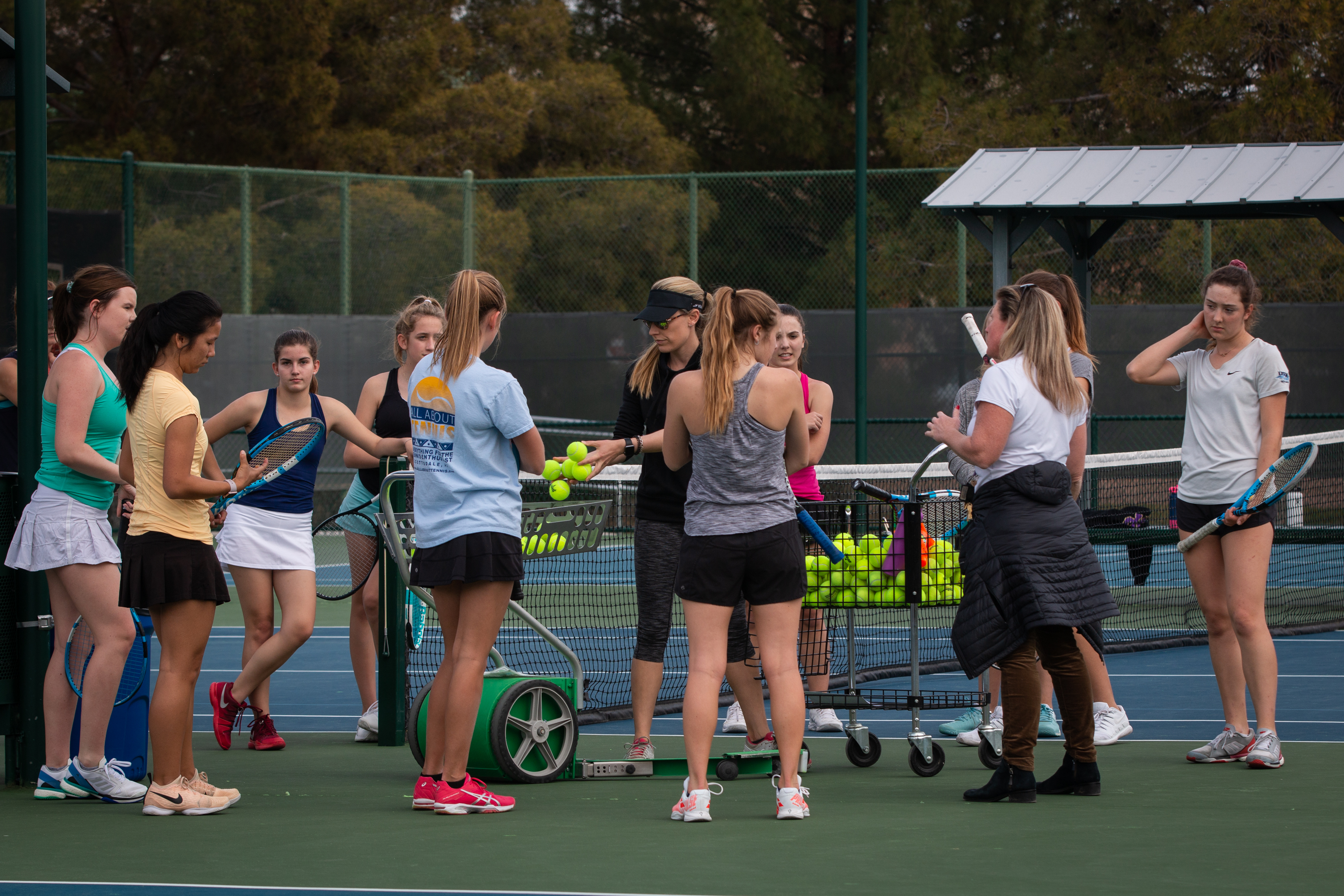 As the beginning of another season approaches for the Notre Dame girls tennis team, one matchup and one date in particular is on the minds of coaches and players.
On April 8, at home at Scottsdale Ranch Park and Tennis Center, the Saints will get a rematch with the team that ended their season last year.
"With our loss last year against Cactus Shadows, I think that has been a really good motivation this year for our team," senior Rachel Sodhi said. "We've reiterated to the new members of the team, it's redemption time. This is the time we're going to hopefully, fingers crossed, win back that state ring."
The Cactus Shadows Falcons have been one of the Saints' toughest rivals over the past two seasons. Notre Dame won both of the regular season meetings – each by a score of 5-4 – but the Falcons won the most recent match in the state semifinals last season. According to head coach Shelley Dinges, both matches went well over three hours last season and came down to tiebreaks.
"We match up really well against [Cactus Shadows]," Dinges said. "They're a very talented and strong team, and I know the girls are ready to get back and play them again."
This Saints team is focused on the season as a whole though, and it comes in with a lot of experience, especially from the younger players.
Two of the sophomores, Maysa Tuftin and Brooke Belitz, experienced individual success at state last year. Tuftin made it to the third round in singles while Belitz and her partner Natalie Zarasian – who graduated last year – made it to the state semifinals for doubles.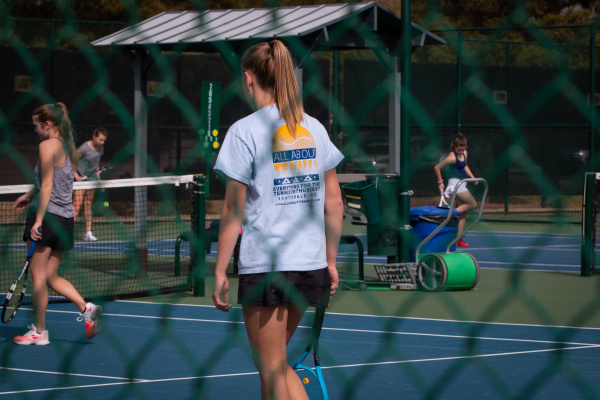 Sophomore Maysa Tuftin is one of the young players at the core of this Saints squad. She played at the top line for Notre Dame during her freshman season. (Photo: Sarah Farrell/AZPreps365)
They join a group of senior leaders who won the Division II State Championship in 2016 as freshman, and hope to lead this year's squad to similar success.
"It's just holding onto that feeling [of winning state]," senior Grace Hogan said. "Knowing what it feels like, you always strive to get back to that feeling."
Talent can only take a team so far, though. Dinges and her players stressed the importance of their bond as a team to help get them through tough points in close matches.
"The biggest thing I try to do as a coach is talk about how we are a team and we are a family and we play for more than just ourselves," Dinges said. "As much as tennis can be an individual sport, it's not about playing for yourself."
This is the first year the Saints have started conditioning workouts a month before the season starts, Hogan said. And it has helped the team become comfortable with one another before they even step on the court. They switched from Saturday morning workouts to conditioning during a dedicated period in the school day.
The team workouts have been "a good bonding experience," Belitz said. "You're working out and you're all kind of in pain, but you're doing it together."
Another bonding opportunity comes from the craziness of the Saints' schedule and the geographically widespread section it plays in. The Saints compete in Division II Section II, which features teams like Coconino, Mingus Union, Prescott and Flagstaff. This season the Saints have road matches against Prescott, Coconino and Flagstaff.
"It's kind of fun because when we do travel we get to go on retreats," senior Natalie Hoffman said. "And it's especially good team-bonding for us."
Beyond that, the Notre Dame seniors schedule events like team brunch and team movie nights that help them become closer off the court. And according to the players, that translates to better camaraderie in tight situations on the court.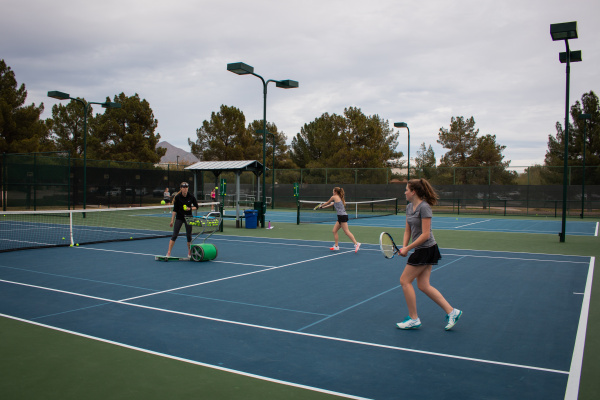 Both varsity and JV players practice at the same time. Coach Dinges stresses that they are one team and they each represent Notre Dame tennis. (Photo: Sarah Farrell/AZPreps365)
Every player on the team has a role – from playing the No. 1 line to being there to support teammates. Dinges understands the importance of team support in team tennis, and places a premium on it.
As a program, the Saints are no strangers to winning. The team has compiled a 44-2 overall record over the past three seasons, with the only losses coming in the state playoffs.
Aside from the matchup with Cactus Shadows, Dinges and her players are looking forward to their March 3 match against rival Arcadia.
The Saints will kick off the season with their first-ever meeting with Estrella Foothills. It will be at 3 p.m. Wednesday in Scottsdale.
---