Cross Country: Championship Saturday roundup
November 16, 2019 by Andy Morales, AZPreps365
---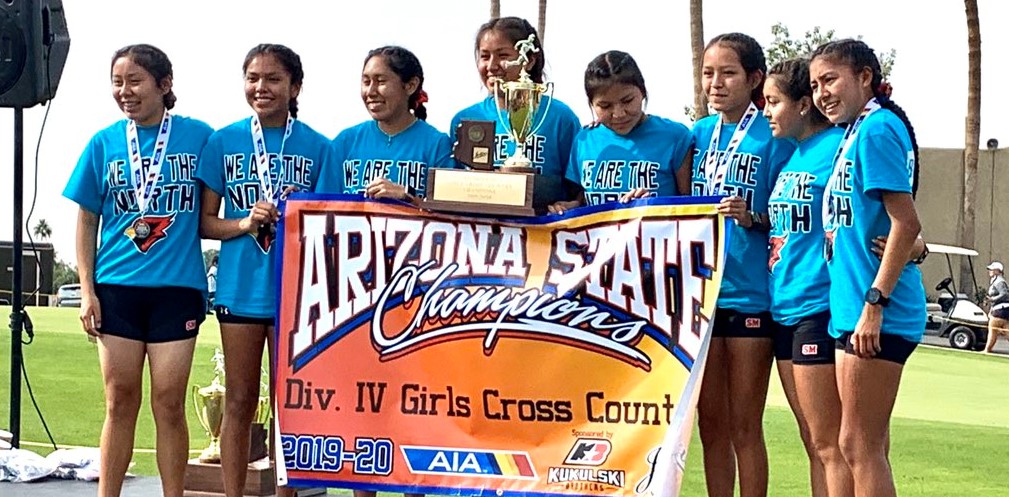 STATE CHAMPION RECORDS
BOYS
Billy Orman, Tuba City 15:03.32 (2010)
Kenny Cormier, Douglas 15:10 (2004)
Bernie Montoya, Cibola 15:14.23 (2012)
Charles Hampton, Brophy Prep 15:14.89 (2002)
Brian Shrader, Sinagua 15:15.25 (2008)
GIRLS
Allie Schadler, Rio Rico 17:03 (2016)
Allie Schadler, Rio Rico 17:04.5 (2015)
Dani Jones, Desert Vista 17:25.79 (2014)
Jessica Tonn, Xavier 17:28.16 (2009)
Nadya Bishton, Mountain Ridge 17:28.25 (2207)
Team dynasties were extended, repeat champions took the stand once again and new hardware was handed out at the state cross country meet held at the Cave Creek Golf Course on Saturday. In all, 1,467 runners took to the course in eight races to decide the team and individual championship for each of the four divisions.
In Division I, the Highland boys scored 39 points to unseat Desert Vista (65). The Thunder held the top post for five straight years but Highland's Leo Daschbach (15:27.7) took first to help unseat the Thunder.
The Desert Vista girls returned to the top after defeating Highland 49-99. It was the first team title for the Desert Vista girls since 2016 and this trophy was paced by Lauren Ping (17:36.9) and her sister Grace Ping (17:57.8). The Ping sisters recorded top-ten times.
More on Division I can be found HERE.
In Division II, the Flagstaff boys and girls made it five in a row on both sides of the ledger with the boys defeating Casteel 77 to 143 and Sunrise Mountain took third with 179 points. Campo Verde senior Kenny Edwards moved from eighth place last to year to first this year (15:58.8), Deer Valley standout Randy Espinoza took second (16:01.0) and Flagstaff's Max Davis took third (16:08.6).
Flagstaff senior Hana Hall recorded a time of 18:07.48 to win the 2018 state championship and she took first place this year with a time of 18:15.2. Rincon/University senior Grace Driskill took second (18:35.5) and Hana's freshman sister Mia Hall took third (18:44.6). The Hall sisters helped pace the Eagles to a 53 to 98 win over Catalina Foothills and Cactus Shadows took third (142).
In Division III, Salpointe senior Zoey Delgado took first (18:40.9) and her team took second to Prescott 75 to 79. The Lancers beat Prescott 66 to 129 to win the state championship last year. Prescott's Emily McMahon took second (19:02.7) and ALA-Queen Creek's Evelynne Carr came in third place (19:03.4). As a team Ganado (143) came in third.
(Zoey Delgado/Andy Morales/AZPreps365)
Rio Rico standout Roshan Tinoco-Miranda came in 30th last year but the junior recorded a time of 15:53.4 to win the D-III championship this year. Walden Grove junior Johnathon Lane came in second (16:09.2) and Page standout Trent Holiday took third place (16:13.2). The Page boys won their sixth in a row after beating Prescott 62 to 140. Monument Valley came in third (154).
(Roshan Miranda/Andy Morales/AZPreps365)
The North Phoenix Prep boys won the D-IV title after beating Hopi 55 to 95. Northland Prep scored 117 points to take third. North Phoenix Prep senior Jordan Black was the repeat champion with a time of 15:26.7. Arete Prep standout Adam Whitehead came in second (16:19.6) and North Phoenix Prep standout Sammy Johnston took third (16:36.6).
The St. Michael girls won their second championship in a row with a 37 to 103 win over Glendale Prep. Many Farms took third (166). St. Michael senior Ali Upshaw recorded a time of 17:49.5 to win her second state championship. North Phoenix Prep standout Grace Tipton (19:17.5) came in second and Glendale Prep's Ani Durell came in third (19:57.9).
---