AIA Executive Board votes to make Girls Wrestling a team sport
April 25, 2020 by Andy Morales, AZPreps365
---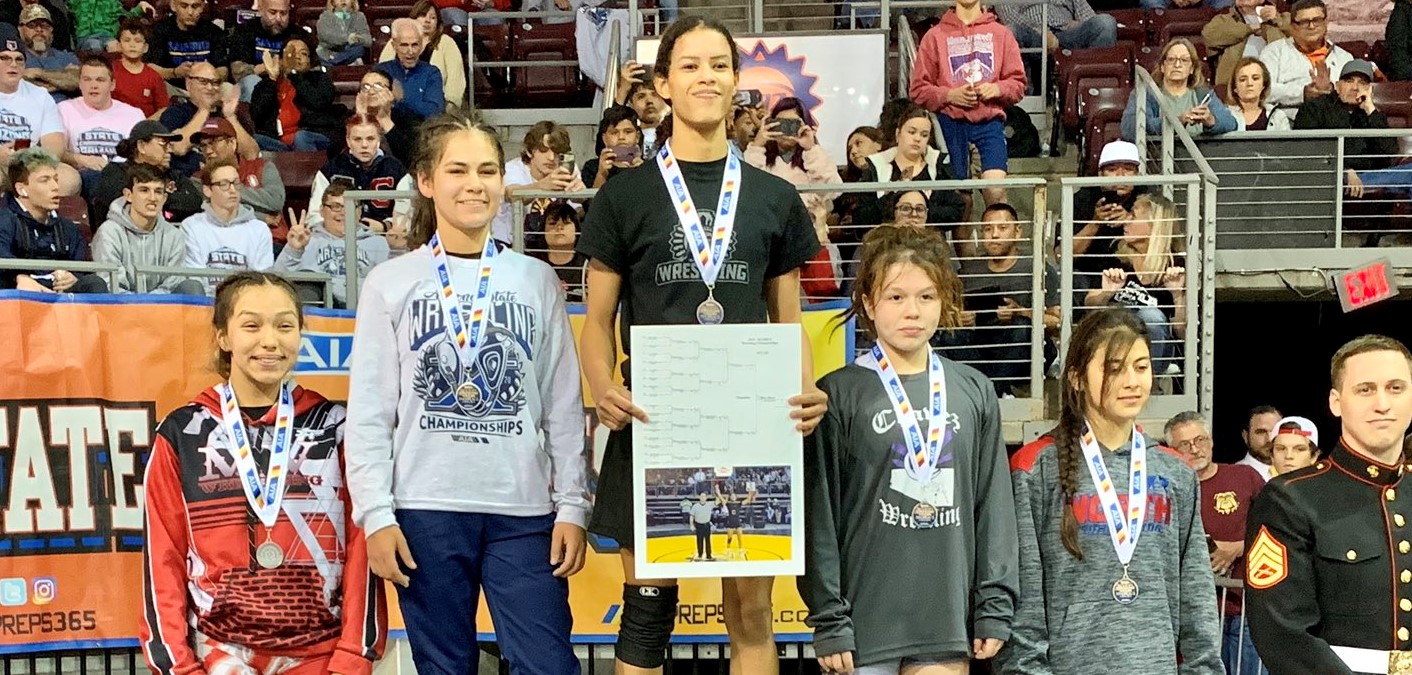 The Arizona Interscholastic Association (AIA) Executive Board voted to make Girls' Wrestling a team sport on Monday. No longer an "emerging sport," the growing numbers were cited as the main reason for taking the next logical step.
There will be on division and the Executive Board meeting is scheduled for Aug. 17.
In 2019, 224 wrestlers competed at the various sectionals to decide which wrestlers would compete for an individual title in the ten weight classes. That number jumped to 435 last year and the move to Veterans Memorial Stadium in Phoenix for state competition will surely cause another increase in participation.
"This is huge for the girls and the wrestling community overall," said Pueblo assistant coach Ticia Mia Valenzuela Smith. "It is the perfect time for Arizona to sanction girls high school wrestling because of the significant growth of participants over the last two years and the showcase of talent currently in middle school. As a state, we have the talent to compete at the next level. Now these girls will have the opportunity to sharpen their skills during the entire year to work towards goals of wrestling in college or internationally. Wrestling is such a great sport, it's exciting to see AIA make this happen for the girls. This will actually be great to help the overall growth of wrestling for some programs. Now we just need to get passed this pandemic and back in the wrestling room."
TWO-TIME STATE CHAMPIONS
Sierrah Thrun, Corona del Sol
Carolina Moreno, Kofa
Mia Didur, Centennial
2019 INDIVIDUAL STATE CHAMPIONS
101: Lexi Borunda of Shadow Ridge
110: Sierrah Thrun of Corona del Sol
118: Stefana Jelacic of Chandler
125: Julia Chambers of Skyline
130: Carolina Moreno of Kofa
135: Julia Lundberg of North Canyon
145: Jessie McCurry of Deer Valley
160: Jennifer Curry of Hamilton
185: Mia Didur of Centennial
225: Danni Schulz of Mingus Union
2012 INDIVIDUAL STATE CHAMPIONS
101: Emily Porras of Ironwood
110: Sierrah Thrun of Corona del Sol
118: Adacelli Noriega of Bisbee
125: Carolina Moreno of Kofa
130: Bree Garcia of Barry Goldwater
135: Genesis Higuera of Odessey Institute
145: Taliyah Armstrong of Westwood
160: Angie Ochoa of Maryvale
185: Mia Didur of Centennial
225: Naomi Norton of Arizona Lutheran
Sending as many wrestlers to state from sectionals is the name of the game in team competition and Pueblo sent six wrestlers to state last year, although four of those were seniors. Dobson sent five, with four seniors, and Page sent five with only one senior:
2020 GIRLS WRESTLING TEAMS
Pueblo: 6
Page: 5
Dobson: 5
Basha: 4
Gila Ridge: 4
Goldwater: 4
Liberty: 4
Ironwood: 4
Sierra Linda: 4
Westwood: 4
Winslow: 4
2019 GIRLS WRESTLING TEAMS
Monument Valley: 6
Basha: 5
Ironwood: 5
Mohave: 5
Chavez: 4
Chino Valley: 4
Page: 4
Sunnyside: 4
---